August 28, 2011 -
Barry Dorey
Report: Texas A&M's departure from Big 12 is imminent
After sending the league a notice Thursday that it is exploring its conference affiliation options, Texas A&M is reportedly set to announce within the next week that it plans to leave the Big 12.
According to The Associated Press, a conference call between the Big 12 board of directors was held Saturday, and A&M officials talked about their anticipated departure.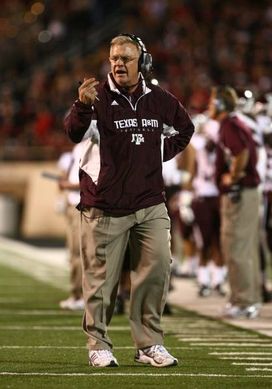 ICONWill Mike Sherman and the Aggies be playing in the SEC in 2012-13?
The source in the report believes "it would not be a surprise that it would happen sometime this week," and the only thing that could keep it from happening so soon would be if the SEC determines it is not ready to add any more schools at this point. SEC presidents and chancellors met two weeks ago and reaffirmed that they were content with a 12-team structure, but they also acknowledged the possibility of future expansion. It is believed that there is strong interest in A&M, but SEC commissioner Mike Slive merely wants the legal process to play itself out between A&M and the Big 12.
Texas A&M would prefer to join the SEC for the 2012-13 season, but that would create some difficult maneuvering, particularly when it comes to scheduling.
During Saturday's call, one of the key discussion points was how much money A&M would give up if it left the league, which could be $20 million or more.
Big 12 commissioner Dan Beebe acknowledged the league will be prepared for whatever A&M ultimately decides to do.
"The Big 12 Conference members have been and will continue to conduct meetings related to the situation with Texas A&M and conference membership," Beebe said in a statement Saturday. "There will be public statements as appropriate and necessary if and when action is taken."
The other nine Big 12 members reportedly once again reaffirmed their desire to keep the conference intact, and SMU athletic director Steve Orsini said Thursday that he has had informal talks with Big 12 officials to inform them of the school's viability as a member of a BCS conference. Texas A&M opens its season next Sunday at home against June Jones' Mustangs.
Email dave.miller@nationalfootballpost.com or follow me on Twitter at Miller_Dave