March 07, 2011 -
Dave Miller
Report: Tressel knew of players selling memorabilia last April
And just like that, Oregon's recruiting issues have taken a back seat.
The Ohio State University, it's your turn to step back into the spotlight.
According to a Yahoo! Sports report early Monday evening, Buckeyes head coach Jim Tressel knew as early as April 2010 that quarterback Terrelle Pryor and other players were selling memorabilia — more than eight months before the school claims it was made aware of the actions.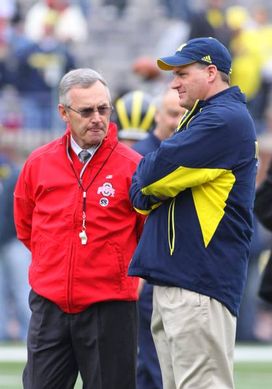 ICONWill Ohio State's Jim Tressel ultimately be forced off the sideline as Rich Rodriguez was at Michigan?
Per the report, Tressel knew players were selling items to Edward Rife, who is the owner of Fine Line Ink Tattoos in Columbus, but neither Ohio State nor the NCAA investigated the players' relationship with Rife until December 2010, the time at which Ohio State said it was informed of the situation by the local U.S. Attorney's office.
Prior to the team's Sugar Bowl matchup with Arkansas, it was announced that the NCAA had suspended Pryor, running back Dan Herron, wideout DeVier Posey, defensive end Solomon Thomas and offensive lineman Mike Adams for five games for their actions.
The exchanging of items, of course, violates NCAA eligibility rules and Tressel reportedly maintained that he would investigate the matter and take appropriate action when he was first alerted last spring.
All five players, however, continued to remain eligible and played through the 2010 season.
At a December 23 press conference, athletic director Gene Smith said the school first became aware of the memorabilia sales on December 7.
The 58-year-old Tressel could be assessed multiple NCAA violations if it is found that he indeed failed to inform Smith or the school's compliance department about the players' dealings with Rife. According to the report, a clause in his contract states that failure to promptly report "any violations" could lead to "termination by Ohio State for cause."
Could Ohio State be found to have played with ineligible players, thus forcing the school to vacate the 2010 season — one which saw the team share a Big Ten championship? Could further sanctions be on the horizon for the program?
Again, Smith maintained that the athletic department was not informed of the memorabilia scheme any earlier than on that date in early December. And Tressel never publicly expressed any prior knowledge of the case, intimating that he was just finding out about the transactions as he expressed disappointment with the players in December. If it is found that he witheld such information, gloomy days could be ahead for Tressel in Columbus.
Tressel has been head coach at Ohio State for the last 10 seasons, winning at least a share of the last six Big Ten titles and capturing the 2002 BCS national championship.
Email dave.miller@nationalfootballpost.com or follow me on Twitter at Miller_Dave