May 30, 2011 -
Dave Miller
Report: Tressel resigns
There will be plenty to talk about over beer, brats and burgers at every barbecue across the state of Ohio on Monday afternoon following the report by The Columbus Dispatch that Ohio State head coach Jim Tressel has resigned.
Despite university president E. Gordon Gee and athletic director Gene Smith throwing their support behind their coach at a March 8 news conference after Tressel admitted having knowledge of Buckeye players selling memorabilia to tattoo-parlor owner Edward Rife, the administration reportedly felt that encouraging their successful head coach to resign was the only option as the program faces an NCAA disciplinary hearing and possible new findings as the investigation continues.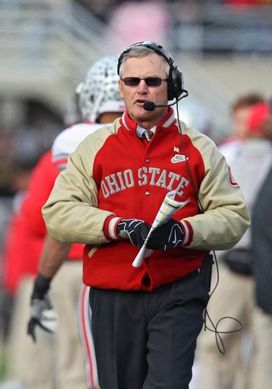 ICONJim Tressel is out at Ohio State following a record of 106-22.
According to The Dispatch, assistant coach Luke Fickell will serve as the interim head coach of the Buckeyes for the 2011 season. He had been named interim coach for the first five games of the season with Tressel slated to serve his suspension for withholding information regarding the Buckeye Five. Tressel was initially suspended just two games and fined $250,000 but later asked that his suspension be increased to five games to match the penalty his players received.
A search for a permanent head coach won't begin until after the season.
The newspaper obtained a memo Gee sent out to university trustees on Monday morning. Here is the release:
"I write to let you know that later this morning we will be announcing the resignation of Jim Tressel as head coach of the University's football program. As you all know, I appointed a special committee to analyze and provide advice to me regarding issues attendant to our football program. In consultation with the senior leadership of the University and the senior leadership of the Board, I have been actively reviewing the matter and have accepted Coach Tressel's resignation.
"My public statement will include our common understanding that throughout all we do, we are One University with one set of standards and one overarching mission. The University's enduring public purposes and its tradition of excellence continue to guide our actions."
Tressel, who came to Columbus from Division I-AA Youngtown State, had his contract renewed last spring through 2014 and was earning roughly $3.7 million per season in salary and other incentives. At the news conference in March he stated that resigning never crossed his mind in light of the NCAA violations. However, it was becoming more and more evident that no coach -- no matter how successful -- could survive after being tangled up in violations to this degree.
The Vest departs after leading the school to a national title in 2002, a dominant run in Big Ten play which featured seven league championships and a 9-1 mark against arch-rival Michigan. He finishes his Ohio State career with a record of 106-22, including a 66-14 mark in the Big Ten, and a winning percentage of .828 -- higher than the great Woody Hayes (.761).
Before his resignation, Tressel led the Buckeyes through spring practice and was slated to meet with the NCAA's Committee on Infractions in August to discuss the alleged violations committed.
Of course, speculation will run rampant about who may be a fit for the Buckeyes as head coach in 2012.
Former Florida head coach Urban Meyer will likely be the first name on the wish list, followed by Oklahoma's Bob Stoops and TCU's Gary Patterson. Nebraska's Bo Pelini makes a lot of sense, as well, because he played safety at Ohio State after being raised in Youngstown. Despite having a good job at Nebraska, it'd be hard to pass up a gig at the alma mater. And if there's a coaching vacancy anywhere, Jon Gruden's name will always be in the conversation.
But how appealing will the job be at Ohio State in 2012? Tressel's resignation certainly could help the program escape major penalties, but what if the NCAA looks at the school as a repeat offender, taking into account issues with former quarterback Troy Smith, former running back Maurice Clarett and even former basketball coach Jim O'Brien? Will the school's action on Tressel today be enough for the NCAA to apply lighter sanctions?
Or will the NCAA come down hard on the program, making the head-coaching vacancy less than ideal for big-name candidates?
Email dave.miller@nationalfootballpost.com or follow me on Twitter at Miller_Dave