January 09, 2013 -
Dave Miller
Return of Boyd huge for Clemson
Tajh Boyd may have made a lot of money New Year's Eve night in Clemson's Chick-fil-A victory over LSU, but he won't find out exactly how much this April at the NFL Draft in New York City.
The dual-threat quarterback will make it official on Wednesday that he will return to Death Valley for his senior season, bypassing this year's draft, as first reported by ESPN.com's Joe Schad on Twitter.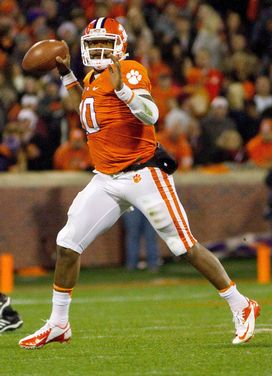 US PRESSWIRETajh Boyd is returning for one final season at Clemson.
Despite being battered by LSU's front seven, led by future NFL player Barkevious Mingo, Boyd still thrived and had a turnover-free effort this past postseason, rallying his team to victory with three fourth-quarter drives that resulted in scores in a 25-24 win over LSU.
Every college football fan saw just how much the victory meant to head coach Dabo Swinney and his team during the postgame celebration. Perhaps Boyd wants to come back and celebrate something even bigger in 2013.
Boyd helped deliver a huge performance for the oft-maligned ACC, giving the league a standout victory over a traditional SEC power. It also likely assured Clemson of a Top 10 preseason ranking.
This past season, the redshirt junior quarterback set career-highs for completions and attempts while breaking the ACC's single-season record for touchdown passes. He completed 30-of-56 passes for 354 yards and two scores while also running for a touchdown against the Bayou Bengals. His numbers are even more impressive when considering he was sacked five times and yet again played without receiver Sammy Watkins, who left with an ankle injury in the first quarter.
While this year's draft doesn't have as great of a quarterback crop as last season's, Boyd decided that it was best for him to return to college for one more season. And Tiger fans couldn't be happier.
With coordinator Chad Morris remaining at Clemson to run his spread attack, Boyd will have a chance to have a huge senior campaign after the team ran a staggering 100 plays from scrimmage against LSU. The ACC player of the year, Boyd had 36 touchdown passes, which were two more than ACC record-holder Philip Rivers in 2003. The question now becomes whether stud receiver DeAndre Hopkins holds off on NFL riches for another season.
Hopkins stepped up big-time this season with Watkins in and out of the lineup and ended up becoming the better overall player. He had 13 receptions for 191 yards against LSU and was the top option for Boyd all season long.
Coming into the bowl game, I would have projected Boyd to very likely be coming back for his final season. Although the performace against LSU was just one game, it revealed a lot about Boyd's maturity as a quarterback. And it was a standout performance that certainly had to pique the interest even further of NFL scouts. But with some exceptions, including Matt Barkley of USC, coming back for another season of fine-tuning is usually not a bad thing for a developing signal-caller.
Boyd had a tough decision to make, one that could have shaken up April's draft a bit if he decided to move onto the next level. But he didn't, and Swinney and Co. couldn't be happier.