January 14, 2013 -
Dave Miller
Return of Pachall gives TCU a boost
With Casey Pachall having received treatment for his substance abuse problem, the quarterback was welcomed back into the TCU football program, according to head coach Gary Patterson.
The Horned Frogs signal-caller left the team in October to seek treatment for a substance abuse issue, and he is scheduled to be in school when classes resume on Monday.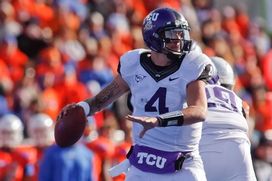 Casey Pachall could help boost TCU's Big 12 chances in 2013.
"He looks great," Patterson said. "It's like he looked when he was a freshman. Right now, we feel really good about this. It's never going to be 100 percent perfect but there is a chance we did the right thing and made a difference. You've got to understand, everybody is going to be watching on this."
Pachall was arrested under suspicion of driving while intoxicated in early October 2012, which prompted Patterson to suspend him indefinitely. The quarterback also failed a school-administered drug test the previous February. Because of his substance abuse issue, he withdrew from TCU to seek treatment. At the time, Patterson said that he could possibly return to the team upon successful completion of the program.
First and foremost, the hope is that Pachall continues to deal with his off-the-field issues, remains in the classroom and has a successful, healthy life outside of football. But on the football side of things, if he remains on track, Pachall's return would be a big boost for the Horned Frogs.
The 6-5, 226-pounder completed over 66 percent of his passes and threw just seven interceptions in 2011, his first season as the starter in Fort Worth. In four games last season, he completed 66 percent of his throws for 948 yards with 10 touchdowns against just one interception.
Pachall, who has not lifted weights or thrown a football in several months, is scheduled to begin working out with the team Monday and unquestionably will be given a chance to earn the starting job, which Trevone Boykin filled after the Horned Frogs' fourth game last year. Pachall will be a senior in 2013 and would help boost TCU's Big 12 title hopes after Patterson fielded a very young team this past fall.
Of course, Pachall's off-the-field battle remains his No. 1 priority. But if he takes care of business there, Horned Frog fans have to be excited about the prospect of his return.