October 28, 2011 -
Dave Miller
Rice Jr. gets his shot at UCLA
One beneficiary of UCLA's depleted receiver corps is Jerry Rice Jr., the son of the NFL legend who is expected to see plenty of playing time for the Bruins on Saturday in their game against Cal at the Rose Bowl.
With Randall Carroll, Taylor Embree, Shaquelle Evans and Ricky Marvray suspended because of their actions last Thursday night against Arizona, Nelson Rosario and Josh Smith are the only available receivers with extended game experience.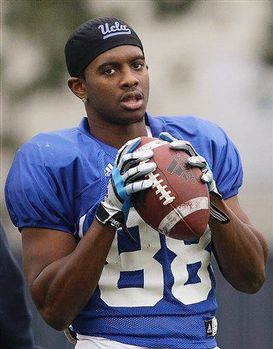 Jerry Rice Jr. will see his first action at UCLA this weekend.
So the 5-10, 185-pound Rice, who has been a member of UCLA's scout team the past two seasons as a non-scholarship player, has found his way into the Bruins' offensive game plan.
"I've played a lot of different guys," Rice said of emulating the opposition such as Oregon State's James Rodgers on the scout team. "Now I'm getting my shot. It's kind of a crazy feeling."
Since arriving in Westwood in 2009, Rice's work ethic has taken him this far. And starting next quarter, he will be given a scholarship.
"Jerry finds himself with a golden opportunity," head coach Rick Neuheisel said. "He knows what to do. We're going to find out about him. It's exciting for me to get a chance to watch him."
Rice had scholarship offers from Kansas State and Air Force and also had an offer to walk on at Cal, but he noted that Berkeley "was too close to home." UCLA offered a chance for Rice to get out of his comfort zone.
"I needed to grow up," he said. "I wanted to live on my own."
Against the Bears this weekend, UCLA fans will see just how far Rice has come from his days on the scout team.
Email dave.miller@nationalfootballpost.com or follow me on Twitter at Miller_Dave