October 24, 2011 -
Dave Miller
Right place, right time
NCAA sanctions and injuries to key players have not sabotaged the 2011 campaign in Los Angeles for Lane Kiffin at USC.
Rather, the Trojans head coach is using his second season to perform the best coaching job of his career.
The former Tenneessee Volunteers and Oakland Raiders head coach has 'SC sitting at 6-1 after its thorough 31-17 victory over Notre Dame this past weekend in South Bend, and the Trojans now have a great deal of momentum heading into their showdown with Stanford this Saturday night at the Coliseum.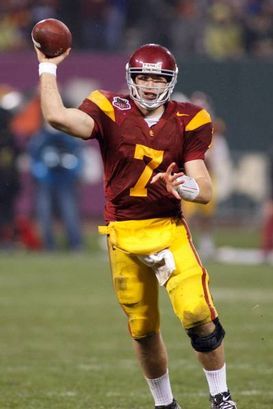 ICONMatt Barkley continues to mature as a quarterback under Lane Kiffin.
It's obvious that Matt Barkley has grown as a quarterback under the guidance of Kiffin, and the junior signal-caller took another step in his development with a strong outing against the Irish.
After struggling with his accuracy the previous week against Cal, Barkley was in complete control under the lights in South Bend, completing 24 of 35 passes for 224 yards and three touchdowns. Perhaps more impressive was his 4 rushes for 19 yards — making plays with his feet when his receivers couldn't get open. He did it on the team's first drive of the game, picking up a first down on fourth-and-1, as well as in the fourth quarter on third-and-short. He didn't force the ball either time, and it's clear that he is in command of this offense much more than at any point in his 'SC career.
And Kiffin has total confidence in his leader of the offense because Barkley keeps his mistakes to a minimum, not forcing the football when a play isn't there through the air.
Last season's disappointing 8-5 mark in Kiffin's first season as coach seems like a distant memory as 'SC relishes its current state, a record marred only by a road loss to Arizona State. While the setback to the Sun Devils was disappointing, it came against a team that was incredibly focused on beating its nemesis after being on the wrong side of so many games in their history. The fact that Kiffin has his team playing its best football since that defeat in Tempe is a testament to a good coaching staff making sure the minds of their players didn't linger on that loss.
With the victory over ND, it's evident that this is a much different USC team than the one that fell to Washington, Oregon State and Notre Dame last season — three of the more disappointing losses from the 2010 campaign. And Kiffin undoubtedly enjoyed Saturday's win after the program's eight-game winning streak over the Irish came to an end on his watch last season.
Keep in mind that the Trojans went on the road this past weekend with a banged-up unit and serious questions about a defense that has underwhelmed under Monte Kiffin. But the Trojans outplayed the Irish on both sides of the ball, particularly on defense. The much-maligned unit held ND's high-powered offense to 267 total yards, and it stifled a rushing attack that had been averaging 194.9 yards per game. The Irish netted just 41 on the ground against the Trojans.
Curtis McNeal's career-high 118 yards and Marc Tyler's 67 yards on the ground helped USC rush for a season-high 219 yards, and Robert Woods remained Barkley's go-to weapon, catching 12 passes for 119 yards and two touchdowns. And the offensive line was never overwhelmed by Bob Diaco's defense, which was a major concern for the Trojans entering their date with ND.
Kiffin made sure to credit his staff for not allowing the players to get too amped up to play their cross-country rival, and he said that poise made a big difference in the game. That same poise likely helped the Trojans play their smartest and most crisp game of the Kiffin era.
The contest under the lights at Notre Dame Stadium was a huge game for both USC and the Irish. But on Saturday night in South Bend, it was Kiffin who looked like the second-year coach more in command of his program.
And his ability to deal with such scrutiny and adversity bodes very well for USC in the future as it looks to regain its status as a marquee national program despite dealing with scholarship limitations in an increasingly competitive Pac-12.
Email dave.miller@nationalfootballpost.com or follow me on Twitter at Miller_Dave