September 13, 2012 -
Dave Miller
Rutgers at South Florida: 3 things to watch
Rutgers travels to South Florida on Thursday night for a Big East clash featuring a pair of 2-0 teams.
The Scarlet Knights have won five of seven meetings since both have been in the Big East, but the Bulls were picked by many to be the top contender to Louisville in the Big East this fall.
Rutgers hasn't looked all that great against Tulane and Howard this season, while USF went on the road last week and defeated a Nevada team that knocked off Cal in Week 1.
Let's take a look at three things to watch in the clash between the Scarlet Knights and the Bulls on Thursday evening.
1. Can USF close it out?: The one major concern for Bulls head coach Skip Holtz has been seeing his team unable to close out games late in conference play. In the team's last five Big East losses, the Bulls led in the fourth quarter but were unable to seal the victory. However, last week USF was able to come from behind in the final frame and beat Nevada on a last-minute touchdown pass from B.J. Daniels. Those heroics came after being down 21-6 in the first quarter. That's a big breakthrough mentally for a team that may be the league's most talented. Can it continue for the Bulls if they find themselves in a similar situation on Thursday night? Both teams could take over a game defensively, so this contest may come down to the wire.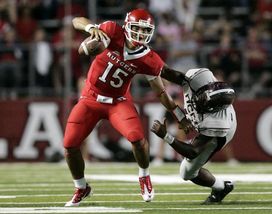 Can Gary Nova bring consistency to the Rutgers QB position?
2. Will Gary Nova be up to the task?: The Scarlet Knights starting quarterback was terrible against the Bulls last fall, completing less than 50 percent of his passes for just over 100 yards. He beat out Chas Dodd for the starting job this offseason, but does he bring enough spark to the offense? Nova is 26 of 47 passing for 288 yards with three touchdowns against two interceptions in 2012, and he's had trouble moving the ball consistently without stud receiver Mohamed Sanu. The team's passing offense is just 111th in the nation, and that number obviously needs to improve.
3. Is Andre Davis for real?: The USF receiver broke out in a big way last week against Nevada, becoming the top target for Daniels by catching 12 passes for 191 yards and two touchdowns, including the game-winning 56-yard score. With Sterling Griffin out for the season, Daniels needs a No. 1 target. Davis has the skill set to do the job. The USF passing game, though, will be tested by a very good Scarlet Knights secondary, featuring cornerbacks Logan Ryan and Brandon Jones. Davis will be tested.
Email dave.miller@nationalfootballpost.com or follow me on Twitter at Miller_Dave