February 19, 2011 -
Dave Miller
Sanders, Jr. among prospects at Alabama's junior day
Accompanied by his legendary father, Barry Sanders, Jr. is in Tuscaloosa today as the University of Alabama hosts its junior day for numerous top prospects in the Class of 2012. The younger Sanders, one of the top running backs in his class out of Heritage Hall High School in Oklahoma City, Okla., is on campus for the second time. The son of the Detroit Lions Hall of Fame running back visited Tuscaloosa in 2010 for the Crimson Tide's Homecoming game.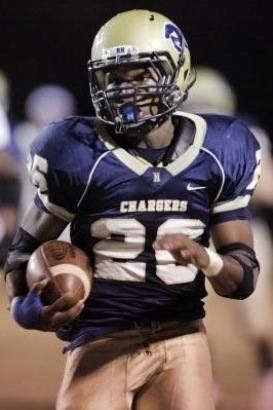 Barry Sanders, Jr. is in Tuscaloosa this weekend.
Among the top juniors joining Sanders, Jr. on an unofficial visit with Nick Saban and his staff:
QB Jameis Winston: Winston should expect to receive plenty of interest from coaches across the country as the 2011 season nears. However, this talented baseball player may face a decision similar to Nebraska commit Bubba Starling, who will likely be a first-round pick in Major League Baseball's June draft. Florida State is also in hot pursuit of the 6-4, 200-pound dual-threat signal-caller, who reportedly will be able to play both sports if he signs with the Crimson Tide.
QB Greyson Lambert: Lambert started the last seven games of his sophomore season after beating out the senior starter, who just happens to be walking on at Georgia in 2011. The 6-5, 195-pounder has a good arm, perfect size to scan the field and real good field vision. He is a prototypical drop-back passer, but he needs to continue to work on his footwork and mobility. Alabama, Clemson and Georgia are high on his list, but his close relationship with former Clemson offensive coordinator Billy Napier could benefit the Tide, as Napier is now on Saban's staff. Lambert is currently No. 5 on the NFP's Class of 2012 quarterback rankings.
DT Justin Shanks: Two of Shanks' high school teammates have already committed to the Tide. Will he follow Justin Thomas and Caleb Gulledge and choose to play for Saban? The 6-3, 290-pounder has a great build and projects to be an every-down tackle and a disruptive force in the backfield.
LB Reggie Ragland: Ragland committed to Alabama in December. He has great size at 6-4 and 245 pounds and he can also play tight end. But he's more likely to play on defense in Tuscaloosa.
S Travis Blanks: Blanks is from Tallahassee, Fla., and he was offered by the Seminoles in eighth grade. However, he likes the Tide and several other schools on his list. The 6-1, 195-pound defensive back is a difference-maker in the secondary.
CB Geno Smith: The Atlanta, Ga., product is being pursued by Alabama, Auburn, Florida and many other top programs. He was once considered an Auburn lean, but he is sitting on roughly 18 offers, including his most recent ones from Notre Dame and Oklahoma.
Email dave.miller@nationalfootballpost.com or follow me on Twitter at Miller_Dave
Want to work in the NFL? Click here to sign up for the NFP's "Chalk Talk at the Combine" Seminar February 25 in Indianapolis.