December 29, 2012 -
Dave Miller
Saturday's Bowl breakdowns
Let's take a quick glance at the five bowl matchups taking place on Saturday across the country.
Armed Forces: Fort Worth, Texas ESPN 11:45 a.m. ET Rice (6-6) vs. Air Force (6-6)
The Armed Forces Bowl returns to Amon G. Carter Stadium in Fort Worth, as Rice battles Air Force. The Falcons will be making their fourth appearance in this game, while the Owls rebounded from a 2-6 start, which included a home loss to Texas-San Antonio, to close out the season on a four-game winning streak. These programs, which were briefly rivals in the WAC from 1996-98, both have good offenses but move the ball in different ways. Rice, which is averaging 31.8 points per game, is led by dual-threat quarterback Taylor McHargue, who has thrown for 2,178 yards and rushed for 628 more. Air Force, meanwhile, did not have a dominant offense at 28.5 points per game, but it has the nation's second-ranked rushing offense at nearly 329 yards per game, led by running back Cody Getz. And while Rice is allowing opponents to score an average of 31.3 points per game, Air Force is giving up just below 29 points per contest. But the Falcons have struggled defensively on third down.
Pinstripe: Bronx, N.Y. ESPN 3:15 p.m. ET West Virginia (7-5) vs. Syracuse (7-5)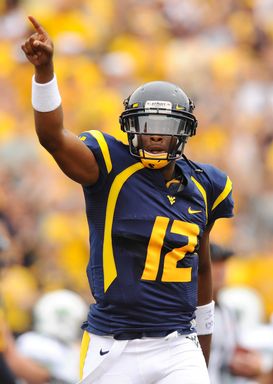 US PRESSWIREGeno Smith has had trouble with the Syracuse defense the last two meetings.
Former Big East foes clash at Yankee Stadium, as West Virginia battles Syracuse in a game that was played annually since 1955 before this season. Expect plenty of offense in this contest, as both teams average more than 470 yards per game. The Mountaineers will be looking to beat the Orange for the first time since 2009, and we could see snow in this one. Will weather make both teams focus on the ground game a bit more? What we do know is that Geno Smith will have to find a way to solve a Syracuse defense that has given him problems the last two meetings. The Mountaineers star has been sacked nine times and has thrown five interceptions in the last two games against the Orange. Brandon Sharpe will try to get in Smith's face as much as possible. Meanwhile, the Orange will look to establish the run despite having accomplished quarterback Ryan Nassib. Syracuse has averaged over 215 yards per game on the ground over the last six contests, when it went 5-1. Jerome Smith and Prince-Tyson Gulley will get plenty of carries in the backfield.
Kraft Fight Hunger: San Francisco, Calif. ESPN2 4 p.m. ET Navy (7-4) vs. Arizona State (7-5)
Navy and Arizona State meet in the Kraft Fight Hunger Bowl at AT&T Park in San Francisco. The Midshipmen are led by quarterback Keenan Reynolds, who poses a lot of problems with his legs and led his team to a 7-1 record in the final eight games of the season. He threw just one interception in 97 passing attempts while throwing for eight touchdowns. Arizona State allowed 200-plus rushing yards in four of its last six games, so it could be susceptible against a Navy triple-option attack that has rushed for more than 275 yards per game. Meanwhile, freshman running back D.J. Foster leads the Sun Devils in all-purpose yardage and could be a real factor in space, and he could see even more time because Marion Grice is questionable following the death of his brother. Quarterback Taylor Kelly leads the up-tempo spread attack, though he can turn the ball over. During a four-game slide after a 5-1 start, Kelly threw seven of his nine interceptions. But can Navy's defense pose a real threat?
Alamo: San Antonio, Texas ESPN 6:45 p.m. ET Texas (8-4) vs. Oregon State (9-3)
After another disappointing season, Mack Brown is desperate for a bowl win...
Buffalo Wild Wings: Tempe, Ariz. ESPN 10:15 p.m. ET TCU (7-5) vs. Michigan State (6-6)
...And Michigan State would like to avoid finishing with a losing record.