May 29, 2013 -
Dave Miller
Schedules complicated by College Football Playoff
When Oklahoma head coach Bob Stoops recently questioned exactly how tough the SEC is in comparison to the Big 12, he raised a lot of eyebrows of those who follow college football.
But the comment that didn't seem to pique enough interest nationally was his concern about the College Football Playoff, which will begin in 2014.
Stoops expressed his concern about the makeup of the selection committee and what those members would be looking for when they select the four teams that will annually comprise the playoff.
While every indication since the playoff has been announced has been that the impending selection committee will consider a team's strength of schedule, Stoops would like to see it to believe it first after he feels that his team was overlooked in BCS consideration last year.
"Going into the bowl games, Northern Illinois had one loss, we had two," Stoops said. "Theirs was to Iowa, right? Ours were to Notre Dame and K-State. And they're ranked ahead of us. Well, they got the bid to the BCS bowl ahead of us."
Of course, NIU fell in its season opener to an 8-loss Iowa team but ranked No. 15 in the BCS standings at the end of the year, giving the Huskies an automatic berth in the BCS field. Meanwhile, the Sooners lost to 1-loss Kansas State and undefeated Notre Dame and didn't get an at-large berth while ranked No. 11 in the final BCS rankings. All NIU had to do was finish outside of the top 16, and OU would have gone to the Sugar Bowl instead of the Cotton Bowl, where it was plastered by Texas A&M.
"If [NIU] went through our whole schedule, would they have been 11-1? I doubt it," Stoops said. "So obviously then, the voters, it didn't matter that much to 'em. And it's not right."
While the NIU-BCS debate is a moot point, it underscores the concerns of coaches like Stoops who wonder just how wise it is to schedule tough nonconference foes moving forward. And it is also a consideration when leagues are deciding how many conference games to play, such as what the SEC is going through right now during its league meetings in Destin, FL.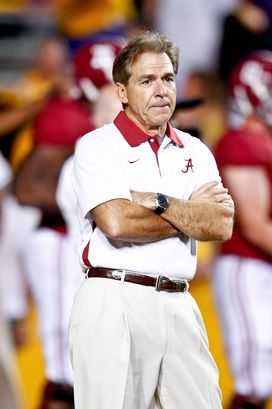 US PRESSWIREAlabama's Nick Saban believes the SEC should play nine conference games.
Although there are currently no plans for the SEC to vote on a nine-game league schedule this week, the conference plans on discussing it at length during this week's meetings, with commissioner Mike Slive and Co. likely having a better idea on a timeframe for such a decision by Friday. Slive did state, though, that the SEC will have an eight-game, 6-1-1 league format in 2014 and also probably in 2015 (six conference games, one permanent cross-division rival and one roaming division opponent). So a nine-game schedule likely wouldn't be on tap until 2016 at the earliest.
Surprisingly, Alabama head coach Nick Saban believes the league should play nine conference games, while there hasn't been an SEC boss who doesn't appear content with eight. It's interesting that Saban, who has led the Crimson Tide to three BCS national championships in the last four years, would be interested in change since the current formula has worked for his squad. But there's no question that he sees the benefit of adding another tough game to the annual schedule, which would theoretically help the strength of schedule component in the impening playoff.
Of course, that's the issue: how much will strength of schedule matter? Until more is known about the College Football Playoff selection committee, will leagues such as the SEC be proactive and set itself up for the best opportunity for access? Saban's theory is essentially that schools could afford to lose a tough game without being disqualified for playoff consideration.
More content and programming for the impending SEC Network could also prompt a shift to nine games. But besides the fact that the conference recently became a 14-team league with the additions of Texas A&M and Missouri, which led to a re-assessment of future schedules, the desire to get multiple teams into the four-team semifinals is at the core of any decision to add league games.
As of now, the Pac-12 and Big 12 play nine conference games. And the Big Ten will do so starting in 2016. The ACC, meanwhile, will play an eight-game league schedule, but keep in mind that partial member Notre Dame will be an opponent five times per year. Schedules are being strengthened, so the SEC will certainly make the move to nine league games (which would likely eliminate a weak nonconference foe in most cases) in order to strengthen its postseason position. That could be done by dropping FCS opponents or scheduling tougher nonconference foes also, of course. But major schools across other conferences may have limited room on their future schedules. In addition, teams will be careful not to over-schedule tough opponents initially, especially because of not knowing how even close losses could affect their postseason resumes. On the flip side, what if leagues that are moving toward nine conference games get criticized if they no longer schedule a lot of high-profile out-of-league contests?
The major problem remains the criteria for the yet-to-be-named selection committee of 15-20 members. Should a league like the SEC move to nine games when it doesn't necessarily know its impact on the playoff quite yet?
That's what Slive, SEC coaches and other league personnel need to ask themselves throughout this week.