August 02, 2011 -
Barry Dorey
Scheme change won't trip up 'Shoelace'
No matter how you feel about Rich Rodriguez, the guy knows offense.
The former Michigan head coach didn't win enough in Ann Arbor to keep his job past the 2010 season, but the Wolverines finally were clicking offensively as his tenure came to an end.
And it was no coincidence that the Maize and Blue's spread attack began flourishing when quarterback Denard Robinson grabbed the starting job and ran with it — up and down the field each Saturday.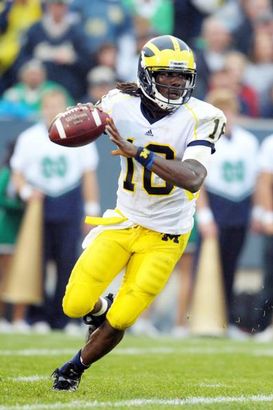 ICONDenard Robinson may do more damage through the air this fall, but he remains a threat to escape the pocket at any time.
But with Rich Rod gone and a pro-style scheme installed by new coordinator Al Borges, many wonder if "Shoelace" will be as effective this fall as he was last season. First-year head coach Brady Hoke has even said that he wants his junior quarterback to stay in the pocket more often and rely less on his legs.
However, fans of the Wolverines shouldn't worry about Robinson being less effective. After all, his work ethic is what allowed him to wrest the starting job away from Tate Forcier before last season. And it's that same work ethic that will lead to a successful transition into the new offense.
At Big Ten Media Days last week, Robinson said he's still adjusting to taking snaps from under center and being more comfortable in the pocket with his footwork, trying to keep his feet under his body to be more accurate with his throws. But that comfort level will grow each day when fall camp rolls around. And working in his favor is the fact that he played in a similar system in high school. In fact, it wasn't until his senior season that he played exclusively in a shotgun formation.
Hoke is also smart enough not to handcuff Robinson and negate what's his most valuable asset: his athletic ability.
"We were smart enough to have elements of what he does well from the past in the spread in our offense," Hoke said last week at Media Days.
Borges has said that some of the offense will still be run from the shotgun and that there will be plays designed to get No. 16 running.
The Big Ten's offensive player of the year last season, Robinson completed 62.5 percent of his passes for 2,570 yards and 18 touchdowns while adding 1,702 yards and 14 scores on the ground. He also became the first player in NCAA history to tally 2,500 yards passing and 1,500 yards rushing in a single season.
Alleviating some of the offensive burden on Robinson will also help him stay on the field, which is something that the 6-foot, 193-pounder couldn't do as much as he liked last season as he battled a variety of nagging injuries because he was hit so many times. The hope is that by running less, he will stay fresh and injury-free.
While he still must become a more polished passer — he tossed 11 interceptions in 2010 — Robinson has worked hard this offseason as the team looks to capitalize on the energy Hoke has infused into the program. He has been the main organizer of team workouts throughout the offseason and has embraced his new leadership role, being more vocal when necessary.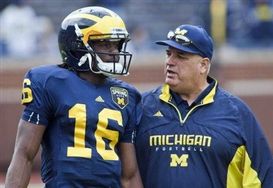 New offensive coordinator Al Borges has installed a pro-style attack in Ann Arbor.
And while we'll unquestionably still see Robinson break off explosive runs, the Wolverines do have better depth at running back, which should take some of the load off of the signal-caller. Michael Shaw and Vincent Smith will compete for the starting job, and several younger players likely will figure into the mix. But will a go-to workhorse emerge from the pack?
"At end of the day, we'd like to have a lead back as that I-back or tailback, but we'll have to see how we progress through fall camp," Hoke said. The new coach noted that he wants his lead back to carry the ball about 20 times per game, but you'll also see the Wolverines use their depth and play with two-back sets as well.
If all else fails, the Wolverines still have Robinson, the athletic playmaker who set a school record for total offense in his first start last season, amassing 383 yards (197 on the ground) against Connecticut, and then eclipsing the mark the next week with 502 yards in a victory at Notre Dame.
Class of 2013 quarterback recruit Shane Morris, a pure drop-back passer who verbally committed to Michigan, might be the future under center for the Wolverines.
But the present is Robinson — the rare talent who will thrive no matter the scheme.
Check out Hoke's presser from Big Ten Media Days.
Email dave.miller@nationalfootballpost.com or follow me on Twitter at Miller_Dave