May 16, 2012 -
Dave Miller
Scholarship limits not slowing down USC
Life after a two-year postseason ban isn't too shabby for USC's Lane Kiffin.
The former Oakland Raiders and Tennessee Volunteers head coach will be entering the 2012 season with arguably the best 22 starters of any team in the nation, led by Heisman Trophy-contending quarterback Matt Barkley. And optimism is high in Los Angeles as Trojan fans believe that a BCS national championship game could be on the horizon if things break right.
Those 30 docked scholarships over three seasons? It's still not an ideal situation for any major football program. However, Kiffin, Ed Orgeron and Co. are putting forth their best efforts to continue to bring in the nation's best talent.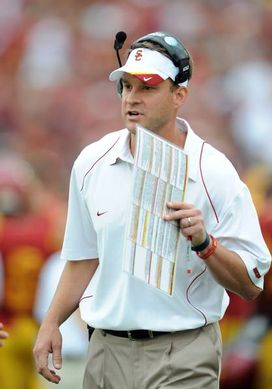 ICONLane Kiffin has done a very good job so far of navigating USC through scholarship limitations.
So far, so good.
Because of clever roster management, early enrollees and a long appeals process, Kiffin managed to set up his roster pretty well knowing that his program would be entering its second year of a three-year scholarship reduction period, where the Trojans can only offer 15 scholarships instead of the usual 25.
The major concern for the Trojans over the next couple of years, of course, is depth. While the starting 11 on both sides of the ball is very talented heading into the fall, even one major injury could be a crushing blow. That is especially true at running back, a position that has been decimated by injuries, transfers and other departures. However, Kiffin and his staff understand that the key to navigating through scholarship deductions, besides good health, is limiting their mistakes on the recruiting trail. And while it's too early to tell if their Class of 2013 commitments will pan out, the current haul at least has the star power that many feared the team would not be able to continue to bring in.
After bringing in arguably the top quarterback in the Class of 2013, Max Browne, 'SC was able to snag a commitment from one of the best running backs in the country, Ty Isaac, on Tuesday. The commitments of Browne and Isaac show that the nation's top players still want to play for USC.
The five-star Browne chose USC over Alabama, Oklahoma, and home-state Washington after holding offers from most of the major FBS powers. The 6-5, 202-pounder from Sammamish (Wash.) Skyline High School is a traditional dropback passer who will get every opportunity to compete with Cody Kessler and Max Wittek for the starting job in 2013 if he enrolls early, which he plans to do. The Trojans didn't sign a quarterback in the 2012 class.
At national powerhouse Skyline, Browne took over for Jake Heaps when he graduated, and as a sophomore he passed for 4,182 yards and 50 touchdowns, leading his team to the Class 4A state-title game. He again passed for over 4,000 yards with 45 touchdowns and a 70 percent completion percentage last fall during another state-title run at Skyline. More impressive is that he reduced his interceptions from 13 to 7 from his sophomore to junior campaigns.
Trojan fans probably are already envisioning Browne connecting with Eldridge Massington (Mesquite, Tex./West Mesquite), a prototypical 'SC receiver who committed earlier this month.
Isaac, meanwhile, fills a major void at running back for the Trojans, as they have a serious depth problem in the backfield heading into 2012. Notre Dame and Michigan were two of the major suitors after Isaac, a 6-2, 215-pounder from Joliet Catholic Academy (Joliet, IL) who has great speed, shiftiness, and is also adept at catching the ball out of the backfield. Last fall he rushed for 2,629 yards and 41 touchdowns on 203 carries and caught 16 passes for 369 yards and six scores, capping off his season by rushing for an Illinois-record 515 yards and six touchdowns in a 70-45 loss in the Class 5A state championship game.
Once Curtis McNeal leaves, Isaac could step in right away and compete with D.J. Morgan for playing time. And they could have serious competition if the Trojans get a commitment later this week from Northern California prospect Justin Davis.
Kiffin and the Trojans have already managed to get past the NCAA sanctions that allowed players to transfer immediately in 2010. One of the real key areas that needed improvement was along the offensive line, and the Trojans are set at the position for the future with young players such as Audrey Walker, Zach Banner and Max Tuerk. The next area of need is in the defensive backfield, where the team will have to replace some key players who have left and will be leaving. The good news is that the defensive backs crop in Southern California is very solid in this recruiting cycle. The team already has cornerback Chris Hawkins (Rancho Cucamonga, Calif./Rancho Cucamonga) in the fold for 2013.
While depth remains the No. 1 concern this fall, USC's 75 scholarship players are a lot better than most teams with the full 85 on hand. If the Trojans don't have too many misses on the recruiting trail, Kiffin and his staff will have done an unthinkably great job getting through these supposed rough times.
USC has six commitments in the Class of 2013 as of now, so there is still a lot of work to be done by National Signing Day next February. But it's clear that the USC brand has never been stronger, scholarship limitations be damned.
Email dave.miller@nationalfootballpost.com or follow me on Twitter at Miller_Dave