December 20, 2010 -
Dave Miller
Scuffle occurs at reception for Boise State, Utah
Think Boise State isn't fired up to be at the MAACO Bowl?
While it's not the Rose Bowl berth the Broncos likely would have received if they had beaten Nevada late in the season, Chris Petersen's squad certainly wants to close out the season in fine fashion against Utah.
But the Utes aren't just going to roll over either.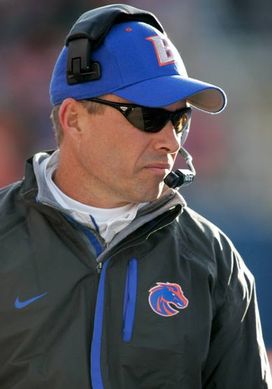 ICONWho said Chris Petersen and the Broncos weren't going to be ready for the MAACO Bowl?
Case in point, the welcome reception for the teams on Sunday, when a bout of pushing and shoving occurred between the two teams at the first of several events involving both squads.
"Some pushing and shoving, some dishes broken," said Mark Wallington, the media director for the MAACO Bowl.
The incident began outside of a massage room, where the bowl had provided professional massages for the players.
"They were just mingling and they got into a little shouting match," Wallington said.
The skirmish was broken up by the bowl staff, and Kyle Whittingham's Utes moved to a lower level of the Hard Rock Caf