July 17, 2012 -
Dave Miller
SEC Media Days kick off college football's preseason
It's been a long, hot summer across the college football landscape.
While we have seen the advent of a four-team playoff that is set to begin in 2014, the Penn State scandal continues to be sobering for all of us who love the sport.
But the 2012 season is near, so let's talk a little bit about some on-the-field issues as SEC Media Days officially kick off the preseason Tuesday at the Wynfrey Hotel in Hoover, Alabama. While not much major news is likely to come out of Media Days, save for a juicy quote from South Carolina head coach Steve Spurrier, let's take a look at some of the biggest storylines that we should watch as SEC teams prepare for their impending preseason camps and a possible run at the league's seventh consecutive BCS title.
You can watch SEC Media Days on ESPN.com/ESPN3 at the following times: July 17 (1 p.m.), July 18 (9:30 a.m.) and July 19 (9:30 a.m.)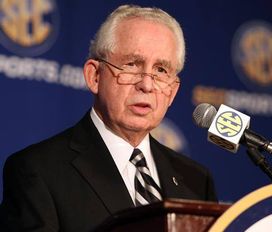 Mike Slive said Monday that he'll stay at least a couple of more years as the SEC commissioner.
Commissioner Mike Slive's address: Slive was a major proponent of the four-team playoff, and he will kick things off Tuesday with his opening statement at 1:30 p.m., where a wide range of topics will be broached by reporters. Slive already said Monday that he'll stay at least a couple of more years as the SEC commish, so the league will continue to have stability with his leadership.
Texas A&M and Missouri are welcomed to their new league: Kevin Sumlin and Gary Pinkel are in for a treat with the media swarm fest that attend SEC Media Days. More than 800 credentialed media will be trying to get both coaches' thoughts on how they feel their teams stack up after arriving from the Big 12. Both of these coaches are excellent offensive minds, but are they ready for SEC defenses each and every week?
The cream of the crop: While Arkansas, Georgia and South Carolina certainly are capable of beating most teams any given Saturday, LSU and Alabama remain the class of the SEC. And while Les Miles will continue to emphasize the run with a deep backfield, the Tigers now have a legitimate pro-style quarterback with a good arm to bolster the aerial attack. Zach Mettenberger, who threw for 2,678 yards and 32 touchdowns against just four interceptions in his junior-college stop following his dismissal from Georgia, has top threats in Odell Beckham, Jarvis Landry and Russell Shepard at receiver. And that defense remains nasty, particularly up front. The Crimson Tide, meanwhile, are replacing seven starters on defense. However, Nick Saban always reloads. The key will be if the secondary is sound after losing 75 percent of its starters. JUCO stars Deion Belue and Travell Dixon should contribute right away.
Impact of Isaiah Crowell's dismissal at Georgia: As I wrote when head coach Mark Richt dismissed 2011 SEC freshman of the year Isaiah Crowell, don't dismiss Georgia yet from the SEC race. No. 2 back Ken Malcome now becomes the go-to guy after a strong spring, and fellow veteran and former fullback Richard Samuel moved back to tailback. But Bulldog fans should be excited about the arrival of top North Carolina freshmen Keith Marshall and Todd Gurley. Marshall arrived early so he was able to get acclimated a bit. And the Dawgs still have three-year starter Aaron Murray at quarterback and a very talented 3-4 defense. They just have to deal with a depleted secondary early in the year due to suspensions. Three new starters also need to gel along the offensive line.
Who won't be in attendance?: Unfortunately, every year there are star players who for one reason or another are not brought along to Media Days by their coaches. South Carolina's Marcus Lattimore and Texas A&M's Christine Michael are two of the best running backs in the nation yet won't be in attendance. They are both coming off of injuries, so their coaches likely don't want them to deal with a barrage of questions. The same goes for Missouri quarterback James Franklin. But the most shocking names not in town are Georgia quarterback Aaron Murray, Alabama quarterback AJ McCarron, LSU cornerback Tyrann Mathieu and South Carolina defensive end Jadeveon Clowney.
Email dave.miller@nationalfootballpost.com or follow me on Twitter at Miller_Dave