July 22, 2011 -
Barry Dorey
SEC Media Days notes: Day 2
CLICK HERE for SEC Media Days notes: Day 1
Showering Boise State with love at SEC Media Days? It happened, and it came from Georgia head coach Mark Richt, who enters his 11th season in Athens hoping to rebound from a disappointing 2010 season that culminated in a loss to Central Florida in the team's bowl game.
The Bulldogs kick off the 2011 season against Boise State at the Georgia Dome, and Richt said that when he pondered scheduling the contest, it seemed like a necessity given the state of his program.
"Where we were at the time was a decline in our record, a decline in how people perceived our program, a place that I didn't really like, I wasn't very comfortable in, wasn't used to," Richt said. "I said, 'What better way to send a surge of energy into the program than to schedule a game like that?'"
It won't get any easier for the Dawgs after the tilt with the Broncos. The following week, defending SEC East champion South Carolina visits Sanford Stadium.
Richt may have brought in a "Dream Team" this past February, but that enthusiasm will get erased in a hurry if the Dawgs open the season 0-2.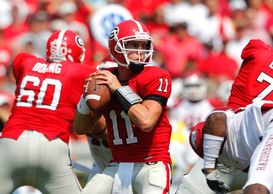 ICONGeorgia QB Aaron Murray is looking for playmakers.
There's no question that Georgia's Aaron Murray is the most accomplished quarterback in the SEC — and he's only a redshirt sophomore with one year of starting experience behind him. But the Bulldogs signal-caller has a tough task at hand this fall, especially in the early going as his team faces tough back-to-back contests to open the season versus Boise State and at home against South Carolina. Further, he will face two difficult defenses without receiver A.J. Green, who was a first-round pick in April's NFL Draft, as well as gritty fellow receiver Kris Durham. He also won't have the team's top two rushers from last season in Washaun Ealey and Caleb King, who are no longer with the program. But most importantly, he'll be working behind a questionable offensive line that is dealing with depth issues. While there's no question Isaiah Crowell could make an immediate impact — possibly as Marcus Lattimore did at South Carolina last season — it's just a lot to ask of Murray, who still has plenty of room to grow despite his immense talent.
Keep an eye on: Malcolm Mitchell
While Crowell will get all the preseason attention, fellow freshman Malcolm Mitchell could end up having a similar impact. The 6-1, 187-pound receiver has impressed Murray during summer passing drills and could emerge as the top weapon as Murray will be starving for playmakers. The signal-caller has marveled at the speed of his new receiver, who was a top-10 receiver in the Class of 2011.
Derek Dooley still has a big rebuilding job on his hands at Tennessee. And while the talent level is getting better, it's still a very young team. The Vols head coach will have a freshman, seven sophomores, two juniors and a senior in his projected offensive lineup.
"But we have more experience on offense coming in this year than we did last year," Dooley said. "We found ourselves last year coming in with a lot of uncertainty on the offensive line, a lot of uncertainty at quarterback, a lot of uncertainty at running back. We don't have that this year.
"So we feel like we have the right kind of players in place, and we expect them to get better and grow."
While the Vols are youthful on offense, it's the defense that remains the real concern.
"Defense is a little like the offense of a year ago," he said. "We're returning just one player in our front seven. And in this league, as we all know, if you don't have a good front seven, you're going to have a tough time week in and week out."
Not only are the Vols young in their front seven, but the secondary could be relying on two junior-college players in the backfield. The return of safety Janzen Jackson is crucial.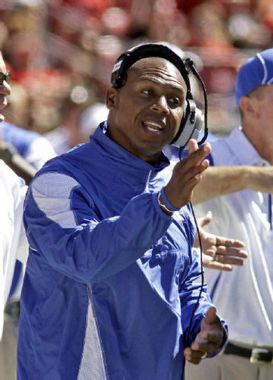 Joker Phillips enters his second season at Kentucky.
Kentucky has gone bowling the past five seasons, but head coach Joker Phillips wants to take the program to greater heights. And despite their postseason appearance last season, the second-year leader knows that the Wildcats' 6-7 record was a disappointment considering the program enjoyed back-to-back 8-5 campaigns before his arrival. But he believes his program is on the rise.
"We're very, very close," Phillips said. "We lost a lot of close games. Things that will get us over the hump will be being the most disciplined team, being the most physical team, and having mental toughness."
Phillips mentioned the team's strength and conditioning coach, Rock Oliver, who has helped cultivate a culture of toughness and dedication. Phillips believes the team has made great strides in its offseason preparation under Oliver, noting that the team looks leaner and stronger.
The Wildcats will bring a variety of look defensively under new co-coordinator Rick Minter, who was able to work with the team during their practices before last season's BBVA Compass Bowl.
But will the offense have enough playmakers to help out new quarterback Morgan Newton? All-everything Randall Cobb is gone as well as underrated running back Derrick Locke. But four starting offensive linemen return, and new right tackle Billy Joe Murphy does have nine career starts.
Gene Chizik certainly didn't look like a head coach of a defending national champion at his presser on Thursday. On the heels of the report that he had a verbal joust with a member of the NCAA at the SEC spring meetings last month, Chizik seemed more frustrated and aggravated than anything else as he answered question after question about the ongoing NCAA investigation. But he continued to defend his program, maintaining that it's clean and that winning remains the top concern despite graduating more than 20 seniors from last year's championship team.
"The journey from this point and time last year to now has been incredible for us," Chizik said. "But I want to make this really, really clear because the minute our plane hit the ground in Montgomery on Jan. 11, we had moved on. We have been focused and locked on the 2011 football season."
In terms of the team's prospects this fall, the Tigers will be replacing Heisman Trophy-winning quarterback Cam Newton — still a topic of discussion at these media days — as well as Lombardi Award winner Nick Fairley and almost the entire offensive line. But Chizik won't make any excuses.
"We have a very young team," he said. "But make no mistake about it, the standard for Auburn University and the goals for Auburn University, no matter if we are going to play 22 freshmen, have not changed. That is to graduate our players and win championships."
Quote of the day: It had to be Chizik's strong message that the Auburn program is clean.
"I'll make this real clear: The NCAA on more than one occasion has said that Auburn has done nothing wrong in the recruitment of Cam Newton. Nothing's changed. I can't control everybody's microph one. Can't control everybody's opinion. Don't try to…I feel great about where we are as a football program. I sleep really good every night that my head hits the pillow. That's what I can control. So I know we're every day doing things the right way. That's what I can put my time and energy into. So that's what I do."
Email dave.miller@nationalfootballpost.com or follow me on Twitter at Miller_Dave