July 23, 2011 -
Barry Dorey
SEC Media Days notes: Day 3
CLICK HERE for SEC Media Days notes: Day 1
CLICK HERE for SEC Media Days notes: Day 2
2011 Preseason All-SEC honors
The 2011 Preseason All-SEC team was announced Friday, and Alabama was the big winner with nine first-team selections. The Crimson Tide led all other conference teams with 16 total selections, with Arkansas coming in second with 14 total picks.
Alabama's 16 players are the most all-time in any year, and the Tide's nine first-team players are the most in any year as well. The previous high was eight set by the Tide in 2010 and Florida in 2009.
Speaking of the Gators, they were the only squad that didn't have a single offensive player on one of the three preseason teams. Only four Gators were selected overall. Is that a bad omen for first-year head coach Will Muschamp? Perhaps new offensive coordinator Charlie Weis can coach up a unit that struggled to consistently move the ball and create big plays in 2010.
In terms of preseason division predictions, Alabama was the choice in the West, and it surprisingly wasn't very close. I thought LSU would get a little more love. Meanwhile, South Carolina was the overwhelming choice to claim the SEC East. Overall, Alabama is predicted to win the SEC for the fourth time since 1992.
The Nutt-Mullen party will not be coming to a restaurant near you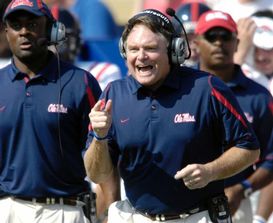 ICONOle Miss head coach Houston Nutt has dropped the last two Egg Bowls against Dan Mullen and Mississippi State.
The Egg Bowl will be fun this season.
While the tilt between Ole Miss and Mississippi State is always one of the more underappreciated rivalries in college football, this fall's version is even more intriguing after MSU claimed the last two meetings — and with Bulldogs head coach Dan Mullen seemingly boasting about the feat every chance he gets. The former Florida offensive coordinator has also embraced a new billboard campaign on the borders of the state, with signs featuring himself welcoming those on the road to "our state" — Bulldogs territory.
So, seemingly every other question directed at Ole Miss head coach Houston Nutt at his presser on Friday was aimed at getting a reaction to the new ad campaign. The former Arkansas head coach did his best to not participate in the gamesmanship, noting that the billboards haven't affected recruiting as much as people think.
"Using valuable energy on something like that is a waste of time," Nutt said. "You better be concentrating on recruiting, concentrating on winning, helping your players become a better person and a better football player."
Mark your calendars: This year's Egg Bowl will be played
Keep an eye on: Kentrell Lockett
Ole Miss will need all the help it can get this season — both offensively and defensively — if it wants to put behind a disastrous 2010 campaign. And one player who should help the cause is senior defensive end Kentrell Lockett, who was given a sixth year of eligibility following a bad knee injury early last season. Healthy again, Lockett, earned preseason first-team All-SEC honors from the media.
Lockett gives the Rebels a dynamic pass rusher and defender, something that is desperately needed after the season-ending injury to linebacker D.T. Shackelford.
Also keep an eye on true freshman linebacker C.J. Johnson.
"We're going to give him every opportunity," Nutt said. "C.J. doesn't look like a guy just coming out of high school. Physically, he looks the part."
Miles and Lyles
Besides Jordan Jefferson's supposed improvement under new offensive coordinator Steve Kragthorpe, the main topic of conversation around the LSU program is Willie Lyle's relationship with head coach Les Miles and his staff. On Friday, Miles defended the purchase of recruiting videos from Lyles, saying it was necessary for the staff to see game action of junior-college recruits.
"The only thing I can tell you is we look for film and video anywhere we can find it," Miles said. "Those people that provide those services, we need to cover a broad area, and we want to evaluate our guys from a bunch of different spots."
The NCAA is currently investigating the Tigers for their transactions with Lyles, whose scouting data has been under question since it was revealed that Oregon paid him $25,000 for his supposed services.
LSU has acknowledged making a payment of $6,000 to Lyles, and Miles said the video he received of quarterback Zach Mettenberger was useful in his recruitment.
When asked about Lyles specifically, Miles said he couldn't comment because the investigation was ongoing.
"All I can tell you is we're going to cooperate fully," he said. "I can't really make much more comment than that."
The expectations are always high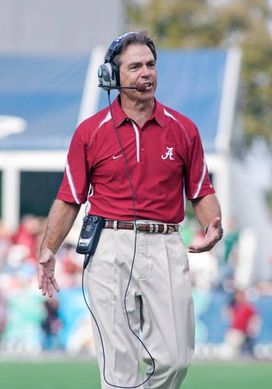 ICONNick Saban doesn't pay much attention to the high expectations for the Tide.
Despite the fact that his team is considered the favorite to win the SEC and potentially play for the BCS national championship, Alabama head coach Nick Saban doesn't pay much attention to the hype. Rather, he prefers to downplay expectations.
"From a logical standpoint, I know there's a couple other teams in our division — forget about the league — that have just as many returning starters, and their quarterback," Saban said. "So even though I have a tremendous amount of respect for the intelligence level and your ability to prognosticate, which we really can't do, I'm not capable of doing it. I don't understand how you come to the decisions that you come to."
While Saban isn't sure that we'll see the dominant, headline-grabbing players up front on defense, he does believe the strength of Kirby Smart's unit is the linebacker corps and defensive backfield. In terms of balance, it could be the best Saban has had in Tuscaloosa.
Although 17 starters return from last year's team, the big question is under center, where inexperienced signal-callers A.J. McCarron and Phillip Sims will battle to take over for steady Greg McElroy. Saban wants to see both in game action before he declares a true starter, and he's said he wouldn't have a problem playing both in the fall.
Sleeping giant?
I don't know how successful James Franklin will end up being at Vanderbilt (I actually believe he'll have a long tenure there — if he isn't offered a better opportunity sooner than later). But the first-year head coach comes off awfully impressive on the microphone. We already know he's accomplished a lot on the recruiting trail in just a short amount of time. If we take an early look at how the Class of 2012 is shaping up, the Commodores are quietly putting together an impressive crop of talent. Despite having no recruiting ties to the South and no prior SEC experience, Franklin is selling top recruits on the city of Nashville and the Vandy program.
On the field this fall, the Commodores will return nearly every starter from last season's squad. Because of their struggles in 2010, Franklin has had to work on changing his team's mindset. And no one player will be more important to the team's success this fall than quarterback Larry Smith, who has won just four of the Commodores' 24 games and just one against SEC foes in his two years as a starter. In his three seasons on the varsity team in high school, Smith lost just twice and won a state title.
"It hasn't been what I wanted," Smith told reporters Friday. "It's been very different — I'm not used to losing like we have. I don't like it. I think I brought a winning mentality here out of high school, but I haven't been able to implement it like I would like."
Smith completed less than 50 percent of his throws and tossed 10 touchdowns against 12 interceptions last season.
One intriguing aspect of Vandy's team this fall is its secondary, which features senior cornerback Casey Hayward, a second-team All-SEC selection by the coaches and media; senior safety Sean Richardson, who had 98 tackles a year ago; fellow safety Kenny Ladler, who played very well as a freshman last season; and junior cornerback Trey Wilson, who is coming off a strong spring.
Email dave.miller@nationalfootballpost.com or follow me on Twitter at Miller_Dave