July 21, 2011 -
Barry Dorey
SEC Media Days notes: The commish speaks
All eyes are on Hoover, Ala., this week as SEC Media Days are taking place. And commissioner Mike Slive opened the festivities with a bang on Wednesday, proposing a series of changes across the college football landscape, including raising academic requirements for incoming freshmen and paying athletes the full cost of scholarships.
Noting that the sport has "lost the benefit of the doubt" because of its numerous negative off-the-field issues this offseason, Slive said that big-money college sports need to be open to change in order to help the NCAA's efforts in upgrading enforcement.
"We don't have the luxury of acting as if it's business as usual," Slive said. "And that's been made clear by the headlines emanating from the Atlantic to the Pacific, and from the Gulf to the Great Lakes."
While the eyes of the nation certainly have been focused on Ohio State and other non-SEC programs this offseason, the league that has captured the last five national titles has also had its run-ins with the NCAA.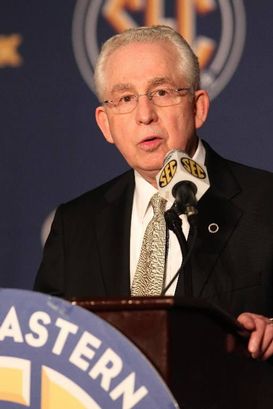 SEC commissioner Mike Slive proposed a series of changes in college athletics.
LSU was just placed on a one-year probation for major recruiting violations, while Tennessee and Auburn await verdicts on ongoing probes.
The real interesting part of Slive's proposals concern high school athletes and their academic progress being a larger part of the recruiting process. Here is a quick look at Slive's proposed agenda that he unveiled in his opening address.
• Having scholarships reflect the full cost of attendance.
• Offering multi-year scholarships instead of the renewable one-year grants that are currently in place.
• Increasing the minimum GPA for incoming freshmen.
• The reinstatement of partial qualifiers (Prop 48). These student-athletes would be admitted and allowed to practice on a limited basis, but they would not be eligible until their academics improved.
• Overhauling the recruiting structure to remove restrictions on coaches using phone calls, text messaging and social media to contact recruits.
• The strong support of NCAA president Mark Emmert's idea of increased rules enforcement, where teams would be severely penalized if they cheat.
While he admitted that the proposed changes wouldn't stop all that ails the sport, he does believe they would help, especially the proposed tougher academic standards.
"In all the years we've been doing this and raising standards, kids are competitors and tough and tenacious and they appear to rise to the occasion," Slive said. "To me, the crux of the academic proposals is the high school satisfactory progress. We've just seen too many youngsters who don't wake up until they are juniors or seniors to realize they are talented."
Question now remains how Big Ten commissioner Jim Delany will react. As we all know, Delany is arguably the only other person in major-college athletics with as much clout as Slive.
SEC television schedule
The early portion of the league television schedule has been updated. Check out the slate here.
Here are some other highlights from the opening of SEC Media Days: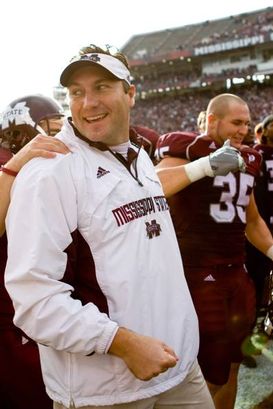 ICONDan Mullen is making big strides at Mississippi State.
Mississippi State third-year head coach Dan Mullen has big plans for the Bulldogs. Coming off a 9-4 campaign, which included a thorough beating of Michigan in the Gator Bowl, Mullen's group enters the 2011 season with high expectations. And that's okay with Mullen, who said his goal is to "relentlessly pursue" an SEC championship. The former Florida offensive coordinator believes the Bulldogs have the talent to claim the West division crown, as they return quarterback Chris Relf and running back Vick Ballard to an offense that continues to get more efficient with experience.
The biggest issue for the Bulldogs, however, will be replacing all three starting linebackers. Worse yet, they'll have to do it without defensive coordinator Manny Diaz, who left Starkville to assume the same position under Mack Brown at Texas.
While I'm not sure I agree with Mullen's assertion that Starkville is a "hidden gem," his players are certainly buying what he is selling. And the Bulldogs will continue to remain competitive in the toughest division in football, the SEC West.
And then there's South Carolina's Steve Spurrier. What would be Media Days without the Head Ball Coach, right?
Spurrier believes that his staff has "probably assembled maybe the best group of players we've had in the seven years" of his tenure. However, he cautions against the highest of expectations, noting that the Gamecocks lost their last two games of the 2010 season and notes that the team finished seventh in the conference in both total offense and total defense last season. The goal, as it is for every SEC team, is to "win the game in Atlanta," which would be the first time in the history of the South Carolina program.
"We've accomplished a few firsts," he said, which would include the SEC East title as well as historic wins over Alabama and Florida, "but there's still plenty more out there for us to go after."
Finally, Spurrier on when he envisions the nation's top recruit from the Class of 2011, Jadeveon Clowney, seeing the field: "Early and often," he said. "We think he's really going to be a super player and a real good guy for us."
If Devin Taylor and Clowney can consistently harass the quarterback from the edge, the Gamecocks won't have to worry about a suspect secondary this fall.
New Florida head coach Will Muschamp hinted that his focus will be running the defensive side of the ball in his first season in Gainesville, while former Notre Dame head coach and veteran NFL coordinator Charlie Weis will take care of an offense looking to bounce back after a rough 2010 season.
"The worst thing you can do in a leadership position is be something you're not," Muschamp said. "I hired Charlie to run the offense. I've got great confidence in what he's going to do and what we want to be offensively."
John Brantley is the unquestioned starter at quarterback and will look to improve on an uneven campaign in an offense that should better fit his skill set. The drop-back passer completed 60.8 percent of his passes for 2,061 yards with nine touchdowns and 10 interceptions in 2010, but he has a clean slate under Weis — as does the rest of the offensive skill players. The signal-caller said Weis has kept things simple thus far.
"You look at it the first day and you say, 'I'm never going to learn this,'" Brantley said. "But a few days into it, you pick up the new verbiage, and then everything goes from there. It gets a lot easier."
The 39-year-old Muschamp, who was most recently the defensive coordinator at Texas, knows that Gator Nation expects a lot more than an 8-5 season after the program claimed two of the past six national c hampionships. Despite residing in Austin in recent seasons, he knows the SEC from his playing days at Georgia as well as from running defenses at LSU and Auburn.
While Brantley remains perhaps the biggest question mark, along with how the team's smaller running backs fit into a pro scheme, the depth along the offensive and defensive lines is my biggest concern. The talent is there, but the team can't afford to suffer any serious injuries.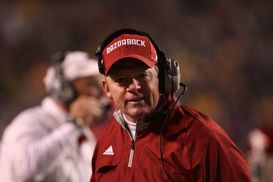 ICONThis is Bobby Petrino's best defense yet at Arkansas.
Bobby Petrino feels this year's defense is the best he's had in his time at Arkansas. And it's hard to disagree.
The Razorbacks will be able to generate a consistent pass rush with Jake Bequette and Tenarius Wright coming off the edge, and there's good depth inside as well.
"I'm excited for our defense this year because I really feel like it's the first time when we're physically where we need to be on the defensive front," Petrino said. "Our inside guys will be big and physical and athletic. We've got speed on the edges, which matches what we see every week in the conference."
"Defensively, our speed on the edges at defensive end and linebacker and in the secondary is where it needs to be."
And as we all know, the SEC separates itself from the other conferences not just with speed but along the defensive line. The league is just able to get the best talent along the front four year in and year out.
While the Razorbacks have made huge strides defensively, the Hogs' offense is ready to continue to light up scoreboards.
"I really feel like we're a fast football team", he said. "The speed we have at our skill positions, particularly on offense, at wide receiver and running back, gives us an opportunity to be a special offense."
Petrino also likes the fact that his seniors have seen a lot of game action because they were able to take the field as true freshmen. Now, that maturity is ready to pay off.
"Certainly our experience and our depth will give us an opportunity to win games when you need to in this conference, on the road and in the fourth quarter," he said.
Quote of the day
Spurrier, on the amount of money devoted to recruiting: "Mississippi State's got a jet airplane. They've got all kinds of money at Mississippi State. Everybody's got a lot of money."
Mullen's response: "Well, I've never played Augusta National." Beautiful.
Email dave.miller@nationalfootballpost.com or follow me on Twitter at Miller_Dave