July 16, 2013 -
Dave Miller
SEC Media Days preview
SEC Media Days take place Tuesday through Thursday in Hoover, AL, as the road to the kickoff of preseason camps continues with the nation's best conference starting the run of press gatherings.
Some of the biggest names in the sport will be in attendance at this event, including quarterbacks AJ McCarron, Aaron Murray and Johnny Manziel, wide receiver Donte Moncrief and defensive end Jadeveon Clowney.
Here are some of the biggest storylines to keep an eye on at the biggest SEC Media Days in the conference's storied history: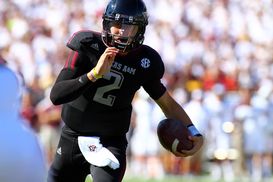 US PRESSWIREJohnny Manziel will remain in the spotlight at SEC Media Days.
- Johnny Manziel: Not many reporters will be asking about Manziel's potential NFL Draft stock. No, most scribes will be interested in how Manziel will answer questions about his high-profile offseason, including the latest incident at the Manning Passing Academy this past weekend. We have seen Johnny Football at a variety of prime sports-related and pop-culture events, including throwing out first pitches at Major League Baseball games, sitting courtside at NBA games and appearing on The Late Show with David Letterman. But his early departure from the Manning Passing Academy, where the QB was serving as a counselor, is the latest incident and the one that will get the most "play" here. So goes the life of the reigning Heisman Trophy winner in a social media era. While we should all realize that college-aged individuals will often make mistakes, Manziel will forever be held to higher standards both on and off of the field because of his breakthrough 2012 campaign. That's just the nature of the beast. Head coach Kevin Sumlin and offensive lineman Jake Matthews will also get blitzed with questions about Manziel this week.
- The other negative SEC news besides Manziel: While the league will be gunning for its eighth straight BCS national championship this year, the conference has had a bit of a rough offseason. Of course, it has had to deal with Manziel often being criticized for a variety of reasons -- fair or not. And Sumlin will also have to deal with questions about the arrests of defensive backs Deshazor Everett and Floyd Raven as well as suspended defensive tackle Kirby Ennis. But the mess at Vanderbilt has also been a black eye for the league. The Commodores suspended and dismissed four players because of an investigation by the Nashville police sex crimes unit. Head coach James Franklin will have to address the matter despite the school coming out with a statement on Monday. In addition, Jeremy Hill's status at LSU will be brought up, so Tigers head coach Les Miles will be fielding plenty of questions about his tailback. And don't think that former quarterback Jordan Jefferson's name won't be brought up in light of Hill's problems.
- Roll Tide: Alabama is trying to win its fourth BCS national championship in five seasons and its third in a row. Simply put, the road to No. 1 goes through Tuscaloosa. And the man in charge of the operation is head coach Nick Saban, who is running a football clinic. Saban will likely talk about how the Tide can't rest on their laurels and how it will be incredibly difficult for them to remain atop the mountain, but he knows that his program is a cut above the rest. The question is whether 'Bama will have answers for Manziel and the Aggies when the Tide travel to College Station in the season's opening month. If the Tide get by Kevin Sumlin's squad, is there a team in the East division that has the "goods" to beat them in an SEC title clash? And does a team such as Oregon, Stanford or Ohio State have enough to possibly topple the Tide in Pasadena in the final BCS title game?
- Bret's first SEC rodeo: First-year Arkansas head coach Bret Bielema is one of four head coaches making their SEC Media Days debut, along with Auburn's Gus Malzahn (though he knows all about this event after being OC of Auburn), Kentucky's Mark Stoops and Tennessee's Butch Jones. But Bielema's presence is most intriguing because we all know he will be asked about his comments on how hurry-up offenses are dangerous for the game. And he'll also likely be probed about the Big Ten's merits when stacked against those of the SEC. If Missouri and Texas A&M received the "How do you adjust to the SEC?" questions last year at this event, the former Wisconsin head coach should expect the same, especially with the Big Ten coming off such a down year in 2012. I would expect Bielema to recite his record in Madison and the program's NFL Draft pick history, however, as a way to counter such questions.