July 20, 2011 -
Barry Dorey
SEC Media Days preview
When a league produces the last five national champions, it deserves to kick off preseason Media Days for the BCS conferences.
And that's exactly what coaches and players from the SEC will do at the Wynfrey Hotel in Hoover, Ala. on Wednesday at the unofficial beginning to the 2011 SEC season.
The conference that has produced three of the last four Heisman Trophy winners very well could produce one of the participants in the BCS national championship game this season, with the winner of the November 5 game in Tuscaloosa between Alabama and LSU the odds-on favorite to represent the league in the title game.
Here are some things to watch for over the next three days: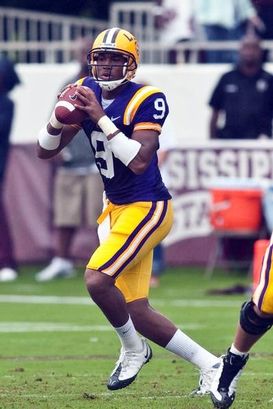 ICONCan Jordan Jefferson finally put it all together under new coordinator Steve Kragthorpe?
• LSU head coach Les Miles will be asked if senior quarterback Jordan Jefferson has finally put it all together and is ready to make it six straight BCS titles for the SEC. Miles also will be asked if new offensive coordinator Steve Kragthorpe's unit will be able to complement what should be another stout John Chavis-led defense.
Oh, and did I mention that Miles will be asked about the program's involvement with Willie Lyles, who is at the center of the investigation at Oregon? Yeah, Miles and Co. will truly see what it's like to be preseason league favorites.
• Speaking of favorites, Nick Saban's Alabama defense is loaded once again. On second thought, the unit wasn't bare last season. Except for a few big plays allowed in their biggest contests, the Crimson Tide still fielded one of the tougher defenses in the country. Now, with a more experienced and deeper secondary, Kirby Smart's unit could return to its dominant 2009 form.
• Auburn head coach Gene Chizik will be pressed about his verbal joust with NCAA vice president for enforcement Julie Roe Lach at the SEC spring meetings in Destin, Fla. Chizik, of course, wanted to know why the NCAA did not announce that the investigation surrounding Cam Newton had completed. Roe Lach, after being pressed on the matter, let Chizik know that the NCAA was not done sniffing around The Plains.
• There's no question that the league has some concerns at quarterback. Alabama will be okay no matter who lines up under center, but there's a huge hole to fill at Auburn, where a trio of inexperienced signal-callers will fight for the right to run Gus Malzahn's scheme. Ole Miss and Vanderbilt are also looking for stability under center.
At Florida, John Brantley will have a chance to shine under new coordinator Charlie Weis. But will top recruit Jeff Driskel's dual-threat skill set be too intriguing to keep on the sideline even as the Gators shift to a pro-style under the former Notre Dame head coach?
Morgan Newton and Tyler Wilson are primed to succeed at Kentucky and Arkansas, respectively, but can Stephen Garcia build off of his 2010 campaign? More importantly, will maturity remain an issue with the suspension-prone veteran?
• Will Georgia quarterback Aaron Murray get even more bad news about losing yet another running back or offensive lineman? The Bulldogs are the sexy pick to claim the SEC East if South Carolina falters, but there are serious questions in Athens -- unless true freshman running back Isaiah Crowell turns out to be a savior.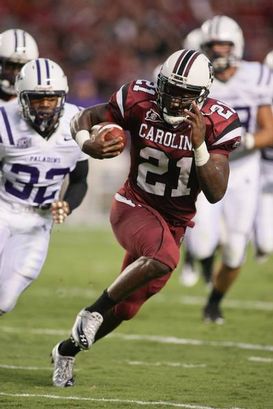 ICONMarcus Lattimore leads a deep crop of talented SEC running backs.
• While the talent level may be slightly down at the quarterback position this fall, the same cannot be said at running back. In fact, it's tough to proclaim anyone as the best running back in the league because there are so many candidates. While Marcus Lattimore could be considered the scariest because of the idea that he's just going to continue to get better in his second full season, Arkansas' Knile Davis may be the most underrated in the nation. And, of course, there's Alabama's Trent Richardson -- a possible Heisman Trophy finalist.
• While the NCAA has been busy at Ohio State, Georgia Tech, North Carolina and Oregon recently, the SEC hasn't been immune to investigations either. Alabama remains on probation because of its textbook scandal, LSU was officially charged with improper recruiting and received a one-year probation, and Tennessee will be on probation soon enough. Defending national champion Auburn? As we found out last week, the Tigers are still under investigation. Commissioner Mike Slive can't be happy, so it will be interesting to see what he has to say when he's prodded by the media and whether he eventually takes action.
Email dave.miller@nationalfootballpost.com or follow me on Twitter at Miller_Dave