March 23, 2011 -
Dave Miller
SEC releases 2011 schedule
The SEC has released its full 2011 weekly schedule, and the conference kicks off play when Kentucky battles Western Kentucky on Sept. 1. Start planning your road trips now fellas...
2011 SEC weekly schedule (subject to change)
SEPT. 1
Western Kentucky vs. Kentucky (Nashville)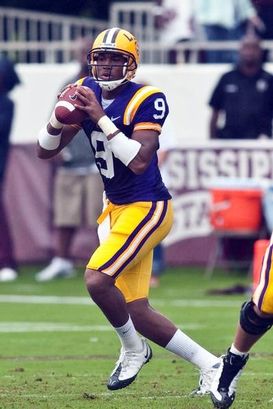 ICONWill Jordan Jefferson be under center for LSU when the Tigers open against Oregon?
SEPT. 3
Kent State at Alabama
Missouri State at Arkansas
Utah State at Auburn
Florida Atlantic at Florida
Boise State vs. Georgia (Atlanta)
Oregon vs. LSU (Arlington, Texas)
Brigham Young at Ole Miss
Mississippi State at Memphis
East Carolina vs. South Carolina (Charlotte)
Montana at Tennessee
Elon at Vanderbilt
SEPT. 10
Mississippi State at Auburn
South Carolina at Georgia
Alabama at Penn State
New Mexico at Arkansas (Little Rock)
UAB at Florida
Central Michigan at Kentucky
Northwestern State at LSU
Southern Illinois at Ole Miss
Cincinnati at Tennessee
Connecticut at Vanderbilt
SEPT. 15
LSU at Mississippi State
SEPT. 17
Tennessee at Florida
Ole Miss at Vanderbilt
North Texas at Alabama
Troy at Arkansas
Auburn at Clemson
Coastal Carolina at Georgia
Louisville at Kentucky
Navy at South Carolina
SEPT. 24
Arkansas at Alabama
Florida at Kentucky
Georgia at Ole Miss
Vanderbilt at South Carolina
Florida Atlantic at Auburn
LSU at West Virginia
Louisiana Tech at Mississippi State
OCT. 1
Alabama at Florida
Auburn at South Carolina
Mississippi State at Georgia
Kentucky at LSU
Texas A&M vs. Arkansas (Arlington, Texas)
Ole Miss at Fresno State
Buffalo at Tennessee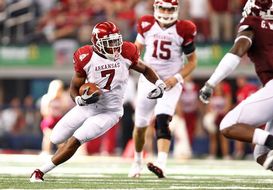 ICONKnile Davis and the Hogs battle Auburn on Oct. 8.
OCT. 8
Vanderbilt at Alabama
Auburn at Arkansas
Florida at LSU
Georgia at Tennessee
Kentucky at South Carolina
Mississippi State at UAB
OCT. 15
Alabama at Ole Miss
Florida at Auburn
Georgia at Vanderbilt
LSU at Tennessee
South Carolina at Mississippi State
OCT. 22
Tennessee at Alabama
Arkansas at Ole Miss
Auburn at LSU
Jacksonville State at Kentucky
Army at Vanderbilt
OCT. 29
Arkansas at Vanderbilt
Ole Miss at Auburn
Florida vs. Georgia (Jacksonville)
Mississippi State at Kentucky
South Carolina at Tennessee
NOV. 5
LSU at Alabama
South Carolina at Arkansas
Vanderbilt at Florida
Ole Miss at Kentucky
New Mexico State at Georgia
Tennessee-Martin at Mississippi State
Middle Tennessee at Tennessee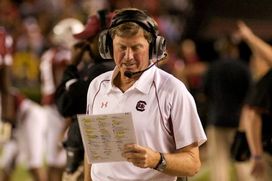 ICONSteve Spurrier and the Gamecocks host Florida on Nov. 12.
NOV. 12
Alabama at Mississippi State
Tennessee at Arkansas
Auburn at Georgia
Florida at South Carolina
Kentucky at Vanderbilt
Western Kentucky at LSU
Louisiana Tech at Ole Miss
NOV. 19
Mississippi State at Arkansas (Little Rock)
Kentucky at Georgia
LSU at Ole Miss
Vanderbilt at Tennessee
Georgia Southern at Alabama
Samford at Auburn
Furman at Florida
The Citadel at South Carolina
NOV. 25
Arkansas at LSU
NOV. 26
Alabama at Auburn
Tennessee at Kentucky
Ole Miss at Mississippi State
Florida State at Florida
Georgia at Georgia Tech
Clemson at South Carolina
Vanderbilt at Wake Forest
DEC. 3
SEC Championship Game (Atlanta)
Email dave.miller@nationalfootballpost.com or follow me on Twitter at Miller_Dave