December 28, 2011 -
Barry Dorey
SEC releases its 2012 conference schedule
The SEC released its 2012 conference football schedule with new members Missouri and Texas A&M debuting next season.
Missouri will be based in the SEC East and host Georgia on Sept. 8, while Texas A&M will be in the West and host Florida on the same day. The first league game will be Aug. 30 when South Carolina visits Vanderbilt. Alabama will visit LSU in a rematch of the BCS national championship game on Nov. 3.
The SEC stated that the 2012 schedule is not based on any previous or future formats and that athletic directors will meet in the spring to decide the formula for future slates. Next year, each school will play eight games with six inside the division and two outside of it.
Each SEC team will release its own complete 12-game schedule at later dates.
2012 SEC Schedule (Conference Games Only)
Week-by-Week (Schedule is subject to change based on television selections)
Aug. 30
South Carolina at Vanderbilt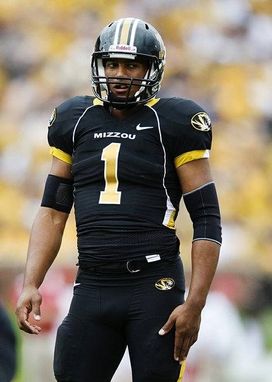 James Franklin and Missouri will host Georgia in the team's first SEC game.
Sept. 8
Auburn at Mississippi State
Florida at Texas A&M
Georgia at Missouri
Sept. 15
Alabama at Arkansas
Florida at Tennessee
Sept. 22
LSU at Auburn
Kentucky at Florida
Vanderbilt at Georgia
Missouri at South Carolina
Sept. 29
Ole Miss at Alabama
Arkansas vs. Texas A&M
Tennessee at Georgia
South Carolina at Kentucky
Oct. 6
Mississippi State at Kentucky
Arkansas at Auburn
LSU at Florida
Georgia at South Carolina
Texas A&M at Ole Miss
Vanderbilt at Missouri
Oct. 13
Alabama at Missouri
Kentucky at Arkansas
Auburn at Ole Miss
Florida at Vanderbilt
South Carolina at LSU
Tennessee at Mississippi State
Oct. 20
Alabama at Tennessee
Auburn at Vanderbilt
South Carolina at Florida
Georgia at Kentucky
LSU at Texas A&M
Oct. 27
Ole Miss at Arkansas
Texas A&M at Auburn
Florida vs. Georgia (Jacksonville)
Kentucky at Missouri
Tennessee at South Carolina
Mississippi State at Alabama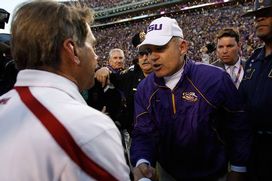 Are you ready for another Alabama-LSU slugfest?
Nov. 3
Alabama at LSU
Missouri at Florida
Ole Miss at Georgia
Vanderbilt at Kentucky
Texas A&M at Mississippi State
Nov. 10
Texas A&M at Alabama
Arkansas at South Carolina
Georgia at Auburn
Mississippi State at LSU
Vanderbilt at Ole Miss
Missouri at Tennessee
Nov. 17
Arkansas at Mississippi State
Ole Miss at LSU
Tennessee at Vanderbilt
Nov. 24
Auburn at Alabama
LSU at Arkansas
Kentucky at Tennessee
Mississippi State at Ole Miss
Missouri at Texas A&M
The 2012 SEC Championship game will be played on Saturday, Dec. 1, at the Georgia Dome in Atlanta.
Email dave.miller@nationalfootballpost.com or follow me on Twitter at Miller_Dave