October 03, 2012 -
Dave Miller
Self-imposed bowl ban at Miami?
Miami (FL) is off to a surprisingly strong start at 4-1 and 3-0 in ACC play, and the Hurricanes will be in the national spotlight this weekend when they travel to Chicago to face unbeaten Notre Dame at Soldier Field.
Head coach Al Golden and the 'Canes have done a very good job of keeping their focus on the field and not on the NCAA investigation taking place in Coral Gables, which is still going strong. Of course, the sport's governing body is checking into the school's athletic department after the bombshell Yahoo! Sports story detailing allegations of improper benefits by former Ponzi schemer and rogue booster Nevin Shapiro.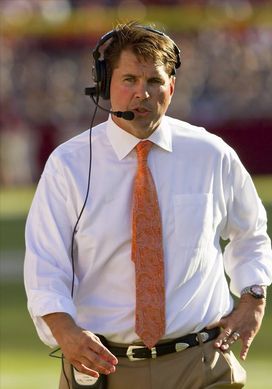 Al Golden has the Hurricanes off to an undefeated start in the ACC.
Because the allegations in the report were so jaw-dropping, many wonder if Miami would be better off self-imposing a bowl ban for a second straight season in an effort to possibly soften a brutal NCAA blow. The problem, however, lies in the fact that the Committee on Infractions is so inconsistent with its rulings and punishment. While many believe that USC was given sanctions just short of the death penalty, others feel that penalties against North Carolina and Ohio State weren't harsh enough.
The NCAA rulebook is in the process of getting re-written, but until then the governing body will continue to be inconsistent with its rulings.
Which leads us back to whether the 'Canes will try to be cautious and take themselves out of the postseason conversation this fall. As of now, that is highly unlikely.
While an ACC title may not be on the horizon, stranger things have happened in college football. Did you ever think UConn would play in a Fiesta Bowl? And while bowl games often make a school lose money, getting extra practice time in preparation for a postseason contest would be invaluable for Golden's young squad. And a bowl game would show recruits that the team could still be successful in the face of adversity.
Keep in mind, though, that the NCAA could indeed finish up its report by the end of the regular season, in which case the Committee on Infractions could decide that the program deserves another bowl ban. Those I've talked to are split on the timetable for a ruling: some believe it will occur before the end of fall while others believe it will occur early in 2013.
Whatever the case may be, all of the team's focus remains on the field for its contest with the Fighting Irish this week. But off of the field, this program still faces a lot of uncertainty. We'll see what path the administration decides to take regarding its postseason future as the NCAA continues to move slowly in its probe.
Email dave.miller@nationalfootballpost.com or follow me on Twitter at Miller_Dave