November 14, 2010 -
Dave Miller
Shakeup in new AP Top 25?
After a nail-biting 40-35 victory over San Diego State on Saturday, TCU dropped to No. 4 in the new Associated Press Top 25 poll released Sunday.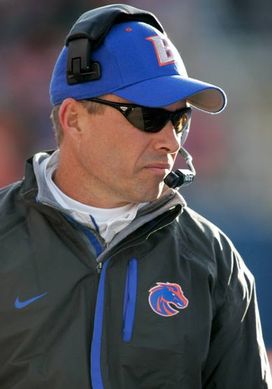 ICONChris Petersen has Boise State ranked No. 3 in the AP Top 25.
The original non-AQ darling, Boise State, jumped the Horned Frogs and returned to the No. 3 spot after its dominant 52-14 victory over Idaho on Friday night.
Meanwhile, Oregon remained the nation's top-ranked team after its narrow 15-13 victory at Cal and Auburn remained at No. 2 following its SEC West-clinching win over Georgia.
Oregon lost 11 first-place votes while Auburn picked up 10 first-place tallies. Boise State picked up two more first-place votes this week to give it nine, and TCU lost a first-place vote but still has one.
Central Florida and Florida dropped out of the poll while Southern Cal and Miami moved back into the rankings for the third time this season.
Here is a look at the complete poll.
And don't forget that the new NFP Top 25 will be posted late Monday afternoon.
AP Top 25 Poll
1. Oregon (10-0)
2. Auburn (11-0)
3. Boise State (9-0)
4. TCU (11-0)
5. LSU (9-1)
6. Wisconsin (9-1)
7. Stanford (9-1)
8. Ohio State (9-1)
9. Nebraska (9-1)
10. Alabama (8-2)
11. Michigan State (9-1)
12. Oklahoma State (9-1)
13. Arkansas (8-2)
14. Virginia Tech (8-2)
15. Missouri (8-2)
16. Oklahoma (8-2)
17. South Carolina (7-3)
18. Texas A&M (7-3)
19. Nevada (9-1)
20. USC (7-3)
21. Iowa (7-3)
22. Mississippi State (7-3)
23. Arizona (7-3)
24. Miami, FL (7-3)
25. Utah (8-2)
Email dave.miller@nationalfootballpost.com or follow me on Twitter at Miller_Dave