March 10, 2011 -
Dave Miller
Sheen's joke about Mallett doesn't quite hit the mark
Before it becomes uncool to talk all things Charlie Sheen (is it already over?), I had to pass along just one more unique interview involving the former "Two and a Half Men" star.
Sheen called into FOX Sports Radio's "The Dan Patrick Show" on Wednesday and took a shot at former Arkansas quarterback Ryan Mallett, a potential NFL first-round draft pick who has been dogged by rumors of alleged drug use. Earlier in the show, Patrick had interviewed the former Michigan signal-caller.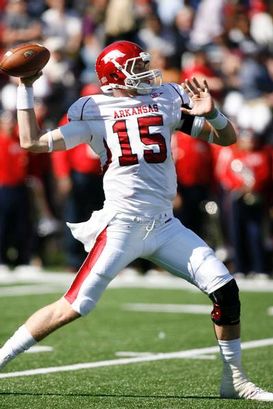 ICONIt's likely Ryan Mallett never thought Charlie Sheen could ever give him bad press.
Sheen: "Hey, can you call Ryan Mallett back and tell him that he left his bong, he left his herb, his sensimilla, he left it all at my house," Sheen said with laugh, "and I'm like, 'I'm drug-free – come get this stuff, young man!'"
Patrick: "He's drug-free, too."
Sheen: "Yeah, I know. It was a big joke. Yeah, yeah yeah…come on."
Three weeks after jumping on Patrick's show for the first time, Sheen said that Wednesday's call could be his last interview in his media blitz.
"This could be my final interview," Sheen said. "This is where it all began and where it all ends."
However, he backed off slightly at the end of the call.
"I won't do any interviews except you," he told Patrick. "How 'bout that?"
#WINNING.
Email dave.miller@nationalfootballpost.com or follow me on Twitter at Miller_Dave