March 23, 2012 -
Dave Miller
'Shoelace' not taking anything for granted
He may be one of the nation's most electric talents, but Denard Robinson knows not to take anything for granted.
Entering his senior season, the Michigan quarterback knows that nothing will be handed to any Wolverines player without earning it. That's just the reality in life under Brady Hoke.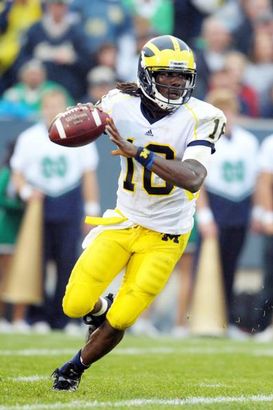 ICONDenard Robinson's improvement as a passer is necessary to expand the offense under Al Borges.
The second-year Wolverines head coach won't hand out starting jobs to anyone, including his Heisman Trophy-contending QB. Especially not in spring practice, where the Wolverines are trying to build off of an impressive Sugar Bowl campaign in 2011.
So it's no surprise that "Shoelace" understands that he has to earn his starting job under center as he enters his second season under coordinator Al Borges.
"We don't know anything -- we don't know who the quarterback is going to be," Robinson told Jeff Arnold of CBSSports.com. "Nothing is handed to you and as a competitor, you know you have to compete everyday."
There was speculation throughout this offseason that Robinson would be better off as a wide receiver in this offense, with backup Devin Gardner taking the reins at QB because he's more of a traditional dropback passer. But that will not be the case in Ann Arbor. At least not in 2012.
Robinson is reportedly throwing the ball better this spring, and receiver Roy Roundtree told Arnold that Robinson is "making better reads and he's staying more composed" in the pocket.
"Shoelace" is unquestionably a rare talent, but he can't throw 15 interceptions as he did last fall if this team wants to return to a BCS game.
No matter how much Robinson improves this offseason, the offensive staff does want to find ways to get Gardner on the field, either under center or aligned somewhere else on offense. The heir apparent to Robinson is a talented player, and it will be up to Borges and Hoke to find ways to put the best 11 players on the field.
And the group will be led by Robinson, though don't tell him that just yet. He still has plenty of work to do.
Email dave.miller@nationalfootballpost.com or follow me on Twitter at Miller_Dave