October 28, 2010 -
Dave Miller
Six undefeated teams hit the road in Week 9
We are down to seven unbeaten teams across the land. Who will be the next team(s) to falter after Oklahoma and LSU went down last weekend?
To make matters more intriguing, six of those seven teams will be on the road this weekend, with Boise State being the lone team to have a home date this week. The Broncos took care of Louisiana Tech on Tuesday night. Absurdly, it continues to be debated whether Kellen Moore and Co. did enough in the national spotlight to prove that they are indeed worthy of playing in the BCS National Championship game.
Here's a quick glance at the games involving the six unbeatens on the road this weekend. Of course, I will have you covered the rest of the week at the NFP with news and notes heading into Saturday's games. And don't forget to catch the weekly Tailgate post Saturday morning.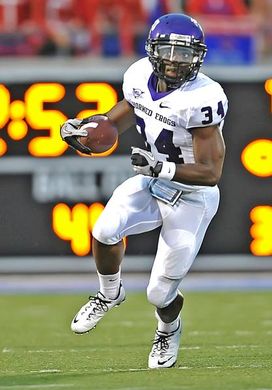 ICONEd Wesley rushed for a career-high 209 yards and two scores in a 38-7 win over Air Force last week.
TCU at UNLV: The Horned Frogs have one of the best defenses in the nation, a veteran leader under center in Andy Dalton and a prolific running back in Ed Wesley, who is coming off of a career-high 209 yards rushing and two touchdowns in a 38-7 win over Air Force. Ten points allowed in four Mountain West Conference games? A 45-10 win over Baylor? The Frogs are legit.
Utah at Air Force: The Utes are perhaps the most overlooked of the unbeatens. But they're legit, specifically on defense, as they're ranked in the top 10 nationally in total defense, rushing defense, pass defense, third-down defense and scoring defense. Even their special teams unit featuring Shaky Smithson — the best name in college football — has been great. The Falcons have historically played the Utes tough, though.
Auburn at Ole Miss: We've seen what Auburn quarterback Cam Newton could do against a stout defense like LSU. Imagine what he will do against the Rebels. Ole Miss signal caller Jeremiah Masoli, meanwhile, is coming off of his best game in the SEC and he'll need to carry the load a la Newton to give the Rebels a chance. Can Houston Nutt continue to live up to his reputation as a giant-killer?
Missouri at Nebraska: The winner of this game has the upper hand in the Big 12 North division. But Gary Pinkel and his Tigers have bigger aspirations: a spot in the BCS title game. Nebraska is used to dominating the Tigers. But so was Oklahoma, and we all saw what happened last week. This underrated rivalry comes to a conclusion this week as Nebraska will be off to the Big Ten after this season.
Michigan State at Iowa: If this game comes down to special teams, the Spartans likely will be on their way to an undefeated season and a Big Ten championship. The Hawkeyes have really struggled in that area in their losses to Arizona and Wisconsin, while MSU has lived off of clutch special teams play. See wins over Notre Dame and Northwestern. But the Spartans offensive line looked overwhelmed at times last week against Northwestern, which could be problematic this week because Iowa's front four is even more stout.
Oregon at USC: With no postseason game on the horizon, this is the biggest Pac-10 game of the year for the Trojans. We know they can put points on the board, but can the defense slow down Oregon's fast-paced spread-option attack? Can the Trojans even tackle on a consistent basis? They are coming off of their most complete performance of the season against Cal. But as Lane Kiffin has stressed, this Oregon offense is one of a kind.
Email dave.miller@nationalfootballpost.com or follow me on Twitter at Miller_Dave