August 30, 2012 -
Dave Miller
South Carolina at Vanderbilt: 3 things to watch
The 2012 college football season kicks off Thursday night, and the marquee matchup will take place in Nashville as South Carolina and Vanderbilt clash at Vanderbilt Stadium.
Steve Spurrier has perhaps his best team yet in Columbia despite losing Alshon Jeffery, Melvin Ingram and Stephon Gilmore to the NFL. Meanwhile, James Franklin is looking to build off of his solid debut campaign at Vandy.
Let's take a look at three things to watch in the opening clash between the Gamecocks and the Commodores on Thursday evening.
1. Lattimore's health: South Carolina running back Marcus Lattimore was a workhorse even as a true freshman, rushing for nearly 1,200 yards and 17 touchdowns and being a top pass-catching option out of the backfield. And he was on pace for similar huge numbers last fall, recording 818 yards and 10 scores before his season came to an end last October against Mississippi State. But Lattimore is back near 100 percent after tearing an ACL, and that's huge because Shon Carson had wrist surgery and is out indefinitely, while projected backup Brandon Wilds is still nursing an ankle injury. Senior Kenny Miles is the lone back with extended experience, though highly touted true freshman Mike Davis could also be in the mix for carries. Physically, Lattimore will not be hampered by the effects of the injury despite initially wearing a brace on his knee. Mentally, however, he is likely itching to be tackled in a live game. That's typically the last hurdle a player needs to overcome when coming back from a serious injury. While Lattimore, who was held to under 100 yards last season against Vandy, may be eased back slightly, expect Spurrier to lean on his best player in a close game, especially in third-and-short situations. While quarterback Connor Shaw will also be a big part of the rushing attack, particularly on the zone read, Lattimore is a beast in the red zone. And the Gamecocks will be going up against a stout defensive line led by end Walker May. Depth, however, is a concern for the 'Dores at linebacker. Expect Head Ball Coach to try to wear down Vandy's front seven with a dedication to the run.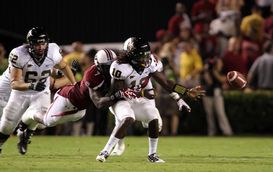 US PRESSWIREJadeveon Clowney was dominant in South Carolina's victory over Vandy last season.
2. Rodgers vs. Clowney and the Gamecocks' D-Line: The last time we saw Vanderbilt quarterback Jordan Rodgers, he played one of his poorest games of the season in the team's loss to Cincinnati in the Liberty Bowl, going just 4 of 14 for 26 yards before being benched after a miserable first half. But he showed flashes of strong play in 2011, particularly in close losses to Arkansas and Florida. Still, he had 10 interceptions compared to nine touchdowns, and he completed only 50 percent of his passes. Despite losing Ingram to the NFL, the Gamecocks will field an even better Jadeveon Clowney, who will move inside on passing situations and be tough for the Vandy O-Line to defend. And Devin Taylor decided to return for his senior season, so Rodgers could be on the run all night. Keep in mind the Gamecocks had six sacks in last year's meeting. Expect the 'Dores to try to establish a ground game with Zac Stacy, but Rodgers will need to hook up with receivers Jordan Matthews and Chris Boyd regularly in order to move the football against this deep Gamecocks defense. The 'Cocks will rely on their pass rush, especially with cornerback Akeem Auguste out after tearing a muscle in his right thigh. Junior Jimmy Legree, who moved from safety this spring, will be in the spotlight. Athletic Victor Hampton, a new starter, will be opposite Legree. It will be interesting to see if Rodgers gets the green light to make some plays down the field on first downs to try to loosen up the defense.
3. Missed opportunities: For the Commodores to pull the upset, they must take advantage of any opportunity that is handed to them — unlike in last season's contest. Last fall, the Gamecocks threw four interceptions (all tossed by Stephen Garcia), but Vandy had three turnovers of its own and was held to just a field goal in the 21-3 loss. Two of those turnovers were caused by Clowney, who forced a pair of fumbles. The Commodores went three-and-out on 10 of their 14 drives and were just 1-for-14 on third down conversions. Simply put, it was a putrid offensive performance by Vandy and a dominant defensive effort by Carolina. Even if the 'Dores struggle to move the football Thursday night, they must capitalize on any Gamecock turnover or any other break they may catch. Points may be at a premium, so taking advantage of good field position whenever it presents itself will be key if Franklin's bunch wants to score an upset.
Email dave.miller@nationalfootballpost.com or follow me on Twitter at Miller_Dave