August 24, 2010 -
Dave Miller
South Carolina TE Saunders suspended indefinitely
South Carolina head coach Steve Spurrier suspended star tight end Weslye Saunders indefinitely on Monday.
The Old Ball Coach said the 6-6 senior will be held out for an undetermined amount of time for violating team rules — and not for anything related to the ongoing NCAA inquiry surrounding the tight end. Saunders was questioned by investigators looking into possible rules violations at a South Beach party in May — an event attended by North Carolina's Marvin Austin, among others.
Spurrier was adamant that the suspension was not NCAA related.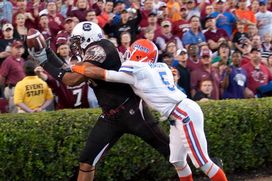 ICONWill Weslye Saunders see the field in 2010?
"I said suspended for violation of team rules. Team rules have nothing to do with the NCAA," he said.
Spurrier said on his radio show last week that he expected the NCAA to have a ruling on Saunders' eligibility before the Gamecocks open the season against Southern Miss on Sept. 2.
Along with South Carolina, the NCAA has also investigated North Carolina, Alabama and Georgia concerning the South Beach gathering.
Saunders, who is among 31 players on the watch list for the Mackey Award given to the country's top tight end, was one of quarterback Stephen Garcia's main targets last year, catching 32 passes for 353 yards and three touchdowns.
He had four catches for 63 yards in last Saturday's scrimmage, including a 10-yard TD pass from Garcia.
The other tight ends on South Carolina's roster — Patrick DiMarco, Justice Cunningham and Mike Triglia — had a combined 16 receptions last season.
Spurrier wouldn't say when or if Saunders would be reinstated.
<p> "His status will be determined at a later date," Spurrier said. "Now how else can I say that?"
Okay then.
Follow me on Twitter at Miller_Dave or send your college football questions to dave.miller@nationalfootballpost.com
Click here to purchase the Total Access Pass / Fantasy Draft Guide from the NFP.