September 17, 2014 -
Dave Miller
Spotlight shines on Maguire at FSU
Florida State suspended defending Heisman Trophy winner Jameis Winston on Wednesday after an incident on campus the previous day in which the quarterback yelled an obscene phrase atop a table in the school's student union.
The Seminoles will hold the signal-caller out for the first half of the team's game on Saturday against ACC Atlantic division rival Clemson.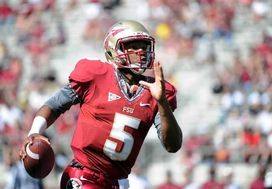 Jameis Winston will miss the first half of FSU's game against Clemson.
"As the university's most visible ambassadors, student-athletes at Florida State are expected to uphold at all times high standards of integrity and behavior that reflect well upon themselves, their families, coaches, teammates, the Department of Athletics and Florida State University," interim president Garnett Stokes and athletic director Stan Wilcox said in a statement. "Student-athletes are expected to act in a way that reflects dignity and respect for others.
"As a result of his comments yesterday, which were offensive and vulgar, Jameis Winston will undergo internal discipline and will be withheld from competition for the first half of the Clemson game."
Winston held a media gathering later on Wednesday.
"First of all I just want to apologize to the university, to my coaches and to my teammates," he said. "I'm not a me person, but in that situation, that was a selfish act and that's not how you do things around here, so I really just want to apologize to my teammates because I've now made a selfish act for them and that's all.
"You've got to overcome adversity and that's one thing at Florida State we do. And when I do get my opportunity to play I'm going to do anything I can. That's going to eat me up. I want to be out there on the field, but I did something so I have to accept my consequences and I'm going to apologize to my team. We're not going to think about negative things, we're going to think about moving forward and winning the game.
"I messed up and I have to accept the fact I did that. It eats me alive I did something like that. I can't carry myself that way and me and Sean, we're going to watch film and I'm going to try my best to put our team in a good chance to win this game."
Taking the place of Winston will be fellow redshirt sophomore Sean Maguire, who has spent two seasons in Seminoles head coach Jimbo Fisher's system. Some wondered if we'd see Maguire get extensive playing time last fall when Winston was the subject of another off-the-field issue. But now Maguire truly is in the spotlight as he readies for his first career start against a Tigers squad that already has one loss and is looking to exact revenge on the team that throttled them last year in Death Valley.
There's no denying that there's a talent dropoff from Winston to Maguire, so the Seminoles' top backup just needs to manage the game during the first 30 minutes and utilize his playmakers on Saturday night. But the ground game hasn't exactly set the world on fire, as talented running back Karlos Williams struggled against Oklahoma State in the season opener (23 carries for 66 yards, 2.9 ypc). Will Clemson decide to bring an extra defender in the box and make Maguire try to make plays down the field if Williams and fellow backs Mario Pender and Dalvin Cook can't find room to run? Rashad Greene is a star No. 1 receiver, but the 'Noles are still breaking in inexperienced players at the position. Perhaps Nick O'Leary's role in the game plan increases as a nice safety net at tight end. Maguire does have an above-average arm, though, so if he has time perhaps he can make enough plays down the field. But the Tigers' pass rush is very dangerous. Will Maguire be rattled? Remaining poised is of the utmost importance for the new starter.
Of course, Winston will be available for the second half. But keep in mind that FSU took a quick 17-0 lead in the first quarter of the team's game against Clemson last year, so that quick start may not be attainable without Winston.
We'll certainly see, but this Tigers defense was expected to put up a better fight against the 'Noles even if Winston was slated to start. And Dabo Swinney and his staff could have a wild card in Deshaun Watson, the prized freshman quarterback who I believe will see plenty of action despite Cole Stoudt being the starter.
Will Winston's absence ultimately shake up the ACC and the national title picture?
Dave Miller, the college football editor for the National Football Post, is on Twitter @Miller_Dave.