May 09, 2013 -
Dave Miller
Spring football wrap-up: What we learned, Part II
With college football's spring season coming to an end, let's take a look at some things we learned over the last two months or so as we get closer and closer to the start of the 2013 campaign.
This is Part 2 of 2. CLICK HERE for Part 1.
Has Thomas improved under Loeffler?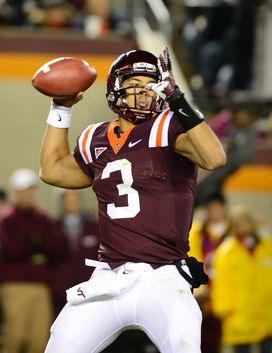 US PRESSWIRELogan Thomas will try to bounce back from a disappointing 2012 campaign.
Virginia Tech quarterback Logan Thomas was considered a potential high first-round NFL Draft selection entering the 2012 season. But the Hokies suffered through a miserable campaign last year, and Thomas was the focus of much of the criticism despite the fact that he was playing behind an overhauled offensive line with untested receivers and running backs. He threw 18 touchdowns and 16 interceptions in 2012. With new offensive coordinator Scot Loeffler now in Blacksburg, Thomas has undergone a transformation, from his mechanics to his mindset. However, Virginia Tech fans did not see improvement, particularly when it came to accuracy, during the team's recent spring game. Thomas tossed three interceptions in the contest despite all of the rumblings in Blacksburg that Thomas was evolving into a more consistent signal-caller. We will find out in the season opener on August 31 against defending national champion Alabama at the Georgia Dome in Atlanta whether or not Thomas can ultimately get back to his 2011 form and help the Hokies compete for an ACC crown.
New play-caller in South Bend
Notre Dame head coach Brian Kelly ceded play-calling duties to offensive coordinator Chuck Martin, who moved over to offense before last season after serving as the team's safeties coach. Martin had success calling plays when he was the head coach at Grand Valley State, where he won more than 90 percent of his games and two national titles. Despite the fact that the Irish defense shined during the team's spring game and the offense's lone touchdown came from early enrollee Malik Zaire — a quarterback who completed high school four months ago — Kelly said after the game that he wasn't concerned about the lack of production on offense because the staff had seen improved play from the unit throughout the spring. While Kelly did tell NBC on the field that quarterback Everett Golson had reverted to some of his "playground football" tendencies, those "playground" tendencies are what makes Golson so effective if he is not turning the football over. And his inaccuracy shouldn't be alarming because he did reportedly have a strong spring. There will be plenty of time in preseason camp to get this unit straightened out. And Kelly giving up play-calling duties could be a very good idea for ND as it will free him up to be more of an administrator on game days.
Mettenberger on target
LSU struggled offensively in 2012, particularly in the early part of the season. But Zach Mettenberger started to get more comfortable under center against Alabama, and the Tigers closed strong. While Les Miles will always prefer a run-first operation, this offense will be opened up a bit by new coordinator Cam Cameron. The former Baltimore Ravens OC and student of the "Air Coryell" offense loves utilizing his tight ends as well as his tailbacks and fullbacks as pass-catchers out of the backfield, but ultimately Mettenberger will get to take shots down the field. And he has almost his entire receiving corps back except for Russell Shepard. A player who threw for over 200 yards in four of his final five games of 2012 could be primed for a breakout year as reports came out this spring that Mettenberger has really taken to Cameron and the scheme, which will resemble the offense that Joe Flacco operated last year in Baltimore before Cameron was replaced. However, expect the pace of the offense to pick up next fall as more and more teams are looking to maximize the amount of plays run.
The strength of the Pac-12
The West Coast conference was solid last year, with Stanford and Oregon earning BCS berths and being national household names for the most part. The Ducks and the Cardinal will build off of their strong seasons as they will enter 2013 as national title contenders. However, one can make an argument that about seven league teams are worthy of cracking the Top 25, with Arizona State, Oregon State and Washington very much in the mix. The Pac-12 is home to a lot of returning quarterbacks, and the play on both sides of the line seems to be improving each campaign. Specifically, there is a lot of returning defensive talent in 2013, so keep an eye on this league while we continue to discuss which conference is No. 2 behind the SEC.
The impending playoff
Much to the delight of college football fans across the country, the FBS will finally have a playoff at the end of the season starting next year. Conference commissioners and BCS executive director Bill Hancock announced some of the details of the impending College Football Playoff in late spring. Of course, many of the details had been speculated upon for months. But we did find out officially that the first championship game will take place on January 12, 2015, at Cowboys Stadium following two semifinal bowl games in the Rose and Sugar. So the 15-year run of the BCS will soon be over. But who will make up the 14-20 members of the selection committee, and what criteria will be used besides inherent subjectivity? Those questions were not answered at the BCS spring meetings.