February 23, 2013 -
Dave Miller
Spring has arrived for Texas
Spring practice kicked off in Austin on Thursday as Texas looks to re-establish itself as a Big 12 power.
Mack Brown's team returns much of the talent that comprised the top couple of lines on the depth chart at the end of the 2012 season, although the Longhorns have lost star defensive end Alex Okafor and safety Kenny Vaccaro. But Texas brings back 19 starters, which ties for the lead nationally.
If the Longhorns are to have any shot at a Big 12 title, though, it will be because both of their coordinators will have successfully retooled the units on both sides of the football.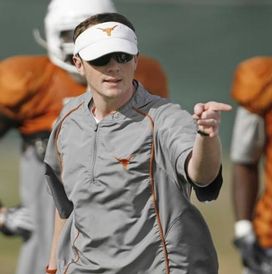 Major Applewhite will enter his first season as the Longhorns' primary play-caller.
Major Applewhite: The former Longhorns quarterback is entering his sixth year on Texas' staff but his first as the team's primary play-caller after the departure of offensive coordinator Bryan Harsin, who took the head coaching job at Arkansas State. Applewhite had held the title of co-offensive coordinator for the last two years with Harsin on staff, and he was intricately involved in the team's game plan. But there's no question that Longhorn fans are waiting to see how successful Applewhite can be running the show by himself.
One of the biggest things to watch is how its new hurry-up, no-huddle offense develops before the program holds its Orange-White scrimmage on March 30. Under Harsin, the 'Horns used a lot of substitutions because of the unit's wide array of packages. But with a more up-tempo scheme, look for a lot less changing of personnel when the 'Horns control the football. Which means Texas will focus more on fielding its best 11 offensive players and run several different formations with the same personnel.
One thing is certain: Brown has the depth at running back for his downhill, between-the-tackles style that he prefers for his ground game. And that focus won't change despite the team's alteration of tempo. Johnathan Gray, Malcolm Brown and Joe Bergeron will continue to get plenty of carries, and quarterback David Ash should also carry the football a few more times per game as well. The biggest test for Applewhite will be keeping his talented trio of backs happy with the split carries. Gray likely will get the majority of the carries because he's more opportunistic in space. Because Brown has battled the injury bug, Gray was able to establish himself as a No. 1 back. So he should carry the load in the fall.
Manny Diaz: While Applewhite will be on the spot not only because he'll be calling plays for the first time but he'll also need to help stabilize the quarterback position, Manny Diaz will continue to feel the heat if he can't get the defense to revert to its form of 2010 and 2011. Without question the 'Horns have talent on both sides of the ball, but maturity and consistency remain issues. And perhaps no position is more crucial to the success of Diaz's unit than defensive end.
Losing Alex Okafor is a big blow, as he racked up 16.5 tackles for loss and 12.5 sacks in 2012. However, getting back Jackson Jeffcoat after his season was lost to injury is huge. He's a strong DE that the team can depend on heading into the fall. Jeffcoat will be limited this spring after undergoing surgery on a torn pectoral, but linebacker Jordan Hicks is expected back after a hip injury last fall.
It would be huge for the 'Horns if senior Reggie Wilson can emerge as a starting-caliber end after seeing action over the past three seasons. If not, junior Cedric Reed started the last six games of 2012 and was a presence in the backfield against the run. Also keep an eye on Torshiro Davis, who saw action after Jeffcoat's injury. While Okafor's loss is a blow, the 'Horns have some very solid replacement options. Meanwhile, fiormer All-American Bowl participant Hassan Ridgeway could pair with Malcom Brown to form a real dominant tackle combo. The 'Horns also have Paul Boyette Jr. and Alex Norman at that spot, so that competition up front will be interesting this spring.
Replacing Vaccaro, however, is also of utmost importance. And Adrian Colbert may be talented enough to step in and fill that void. While Quandre Diggs could be permanently moved from cornerback, the 'Horns would love it if the speedy Colbert could step in to make the defensive backfield even stronger. Mykkele Thompson and junior Josh Turner could also be in the mix at safety.
Mack Brown is certainly entering a crucial campaign, but the success of the Longhorns in 2013 is dependent upon how Applewhite fares in his new role and whether Diaz can get the defense back to its norm.