March 13, 2013 -
Dave Miller
Spring preview: Boise State
Boise State began spring practice on Monday after going 11-2 last season in the first year of the post-Kellen Moore era.
Let's take a look at some of the issues facing Chris Petersen's squad as the Broncos prepare for their spring game on April 20.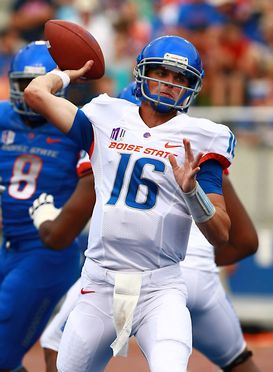 US PRESSWIREJoe Southwick has six of his top seven receivers returning for the 2013 season.
Continued improvement from Southwick: Joe Southwick is the unquestioned starter after winning the job before last season. But the Broncos expect junior Grant Hedrick, sophomore Jimmy Laughrea and redshirt freshman Nick Patti to push Southwick this spring and in preseason camp. And getting pushed will be the best thing for the rising senior, who completed nearly 67 percent of his passes last season but still looked hesitant at times in the pocket. The 6-1, 187-pounder, though, did not throw an interception in his final four games and will have six of his top seven receivers returning, including Matt Miller and Kirby Moore. He also became better in the team's red zone opportunities late in the year, which was a concern in the first half of the season.
Who will emerge as the lead running back?: The Broncos lose star running back D.J. Harper and three offensive linemen, including all-Mountain West selection Brenel Myers. However, there is depth both in the backfield and along the O-Line. Jay Ajayi is the top returning rusher and is more reminiscent of Doug Martin than Harper because of his size. Jack Fields will also be in the mix as well as junior college transfer Derrick Thomas and redshirt freshman Devan Demas. Up front, first-team All-MWC center Matt Paradis returns along with second-team left tackle Charles Leno. Meanwhile, guards Spencer Gerke and Jake Broyles should be able to step into the lineup and excel.
Is cornerback play going to be an issue?: The Broncos need to replace NFL-bound performers Jamar Taylor and Jerrell Gavins, and so this will be an issue up until the season opener. Bryan Douglas, along with former JUCO defenders Deon'tae Florence and Cleshawn Page, will look to get a leg up on the starting jobs. Fellow former JUCO player Mercy Maston will arrive in the summer to compete along with Donte Deayon, a backup last year. Douglas played in eight games in 2012 but is coming back from a torn ACL. He's on schedule to return sometime during fall camp. There's no question that cornerback play was a major strength last season for Boise, so it will be interesting to see which players emerge for the starting jobs before the fall.
There's depth along the D-Line, but what about linebacker?: Coordinator Pete Kwiatkowski, who helped oversee a defense that allowed just 15.7 points per game last year and ranked 12th in total defense, did a wonderful job in 2012 of rotating fresh bodies in and out of the lineup. Tackle Ricky Tjong-a-Tjoe and ends Demarcus Lawrence and Sam Ukwuachu headline an equally deep unit along the defensive line. And keep an eye on tackle Tutulupeatau Mataele, who had 14.5 tackles for loss last year while playing for Mt. San Antonio College in California. But the linebacker situation is a concern with J.C. Percy and Tommy Smith gone. Blake Renaud and Tyler Gray received a lot of action last year and are the most experienced, but can senior Dustin Kamper emerge? And can a player such as Ben Weaver or Christopher Santini be ready if his name is called upon?
Here's the kicker: The Broncos know very well that having a reliable kicker is important, especially after having potential shots at the BCS national championship ruined in the past because of missed kicks. So Petersen brought in Tyler Rausa from the junior college ranks to try to solve the team's kicking woes. But will he be the answer?