March 05, 2013 -
Dave Miller
Spring preview: Five burning questions for USC
USC began spring practice on Tuesday with plenty of new faces both on the roster and on the coaching staff.
Let's take a look at five questions facing head coach Lane Kiffin's squad this spring.
1. How will the new coaches fit in?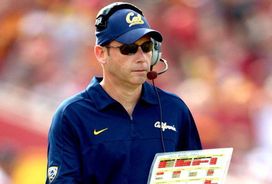 Clancy Pendergast is bringing a new defensive scheme to USC.
Kiffin overhauled his coaching staff after a brutally disappointing 2012 campaign. The Trojans recently added offensive line coach Mike Summers, running backs coach Tommie Robinson and linebackers coach Mike Ekeler to go along with new defensive coordinator Clancy Pendergast. Kiffin also promoted quarterbacks coach Clay Helton to offensive coordinator. Pendergast will be implementing a combo 5-2/3-4 scheme, and the defenders will need to grasp it faster than they understood Monte Kiffin's Cover 2. But the offense remains a question mark because it is unlikely that Kiffin will give up play-calling duties. Can this new energy and an array of fresh voices lead to positive results on the field?
2. Is Wittek ready?
Strong-armed sophomore quarterback Max Wittek started the final two games of last season when Matt Barkley was hurt, but he was inconsistent at best against Notre Dame and in the Sun Bowl against Georgia Tech. Still, it will be difficult for either Cody Kessler or freshman spring enrollee Max Browne to win the job. Either way, the Trojans will have a quarterback not named Matt Barkley taking the reins of the offense for the first time since 2008. Because of Wittek's familiarity with the O, he should have the edge after the spring game on April 13.
3. Can Cravens produce immediately?
Kiffin is desperate for Pendergast to turn around a defense that just never could play up to expectations under Monte Kiffin. With T.J. McDonald and Jawanza Starling moving onto the NFL, Su'a Cravens could step in and play right away at the safety position. Although veterans Demetrius Wright, Gerald Bowman and Josh Shaw return, there is still concern in the defensive backfield. That's why linebacker Dion Bailey will move to the secondary, although he will sit out this spring. Cravens is a ball-hawker whose big-play ability could be huge for a unit that will be finding its way under Pendergast, who is also the secondary coach. Cravens also is adept at run support as well. With Nickell Robey moving onto the NFL, senior Torin Harris and junior Anthony Brown are the top cornerbacks.
4. Will the O-Line hold up?
Last year, 'SC led the Pac-12 in fewest sacks allowed, although it often struggled in run-blocking. Replacing center Khaled Holmes is the top priority, and the Trojans may look at last year's backup Cyrus Hobbi, tackle Max Tuerk and guards Marcus Martin and John Martinez in the middle. Left tackle is also an issue after junior Aundrey Walker struggled last year. Tuerk could go back to left tackle if he does not end up at center. Protecting Wittek and creating room on the ground for the running backs will be essential for this offense next fall.
5. Is 'SC tough enough?
Even when the Trojans were winning early last fall, they never really looked like a preseason No. 1 team. When Stanford outmuscled 'SC once again, Kiffin's squad seemed to take on a "Here we go again" mentality. Now, with low expectations, will 'SC have a chip on its shoulder this spring, all summer and into the fall? With Kiffin's job possibly at stake, will this team have an "Us against the world" mindset?