March 26, 2013 -
Dave Miller
Spring preview: Iowa
Iowa opens spring practice on Wednesday in preparation for its spring game on April 27.
Let's take a look at some of the issues facing the Hawkeyes as Kirk Ferentz and Co. try to bounce back from a 4-8 campaign in 2012.
Is the curse at running back over?: No team has been plagued by suspensions, transfers or injuries at the running back position in recent years as much as Ferentz's squad. The problems continued in 2012 when projected starter Jordan Canzeri suffered a torn ACL in March and Damon Bullock suffered a concussion early in the year not far removed from his standout performance in the opener against Northern Illinois. Heralded true freshman Greg Garmon then stepped in before being sidelined by an injured elbow. Enter Mark Weisman, the walk-on fullback transfer from Air Force. Weisman was a marvel at tailback, rushing for a team-high 815 yards and eight touchdowns. Not bad for a guy who started preseason camp as the No. 2 fullback. He enters spring this year as the No. 1, with Bullock back, redshirt freshman Barkley Hill returning from a torn ACL and Canzeri back as well. Garmon, meanwhile, transferred in December. There is also the possibility that Weisman moves back to fullback with, of course, an expanded role in the offense. But that may only occur if Bullock or another back has a strong offseason and if there is a real hole with walk-ons Adam Cox and Macon Plewa being the only fullbacks.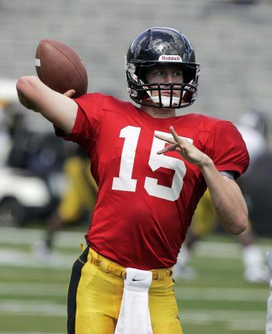 Does Jake Rudock have the edge in Iowa's quarterback competition?
The new quarterback: James Vandenberg did not have a memorable senior season, but the Hawkeyes will have a new signal-caller under center next fall. This spring, sophomore Jake Rudock, former junior college transfer Cody Sokol and redshirt freshman C.J. Beathard will be competing for the starting job. Rudock is probably the favorite because he has good athleticism and knows the system best after being the No. 2 last season, but nothing is set in stone as none of the QBs has seen the field in Iowa City. As well as Weisman played when he stepped in at running back, the Hawkeyes finished last in the Big Ten on the ground with 123 yards rushing per game, so whoever wins the starting quarterback job will need better production from the backs to help out the offense. But an improved aerial attack is vital as well after Iowa had just seven passing touchdowns in 2012.
Are there any playmakers at receiver?: While the Hawkeyes will remain a run-oriented offensive attack, someone needs to emerge as a top option in the passing game. Keenan Davis is gone, so Kevonte Martin-Manley is the top returning option at receiver after leading the Hawkeyes with 52 receptions for 571 yards and two touchdowns last year. Jordan Cotton showed flashes last fall, and true sophomore Tevaun Smith could be ready to take the next step. Coordinator Greg Davis will employ a variety of formations to try to maximize his personnel, but will the production be there in the fall?
Developing a consistent pass rush: The Hawkeyes' defense actually played well overall last season, but a lot of fans liked to blame the defense because the numbers at the end of the year didn't exactly shine. But a lot of that had to do with coordinator Phil Parker's unit being on the field so long when the offense stalled. One area on defense that needs to improve, though, is the pass rush. The Hawkeyes recorded just 13 sacks in 2012, which was worst in the Big Ten. A good amount of starters return on defense, including a strong linebacking corps led by James Morris in the middle. Cornerback Micah Hyde has departed, but the rest of the secondary is back.