February 26, 2014 -
Dave Miller
Spring preview: Northwestern
Northwestern begins spring practice on Wednesday following a disastrous 2013 campaign in Evanston.
Let's take a look at some of the issues facing Pat Fitzgerald's Wildcats as they prepare for their public spring practice on April 12 at Ryan Field.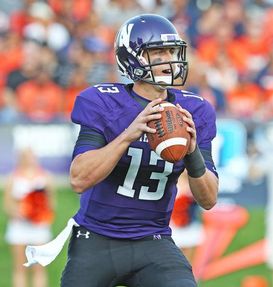 Trevor Siemian has a chance to be the No. 1 option for the 'Cats in 2014.
All eyes on Siemian: With Kain Colter's eligibility expired (although he certainly remains in the news for other reasons), Trevor Siemian sits atop the depth chart at quarterback for the 'Cats after splitting time with Colter the last two seasons. Protecting the football is priority No. 1 for the Florida native, who threw for over 400 yards with four touchdowns and no interceptions in the season finale at Illinois. Siemian will get pushed by redshirt freshman Matt Alviti, and Fitz has no problems with a platoon situation. Also keep an eye on Zack Oliver, who may take second-team reps ahead of Alviti at first. But Siemian unquestionably will have a chance to expand his leadership over an offense that needs to be productive and consistent if the 'Cats want to bounce back from their brutal 2013 season. However, his production will be limited if he cannot get better protection up front. Left tackle Jack Konopka and center Brandon Vitabile will need to be stalwarts on an offensive front that must improve.
Weaponry at receiver: NU has a crop of big receivers that can help Siemian have a big 2014 season, but consistency is the main question mark. Former highly touted USC transfer Kyle Prater has not made a name for himself yet, but he'll have one last chance heading into his senior season to maximize his 6-5 frame if he can find open space. Meanwhile, Pierre Youngblood-Ary was a strong practice performer but could not get on the field for game days last season despite possessing another big frame. Prater and Youngblood-Ary, along with Cameron Dickerson, have a chance to join top option Christian Jones as big, strong bodies at the receiver position that can be reliable options for this offense, which will likely be more pass-first than the one led by Colter. Tony Jones also returns.
Defensive returns: Besides middle linebacker Damien Proby, Northwestern doesn't lose a ton from last season on defense. However, Proby led the team in tackles the last two years, so Drew Smith and Jaylen Prater must take advantage of the opportunity to become the starter in the middle. Another option for Fitz is moving Collin Ellis to that spot from the outside. I would expect Ellis to at least get a look there this spring. In the back end of the defense, keep an eye on redshirt freshman safeties Godwin Igwebuike and Kyle Queiro. They have a chance to see a lot of action this year because Fitz is excited about some of his younger DBs.
Other notes
Fifth-year star running back Venric Mark is one of 11 players who will be sidelined for spring drills. He is out after undergoing surgery on his left ankle. Fitzgerald is hopeful that the ankle issue will not limit Mark this fall after his 2013 season was injury-ravaged. Defensive linemen Ifeadi Odenigbo, Deonte Gibson, Sean McEvilly and Max Chapman are also sidelined, and Tyler Lancaster will be limited. So Fitz is expected to space out drills because of the depleted depth along the D-Line. One player to keep an eye on along the line is end Dean Lowry, a junior who was second on the team in tackles for loss and third in sacks last season despite missing some time due to injury.
In addition to Mark's injury as well as the depletion along the D-Line, receiver Cermak Bland, safety Terrance Brown, running back Stephen Buckley, cornerback Daniel Jones and offensive linemen Ian Park and Brad North are also out for spring.
Dave Miller, the college football editor and writer for the National Football Post, is on Twitter @Miller_Dave.