March 19, 2013 -
Dave Miller
Spring preview: Notre Dame
Notre Dame begins spring practice on Wednesday following the team's undefeated regular season in 2012.
Let's take a look at some of the issues facing the Fighting Irish as they prepare for their spring game on April 20.
The maturation and development of Golson
There is no drama or competition at the quarterback position this spring as incumbent Everett Golson is the unquestioned starter under center. While the dual-threat was yanked from some games last season, the peaks and valleys he experienced were expected in his first season as a starter. But there's no question he grew up in the last quarter of the season, and head coach Brian Kelly will continue to put more on Golson's plate this year. Expect more designed runs and the continued opening up of the playbook, because Golson has a strong arm and the Irish have some explosive young receivers that the nation will get to know. However, keep in mind that Kelly will still have no qualms about turning to Tommy Rees or Andrew Hendrix if he feels that Golson has taken his foot off of the gas pedal at any point in 2013.
Besides Golson, which players are on the spot?
The emergence of these players could go a long way in determining if the Irish can get back to the BCS title game.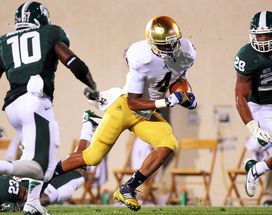 US PRESSWIREGeorge Atkinson III will have a chance to be Notre Dame's lead RB in 2013.
— RB George Atkinson III: With Theo Riddick graduating and Cierre Wood leaving early for the NFL, Atkinson III will get his chance to become ND's featured back. The rising junior averaged 7.1 yards per rush and had five rushing touchdowns in 2012, and a person close to the ND program told me last season that the coaches are excited about Atkinson III's future in South Bend. But he still has a lot to prove after not getting any carries in the BCS title game. The 6-1, 210-pounder has the big-play ability that the Irish will be dependent upon next year. It's just a matter of consistency. Cam McDaniel, Amir Carlisle and William Mahone will also fight for reps this spring before top recruits Greg Bryant and Tarean Folston arrive this summer.
— TE Troy Niklas: There wasn't a tight end in the nation last fall who was as athletic as Tyler Eifert. But the Irish will be counting on Niklas this season to provide a pass-catching presence who can take pressure off of an emerging group of young, big-play receivers. The 6-7, 260-pounder had just five catches in 2012, but the converted outside linebacker is still learning the position. Getting first-team reps in spring ball will be huge for his development if he wants to become a top option down the seams.
— CB KeiVarae Russell: The Irish secondary was exposed against Alabama in the BCS title game. And no one was lit up more than Russell, a freshman who was torched by fellow freshman Amari Cooper in Miami. With extra defenders in the box to stop the run, Russell and Co. were burned often in the defensive backfield. But Russell didn't begin to play cornerback full-time until the fall, and he was a quick learner for the most part as a true freshman. A full offseason, including spring drills, will help him continue to develop at his new position.
— LB Jarrett Grace: Heisman Trophy finalist Manti Te'o is gone, so the rising junior Grace has a chance to become an impact defender. The 6-3, 240-pounder has impressed on the scout team, so he will get his chance in the spring to impress coordinator Bob Diaco and show that he can be the heir apparent in the middle of the Irish defense.
— DE Stephon Tuitt: The 6-6, 303-pounder could be the best non-SEC defender in the nation, and the freakish athlete who had 12 sacks last fall is only getting better as a pass-rusher and run-stuffer. Along with nose tackle Louis Nix III, Tuitt provides the Irish with a major disruptive presence along the defensive line and could break Justin Tuck's school record of 24.5 career sacks this fall.
Other notes
— Kelly confirmed Tuesday at his presser that Gunner Kiel, one of the best quarterbacks in the Class of 2012, has indeed decided to transfer.
— Kelly said wide receiver DaVaris Daniels "can be great, but he's got to move his game up to get there." Also keep an eye on sophomore Chris Brown, who will only get better and be another deep threat for the Irish.
— Kelly on his assessment of the team after watching film of the loss to Alabama in the BCS title game: "We're a lot closer than I thought."