March 02, 2014 -
Dave Miller
Spring preview: Notre Dame
Notre Dame begins spring practice on Monday following a disappointing 2013 campaign in South Bend.
Let's take a look at some of the issues facing Brian Kelly's Fighting Irish as they prepare for their spring game on April 12 at Notre Dame Stadium.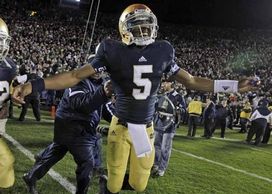 Everett Golson is stronger and hopes to show improved mechanics this spring.
He's back: Kelly will call the offensive plays for Notre Dame this fall after the departure of offensive coordinator Chuck Martin, who is now the head coach at Miami (OH). Kelly wants to take back the offense (he called plays before 2013) because he knows how crucial the upcoming season is with dual-threat Everett Golson coming back at quarterback. There are huge expectations for Golson in South Bend, and Kelly wants to be hands-on with his starter as he pushes the envelope offensively. Golson has put on muscle and improved his mechanics with quarterback guru George Whitfield, and keep in mind that he played his best late in the 2012 season. Mike Denbrock is the OC in name and Matt LaFleur will be the new quarterbacks coach after spending the past four seasons in the same role with the Washington Redskins, but Golson and this offense is all Kelly's doing. Together, they will have ownership of the unit again — despite the fact that Kelly has maintained that Golson will have to work his way back to being the starter. There is no doubt that Malik Zaire, whom has been praised by Kelly this offseason, has a ton of talent and will get plenty of reps as he pushes Golson. Zaire, who battled mono last season, will need to be ready because he is one Golson injury away from being the top dog. But this spring is about re-establishing Golson's presence.
Committed to the run: Will Greg Bryant develop into one of the best backs in the country? He was the most talked about RB on the Irish roster last preseason, but it was Tarean Folston who had the better freshman year. Bryant had just three carries before a knee injury shelved him. He is now back to full health and ready to compete for the bulk of the carries along with Folston, who had a season-best 140 yards on 18 carries against Navy, and Cam McDaniel, who finished 2013 with 705 yards. Even with Kelly wanting to push the envelope and use Golson's legs both in the run game and on rollouts in the passing game, he knows a consistently strong rushing attack must return if the Irish want to compete for a spot in the inaugural College Football Playoff. Putting together a cohesive offensive line is a must, as the Irish must replace Zack Martin and Chris Watt on the left side. A variety of combinations along the line will likely be tested this spring.
Are new stars ready to emerge on defense?: With top defenders such as Stephon Tuitt, Louis Nix III and Prince Shembo gone, new defensive coordinator Brian Van Gorder will be trying to see who he can rely on for his 3-4 unit (ND is expected to use multiple fronts, though, playing both 4-3 and 3-4 alignments). Jarron Jones progressed nicely last season, eventually earning a ton of snaps by the end of the year. Consistency is his major issue, not talent, but he has a chance to be a major factor on ND's 3-man front along with Sheldon Day. Meanwhile, Ishaq Williams has a chance to become a major contributor after primarily being a backup throughout his career. His explosiveness and length are needed for this unit off of the edge as a pass rusher. But the player who could be primed for a monster year is Jaylon Smith, who recorded 67 tackles (6.5 for loss), an interception, a forced fumble and a fumble recovery last season as a a true freshman. His athleticism and ability to line up both inside and out in this defense is much desired. In the defensive backfield, KeiVarae Russell is the team's top returning corner. Who will replace Bennett Jackson, though? Fifth-year Florida transfer Cody Riggs arrives in the summer, so the spotlight this spring will be on Cole Luke and Devin Butler. Jalen Brown will also be in the mix as well as converted safety Matthias Farley. Meanwhile, Van Gorder has a nice surplus at safety with Max Redfield, Elijah Shumate and Eilar Hardy.
Other notes
Kendall Moore, who has a fifth year of eligibility, has a chance to turn some heads this spring at inside linebacker with Jarrett Grace out with a broken leg.
Chase Hounshell has only played in eight games during his career and has not progressed since showing a little spark as a freshman. Consecutive shoulder surgeries have stunted his growth, but he has a chance to become a rotational lineman if he is healthy.
DaVaris Daniels will miss spring drills, so all eyes will be on fellow receivers Chris Brown and Torii Hunter as well as true freshman Justin Brent, who is an early enrollee.
Troy Niklas is headed to the NFL, so Ben Koyack is the team's most experienced tight end. Can redshirt freshmen Mike Heuerman and Durham Smythe develop into sound contributors?
Dave Miller, the college football editor and writer for the National Football Post, is on Twitter @Miller_Dave.