March 26, 2014 -
Dave Miller
Spring preview: Rutgers
Rutgers began spring practice on Tuesday as Kyle Flood's squad prepares for its debut season in the Big Ten.
Let's take a look at some of the issues facing the Scarlet Knights as they get set for their spring game on April 26.
Banged-up backfield: The Scarlet Knights will be testing their depth at running back this spring because top rushers Paul James and Savon Huggins are both dealing with shoulder issues. James will be limited throughout the spring while Huggins will not participate at all. James had a breakthrough 2013 campaign despite missing time with a broken fibula and a sprained knee, as he rushed for 881 yards and nine touchdowns en route to being named first-team all-American Athletic Conference. Huggins had just 286 yards on the ground as the former can't-miss recruit has not exactly lived up to lofty expectations. In their absence, more reps will be given to redshirt freshman Justin Goodwin and sophomore Desmon Peoples. But the big question is whether or not James can stay healthy as Rutgers competes in its first Big Ten campaign. He would be one of the league's better backs in a conference that has no shortage of them.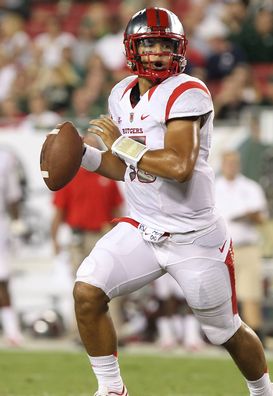 US PRESSWIRECan Gary Nova remain the starting QB at Rutgers?
Heat on Nova: Flood knows that the 2014 season is a big one for this program, and he also knows that the offense must be much more productive. Enter new offensive coordinator Ralph Friedgen, who will look to improve a unit that finished 77th nationally in scoring and 95th in yards last fall. Gary Nova is back for one final season, but will he even be the starter in Week 1? He is the lone signal-caller out of the five in camp with any game experience, but Flood said the plan is to get Nova, Chris Laviano, Blake Rankin, Mike Bimonte and Devin Ray reps through the first three practices and see where the battle stands. Keep in mind that Nova was benched for the final three games of last season and has thrown 51 touchdowns against 39 interceptions in 33 career games. Whoever is under center must protect the football better than Nova did in 2013.
Will the secondary be any better?: One of new defensive coordinator Joe Rossi's top priorities is improving a secondary that featured several young players such as Nadir Barnwell, Anthony Cioffi and Delon Stephenson last fall when major depth issues arose. Ian Thomas, however, is back. Also, Barnwell, Cioffi and Stephenson could parlay last year's experience into better seasons. And with strong safety Lorenzo Waters also returning, perhaps the secondary could emerge as a strength. It would help the defense overall if suitable replacements are found for end Marcus Thompson and nose tackle Ike Holmes. Getting pressure on the quarterback would make any secondary better, of course.
Other notes
Besides James and Huggins, first-team all-AAC tight end Tyler Kroft will be limited with a shoulder injury. Defensive end Quanzell Lambert (shoulder) and linebacker Steve Longa (lower body) will also be limited. Kroft will be a big part of the offense with the team having some concern at wide receiver (starters Brandon Coleman and Quron Pratt have to replaced). The tight end led the team in receptions (43) and receiving yards (573) last fall.
Defensive tackle Jamil Pollard is back and cleared to practice after he suffered what was expected to be a career-ending injury last fall.
Redshirt freshman cornerback Bryant Gross-Armiento will miss spring drills because of personal reasons.
Safety Sheldon Royster and defensive lineman Max Issaka are no longer with the team after both were suspended for the team's bowl game against Notre Dame.
Dave Miller, the college football editor and writer for the National Football Post, is on Twitter @Miller_Dave.