March 18, 2014 -
Dave Miller
Spring preview: Texas
Texas begins spring practice on Tuesday under new head coach Charlie Strong, who left Louisville to replace Mack Brown after a tumultuous 2013 campaign in Austin.
Let's take a look at some of the issues facing the Longhorns as they prepare for their spring game on April 19.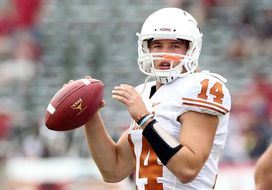 David Ash will wear a green no-contact jersey this spring.
Who will line up under center?: There's no doubt that Strong will instill a new level of toughness to the Longhorns in his first season. But how will the offense look, and who will be running the show? The program received great news when David Ash was cleared after concussion issues limited him to only three games last season, but will he be completely back and ready to fight for the starting job? He will wear a green no-contact jersey while he tries to hold off Tyrone Swoopes. Swoopes saw some action late as a true freshman, and he has the size-speed combination that made a number of programs go after him on the recruiting trail. Meanwhile, former Elite 11 participant Jerrod Heard has a chance to impress Strong, offensive coordinator Joe Wickline and quarterbacks coach Shawn Watson when he arrives in the fall. The wild card is Max Wittek, the former USC signal-caller who could transfer to Austin and be eligible to compete for the job in the fall. Whoever ultimately wins the starting QB job will be working behind an offensive line that must replace three longtime starters before the team opens its season against North Texas on August 30.
What type of defense will be run?: It is unclear whether the 'Horns will be primarily a 4-3 or a 3-4 unit under new defensive coordinator Vance Bedford (the team will experiment with both this spring and decide based on personnel), but one player to keep an eye on is junior tackle Malcom Brown, who could emerge as an All-American under the tutelage of the new staff. We saw how the Louisville defensive front grew under Strong, and expect the same in Austin with a new attitude and a higher talent level. And don't forget that strength coach Pat Moorer has come over from Louisville as well, and he's known for his intense offseason training program. Desmond Jackson should be able to step in at Chris Whaley's spot, while Shiro Davis has a chance to take over for Jackson Jeffcoat and help out Cedric Reed to give the team a sound pass rush.
Adjusting to the new staff: We have already seen Strong send a stern message to his team by dismissing fullback Chet Moss and defensive back Leroy Scott because of an unspecified violation of team rules, so a more demanding culture has been put in place. How the players react to a new coaching staff in the spring is always something to keep an eye on when there is a regime change at a school. This will unquestionably be a more physical Texas team, but getting each and every player (especially the veteran players used to the old regime) to buy into the new way of doing things is Priority No. 1 for Strong and his staff.
Other notes
There are very high expectations for redshirt freshman cornerback Antwuan Davis. He has high-impact speed and could be a real nice weapon in the defensive backfield. Duke Thomas has a chance to step in for Carrington Byndom, while Josh Turner will compete to replace Adrian Phillips as the 'Horns look to sort out their secondary.
Wickline was a part of balanced offenses at Oklahoma State under Mike Gundy, so expect him to preach the same in his role as Texas play-caller. The 'Horns want to have a run-throw balance both in down and distance as well as with speed and tempo. Overall, the 'Horns essentially want a pro-style attack that emphasizes a power running game.
Lou Groza Award finalist Anthony Fera is gone, so finding a new kicker and punter is of utmost concern for new special teams coach Chris Vaughn. Nick Jordan made nine of 15 field goals in 2012, so he could get his job back with William Russ and Mitchell Becker angling for punting duties. Meanwhile, there are plenty of options in the return game, including Daje Johnson.
Dave Miller, the college football editor and writer for the National Football Post, is on Twitter @Miller_Dave.