March 04, 2014 -
Dave Miller
Spring preview: Washington
Washington begins spring practice on Tuesday under new head coach Chris Petersen, who left Boise State to take over for Steve Sarkisian in Seattle.
Let's take a look at some of the issues facing the Huskies as they prepare for their spring game on April 19.
The next great back?: With Bishop Sankey moving on, sophomore Dwayne Washington has a chance to emerge as the lead running back after showing great potential in limited action last year. The converted wide receiver has good size at 6-1 and 220 pounds, and he has the necessary burst to be a productive Pac-12 back. But how much of a concern is his upright running style? Last year at Oregon State he broke out for 141 yards on 11 carries, including scoring dashes of 32 and 71 yards, which helped perch up his average yards per gain to over 7.0 per carry. Washington, though, will have to beat out seniors Jesse Callier and Deontae Cooper, who have struggled with ACL injuries during their careers but were healthy last fall. Lavon Coleman and Ryan McDaniel also have a chance to move up the depth chart with strong springs.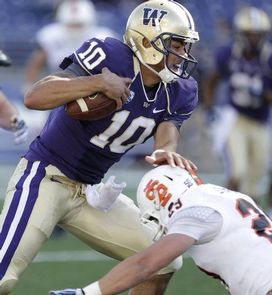 Will Cyler Miles see the field again for the Huskies?
Unavailable...for now?: At his opening presser on Monday, Petersen said that suspended quarterback Cyler Miles and wide receiver Damore'ea Stringfellow are not available as of now, stopping short of saying that they will miss all of spring ball. So we'll see how that situation plays out. In the meantime, UW will have just two signal-callers this spring: Jeff Lindquist and Troy Williams, both of whom will get a ton of work. Lindquist has a strong arm and more experience on campus, but Williams projects to be an exciting dual-threat. The Huskies need to replace three-year starter Keith Price, and Miles was projected to be the likely starter for 2014 after serving as Price's backup last season. He appeared in eight games with one start, going 37-of-61 passing for 418 yards with four touchdowns and two interceptions. But his suspension for an alleged post-Super Bowl assault puts the QB position up in the air.
The young secondary: After junior Marcus Peters at cornerback, the defensive backfield is in flux. Safeties Brandon Beaver and Trevor Walker played as true freshmen last year, but they didn't get a ton of snaps. Redshirt freshman Jermaine Kelly, who nearly played last year, has a chance to lock up the other cornerback spot, but he'll have to hold off senior Travell Dixon and redshirt freshman Patrick Enewally. Keep in mind, though, that seven freshmen will arrive this summer to compete for time in the secondary, so new defensive coordinator Pete Kwiatkowski will have a lot of options in fall camp.
Other notes
Another name to watch in the offensive backfield is Shaq Thompson, the team's explosive outside linebacker who had a great high school career at running back. Petersen said it's a possibility that he could see time in the backfield. Could the Huskies get similar production to that of Myles Jack, the UCLA stud LB who wowed at RB last year? As a senior in high school, Thompson rushed for 1,134 yards and 15 touchdowns on 120 carries.
Wide receivers Kasen Williams and Taelon Parson will be out all spring with injuries as will offensive lineman Dexster Charles.
Players limited this spring with injuries include left tackle Micah Hatchie, running back Ryan McDaniel, defensive end Cory Littleton, linebacker Scott Lawyer and safety Kevin King.
Keep an eye on Darrell Daniels in a crowded tight end group as the Huskies look to replace Austin Seferian-Jenkins.
Wide receiver DiAndre Campbell and defensive end Andrew Hudson are both back after the school announced at the end of last season that both players would be moving on.
Dave Miller, the college football editor and writer for the National Football Post, is on Twitter @Miller_Dave.