April 14, 2012 -
Dave Miller
Spurrier excited about his South Carolina squad
He has his Heisman Trophy-contending running back Marcus Lattimore coming back from a knee injury, a quarterback he can finally trust and a defense that features a ferocious pass rush despite losing future NFL star Melvin Ingram.
Life isn't bad for Steve Spurrier at South Carolina.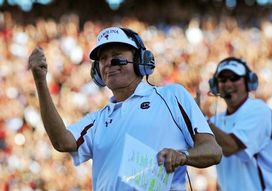 Steve Spurrier led South Carolina to its first-ever 11-win season in 2011.
The Head Ball Coach, who guided the Gamecocks to their most successful football season in school history in his seventh season in Columbia, will wrap up spring practice with the squad's annual spring game Saturday. And with expectations at an all-time high, there's no reason to be anything but optimistic.
"The best part [of being at South Carolina] is all the firsts, doing things that had never been done here," Spurrier told ESPN.com's Chris Low. "That's why I'm here. That's what is so much fun. We'd never even won in Knoxville before or won at the Swamp before."
Spurrier, who needs only 10 more wins to become South Carolina's all-time winningest coach, took his team to the SEC championship game two seasons ago after winning the East division. It was the team's first-ever trip to Atlanta for the league title game. And despite losing out to Georgia last fall on back-to-back division titles, this team unquestionably has the talent to edge the Bulldogs for the 2012 East crown.
In the junior Shaw, the Gamecocks have a quarterback who is becoming more comfortable as a passer while maintaining his excellent run skills in the zone-read game. Lattimore should be fully healthy and ready to carry the load on the ground, picking up where he left off when he was hurt last year. And the defense has never been better since Spurrier's been in town, highlighted by stud end Jadeveon Clowney, who will move inside on obvious passing downs this year, much like Ingram did in 2011.
Most importantly for the 66-year-old Spurrier is that he is getting the state's best talent to stay in South Carolina. Before Lattimore and Clowney, there was Stephon Gilmore and Alshon Jeffery. Recruiting at Carolina has never been easy, but the Head Ball Coach is making it look that way with his last couple of signing classes.
The increased level of talent has helped the Gamecocks go 8-0 against Clemson, Florida, Georgia and Tennessee over the past two seasons.
Speaking of Georgia, check out this gem when he discussed the team's game with the Bulldogs shifting from the second week of the season to the sixth week this fall.
"I don't know. I sort of always liked playing them that second game because you could always count on them having two or three key players suspended."
Vintage Spurrier. But not vintage South Carolina.
Expectations have been raised in Columbia, and that's never a bad thing with an always tough SEC slate on the horizon each and every season.
Email dave.miller@nationalfootballpost.com or follow me on Twitter at Miller_Dave