February 14, 2011 -
Dave Miller
Spurrier's in-state recruiting success paying dividends
When Steve Spurrier became the head coach at South Carolina, many college football observers didn't think that he could land the elite talent necessary to compete with the likes of Florida, Alabama and LSU in the SEC.
It's safe to say that doubting the Head Ball Coach isn't in anyone's best interests anymore.
While it may have taken longer than even he had expected, Spurrier has been able to bring in one of the premier players at his position in each of the last three recruiting classes — receiver Alshon Jeffery and corner Stephon Gilmore in 2009, running back Marcus Lattimore in 2010 and defensive end Jadeveon Clowney this season.
Following an SEC East championship and a berth in the school's first SEC Championship game, Spurrier has the Gamecocks trending in the right direction. And those four standout performers will play a big part in whether the Head Ball Coach can take his team to greater heights next fall.
Let's take a closer look at the recent stud in-state recruits for the Gamecocks.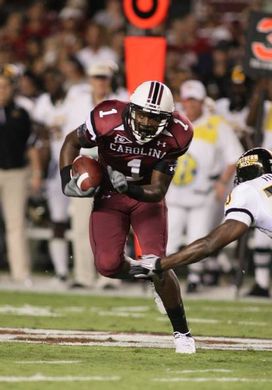 ICONWR Alshon Jeffery caught 88 passes for 1,517 yards and 9 touchdowns in 2010.
Alshon Jeffery, Class of '09
Jeffery was a four-star recruit and the No. 13 receiver in the nation by Rivals.com in 2009, but he has easily emerged as the best receiver from a class that was headed by LSU's Rueben Randle. As good as his first season was in Columbia, Jeffery's numbers shot off the charts last season when he caught 88 passes for 1,517 yards and 9 touchdowns. For his career, he has caught 134 passes for 2,280 yards and 15 scores. He gives the Gamecocks the big-play threat that the offense sorely lacked in Spurrier's early years at the school. What was even more critical for the Gamecocks offensive success this past season was Jeffery's emergence as a go-to guy for quarterback Stephen Garcia, especially after the signal-caller lost tight end and safety valve Weslye Saunders to suspension prior to the year. With a renewed emphasis on the rushing attack, the 6-4, 233-pounder is the ideal weapon to have when Spurrier wants to take his shots down the field. By the way, Jeffery was the prospect who reportedly was told by then-Tennessee head coach Lane Kiffin that he would end up pumping gas for the rest of his life if he attended South Carolina. Instead, Jeffery ended up being named a finalist for the Biletnikoff Award last season.
Stephon Gilmore, Class of '09
South Carolina has a nice recent history of producing quality NFL cornerbacks — Dunta Robinson, Jonathan Joseph and Captain Munnerlyn have all found homes at the next level — and many believe that Gilmore, who attended the same high school as Clowney, may ultimately be the best Gamecock at that position yet. The No. 6 athlete on the Rivals.com board in the Class of 2009, Gilmore led the team with 79 tackles and three interceptions in 2010. While the Gamecocks struggled defending the pass last year, Gilmore was one of the brighter spots of the unit. His play is expected to continue to improve during his junior year, and he possesses the type of ability that could lead to an early entry into the NFL Draft in 2012.
Marcus Lattimore, Class of '10
Lattimore was the top-ranked running back recruit by Rivals.com in 2010 — just ahead of Auburn's Michael Dyer. And in his opening contest against Southern Miss, Lattimore showed the nation that he was already primed to be a force, scoring the first two of his 17 touchdowns. He finished his debut campaign with 1,197 yards on the ground, a 4.8 yards per carry average and 412 receiving yards. With the exception of the loss to Auburn in the SEC Championship, it can be argued that the Gamecocks didn't utilize Lattimore enough in their losses — that's how effective of a back he was as a freshman. With Garcia and Jeffery back in 2011, South Carolina's offense should continue to roll. And the coaching staff should have no problem increasing the workload of the 6-foot, 218-pound bruising back.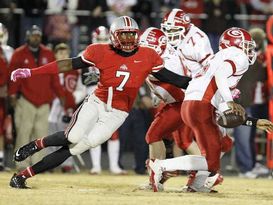 DE Jadeveon Clowney should make the Gamecocks defensive line even more ferocious.
Jadeveon Clowney, Class of '11
Based on everything we've read, seen and heard about Clowney, he will be a game-changer for the South Carolina program. The 6-6, 260-pound defensive end from South Pointe High School in Rock Hill, S.C, chose the Gamecocks over Clemson and Alabama on Monday morning and will join a university whose campus is 70 miles from his home. It was, undoubtedly, the program's biggest snag in its history. Some NFL scouts have said that he is ready to play in the NFL now because of his absurd combination of size, strength and speed. While that seems a bit of a stretch, keep in mind that he had 29.5 sacks and five defensive touchdowns as well as 20 carries for 274 yards and nine touchdowns as a running back his senior season. Barring any major setback, which could include failing to qualify academically, Clowney will be a force for defensive coordinator Ellis Johnson against the SEC's best on Saturday afternoons.
The immediate future
So what does all of this mean for Spurrier and the Gamecocks? Well, it means that expectations have been raised, especially after the division crown last year. While it can be argued that the East division was down in 2010, it can also be said that the Gamecocks let some games slip away, as well. Bottom line: the talent is there to become an annual prime contender.
South Carolina arguably will have the best defensive line in the SEC in 2011. Clowney should be able to be an effective pass-rusher right away and join fellow end Devin Taylor, who was a first-team all-conference player after logging 7.5 sacks last season. Along with Melvin Ingram, who played inside and tallied nine sacks, and tackle Travian Robertson, it's easy to see why the Gamecocks led the SEC with 41 sacks last year. And Spurrier added to the team's defensive line depth in the Class of 2011.
Perhaps the most important aspect of Spurrier's recent classes is that he is keeping the state's best players at home. Starting two years ago with Jeffery and Gilmore and continuing with Lattimore last year and now Clowney, the Head Ball Coach has snagged the top players in South Carolina. That mentality will work wonders for this program. If the Gamecocks continue to have success on the field, rival programs like Alabama and Florida will have more difficulty invading the state of South Carolina for its best talent. Throw in DeVonte Holloman, as well as Brandon Shell and Phillip Dukes from this class, and it's clear that the state's best players are choosing to stay home and play for the Gamecocks rather than go elsewhere.
It may have taken longer than some fans first anticipated, but Spurrier has the Gamecocks on the rise.
Who said it couldn't be done in Columbia?
Email dave.miller@nationalfootballpost.com or follow me on Twitter at Miller_Dave
Want to work in the NFL? Click here to sign up for the NFP's "Chalk Talk at the Combine" Seminar February 25 in Indi anapolis.