August 20, 2010 -
Dave Miller
Stacking up the ACC: Quarterbacks
While NFP director of college scouting Wes Bunting provides you with everything you need to know about future NFL prospects, we can't forget about the productive players who help their schools on the field every Saturday but may not be made for the pro game. With that in mind, let's take a look at the starting quarterbacks in the ACC entering the 2010 season.
Click here to see Stacking up the Big East: Quarterbacks
Christian Ponder, Florida State: Before missing the last four games of the season with a shoulder injury, Ponder led the ACC in total offense at 321.8 yards per game in '09 — which would have ranked sixth-best in league history if he reached the NCAA minimum for games played. Now healthy, the 6-3, 227-pounder is positioned for a run at the Heisman trophy. The talent is obviously there, and he proved that the work ethic is, as well, after an accelerated rehab of his injury this offseason. Losing receiver Jarmon Fortson will hurt, however, because he was a physical wideout who posed matchup problems and complemented Bert Reed very well.
Russell Wilson, NC State: Did you know that Wilson threw 31 touchdowns last season, leading the ACC and ranking fourth in the country? With the league's best receiving unit, led by senior Jarvis Williams, expect more of the same from the 5-11, 201-pounder and the Wolfpack this fall. But if Wilson happens to go down with injury at any point in the season, Mike Glennon would be able to fill in quite well. Glennon had a great spring for head coach Tom O'Brien while Wilson was playing baseball.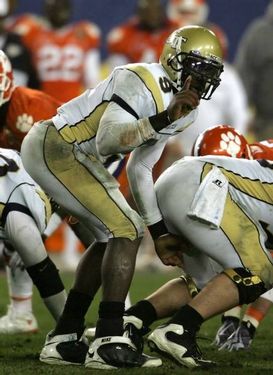 ICONJoshua Nesbitt had over 1,000 yards and 18 TDs on the ground in '09.
Joshua Nesbitt, Georgia Tech: I cringe when Nesbitt drops back and chucks the football down the field. But that's what is great about college football — strengths are maximized and weaknesses are minimized. And for Nesbitt, his strength is in his legs and running Paul Johnson's unique spread-option offense. The 6-1, 217-pounder had over 1,000 yards and 18 TDs on the ground in '09, and his 2,079 career rushing yards are the most by a signal-caller in GT history; he needs just 692 more to become the most prolific rushing quarterback in ACC history. He also had over 1,000 yards passing last year — just don't study his throwing mechanics if you're interested in lining up under center.
Jacory Harris, Miami: This is a big year for Harris. The 6-4, 200-pounder will look to cut down on his 17 interceptions — the second-most in major college football — from a year ago while maintaining his ability to connect on the big play. He averaged 257.8 yards per game through the air en route to passing for 3,352 yards and 24 scores last year, and he completed close to 60 percent of his passes. But he wasn't as consistent as both he and the Miami staff know he can be for a full season. However, his thumb injury was a big factor in the inconsistency, forcing him to use a variety of wraps, tape jobs and treatments, and prompting him to change his release while also dealing with problems gripping the ball. The Hurricanes have four of last year's top five receivers back, so I expect a healthy Harris to thrive in 2010.
Tyrod Taylor, Virginia Tech: Taylor improved even more than I thought he would in '09, as the 6-1, 210-pounder led the league in passing efficiency at 149.4. In addition to his 2,311 yards through the air, along with 13 touchdowns against five interceptions, Taylor added 370 yards and five scores on the ground. We know that the Hokies will have a filthy rushing attack. But the receiving corps has also developed into a solid group heading into 2010 after a couple of subpar seasons. I'd like to see his accuracy improve, but Taylor has a knack for making plays. If the Hokies can get past Boise State in the opener and a couple of November road games, it will be because of Taylor — who will have to carry more of a load this season with a Va. Tech defense possibly dealing with growing pains.
Kyle Parker, Clemson: Now that he is officially back in the fold, Parker will drastically help a Clemson offense that needs all the aid it can get after losing C.J. Spiller and Jacoby Ford to the next level. The 6-1, 200-pounder set freshman Clemson records with 20 TDs through the air, 205 completions and 2,526 passing yards last season. The Colorado Rockies first-round pick will have a nice running game to balance his aerial attack even without Spiller, but can Xavier Dye be his go-to guy? Or perhaps Terrence Ashe or Brandon Clear can emerge. Either way, head coach Dabo Swinney and the Clemson faithful are ecstatic that Parker decided to return to the gridiron for one more season.
Sean Renfree, Duke: I think Renfree has a chance to be a real nice surprise this season for the Blue Devils. Replacing four-year starter Thaddeus Lewis, Renfree has one of the better receiving units in the league — led by preseason All-ACC performer Donovan Varner. While he has little experience, completing 34-of-50 passes for 330 yards and four touchdowns against two interceptions as Lewis' backup last season, the 6-3, 210-pound redshirt sophomore is ready for the starting role David Cutcliffe envisioned for him when the head coach was at Tennessee. I know he doesn't have the body of work as some of the signal-callers below, but I think Renfree could end up being better than any of those players lining up under center.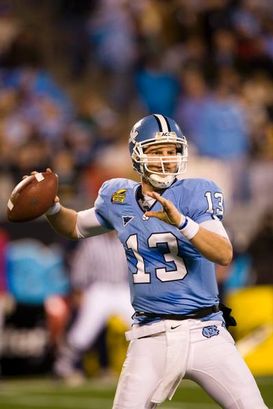 ICONCan T.J. Yates bring a consistent game under center for the Tar Heels?
T.J. Yates, North Carolina: Yes, Yates is still in Chapel Hill. The 6-4, 220-pounder certainly has taken his share of criticism, especially in light of an '09 campaign where he finished ninth in the league in both passing average per game and pass efficiency. Having more interceptions than touchdowns — 15 to 14 — is certainly not going to get the job done. The optimists believe that Yates' numbers should improve with a receiving corps that is one year older and with solid Zack Pianalto at tight end. The pessimists still contend that the Heels will be hampered by Yates' erratic play.
Dave Shinskie, Boston College: Shinskie, the Chris Weinke of Boston College, played like a freshman last season, tossing 14 interceptions. But he set BC freshman passing records, as well, throwing for 2,049 yards and 15 touchdowns. The 6-4, 216-pounder needs to become a much more accurate passer and play much better in the Eagles' biggest games if the team is going to contend for an Atlantic division crown.
Marc Verica, Virginia: Can Verica provide stability under center for new head coach Mike London? The 6-3, 210-pounder completed 63.8 percent of his passes for 2,037 yards in the '08 campaign, but he tossed 16 interceptions and only eight TDs. He is coming off of a solid spring practice season that saw him protect the football better following a season in which he only attempted 63 passes as the Cavaliers' backup.
Jamarr Robinson, Maryland: Robinson will provide the Terrapins with a more athletic look under center this season. The 6-foot, 195-pounder took over for an injured Chris Turner late last season and managed to give the offense some excitement — partly because he was operating behind a struggling offensive line that often had him on the run. Nonetheless, Robinson ran for 129 yards against Virginia Tech in his first start and directed five scoring drives the next week at Florida State. He has moxy, and who knows what the Terps can do with a healthy Da'Rel Scott. Perhaps save Ralph Friedgen's job? Well, that's a different story.
Ted Stachitas, Wake Forest: Riley Skinner leaves, and all hell breaks loose. It looked like former wide receiver Skylar Jones was going to be under center for the opener, but the leader after spring practice is in a dogfight with three others for the right to start the season. Ted Stachitas, who took over for Tim Tebow under center at Nease High in Jacksonville, Fla., may be in the lead if the first two weeks of fall camp are any indication. The sophomore with the strong arm has a slight edge over Jones, redshirt freshman Brendan Cross and true freshman Tanner Price. Here's what head coach Jim Grobe told the Winston-Salem Journal last Saturday: "[Stachitas is] probably the best combination right now of throwing, running and knowing the offense — all three. We've still got four guys in the mix who could end up being the guy, but right now you'd have to say Ted's the guy."
Follow me on Twitter at Miller_Dave or send your college football questions to dave.miller@nationalfootballpost.com
Click here to purchase the Total Access Pass / Fantasy Draft Guide from the NFP and receive a free Deuce Brand watch while supplies last.