July 19, 2010 -
Dave Miller
Stacking up the ACC: Running Backs
While NFP director of college scouting Wes Bunting provides you with everything you need to know about future NFL prospects, we can't forget about the productive players who help their schools on the field every Saturday but may not be made for the pro game. With that in mind, let's take a look at the feature running backs in the ACC entering the 2010 season.
Click here to see Stacking up the Big East: Running Backs
Ryan Williams, Virginia Tech: Hokies fans have to consider themselves lucky after witnessing back-to-back dominant freshman campaigns from two premier running backs. After Darren Evans racked up 1,265 yards and 11 touchdowns on the ground in his debut season, he suffered a season-ending knee injury last August that threatened to disrupt Virginia Tech's run game. But Williams took the ball and ran with it — up and down the field week in and week out. The sophomore logged 293 carries for 1,655 yards and 21 touchdowns while adding 16 catches for 180 yards and a score in a monster debut season. The 5-10, 211-pounder hits the hole quickly, can juke and has the speed to break away from the secondary. He's clearly the ACC's best.
Note: Evans' injury looks to be fully healed, so he will have an opportunity to show that he can regain the form from his freshman All-America season. He brings a different dimension to the offense, as he's a 223-pound between-the-tackles runner. He likes to take hits and get the tough yards — and rack up big yards, as evidenced by a school-best 253 yards against Maryland in '08.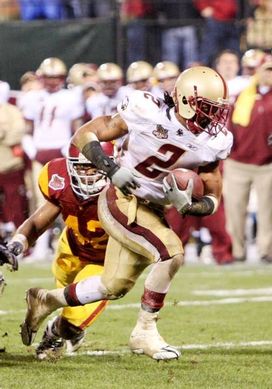 ICONMontel Harris racked up 1,457 yards and 14 touchdowns for Boston College in '09.
Montel Harris, Boston College: The junior will be leaned upon heavily once again by the Eagles. With a passing game that often struggled, Harris went off for 1,457 yards and 14 touchdowns on 308 carries in '09. The 5-10, 200-pounder isn't the fastest back in the nation, but he gets to the hole quickly and has the ability to break tackles and continue to gain the extra yards. His sophomore season was highlighted by a 264-yard, five touchdown effort against NC State, and he logged 100 yards or more in each of his final five games. He doesn't tire easily and should have another productive year for the Eagles.
Anthony Allen, Georgia Tech: Despite Jonathan Dwyer leaving early for the NFL, the Yellow Jackets are in a good spot with Allen. The senior and former Louisville transfer has moved to the featured B-back spot in Paul Johnson's option attack and should thrive as Dwyer did the last few seasons. In limited opportunities in '09, Allen averaged over 10 yards a touch, carrying 64 times for 618 yards and six scores, along with five catches for 112 yards and another touchdown. With the tenacity of a fullback and the speed of a tailback, Allen is poised to help take the Jackets back to the ACC title game.
Note: Roddy Jones will also find room to make big plays in Johnson's offense. The 5-9, 195-pound junior has a 7.7 yards per carry average in his career, and he rushed for 345 yards and three scores in '09 despite playing banged up.
Da'Rel Scott, Maryland: If Maryland head coach Ralph Friedgen wants to return to College Park in 2011, he may want to lean on Scott this season. The only question is whether the senior can stay healthy for an entire campaign, which he wasn't able to do the past two years. Dealing with a broken wrist for almost half of '09, he only carried the ball 85 times for 425 yards and four touchdowns. But when he's healthy, the 5-11, 200-pounder is one of the best rushers in the ACC and a former 1,000-yard back. He has the ability to burst into the secondary and the speed to take it to the house. If the Terps could get better play from their offensive line and Scott plays all 12 regular-season games, he could put up scary numbers.
Shaun Draughn, North Carolina: Draughn started the first nine games of his junior season in '09 before fracturing his shoulder blade and being sidelined the rest of the way. The 6-foot, 210-pounder finished with 567 yards and one score on 124 carries, along with 21 catches for 125 yards. The traditional north-south rusher has good vision and is adept at breaking tackles. Now back to being healthy, Draughn should get a heavy workload — especially if the Heels continue to get inconsistent play from the quarterback position.
Andre Ellington, Clemson: Ellington was overshadowed by that C.J. Spiller guy last year at Clemson, but the sophomore was a valuable part of the Tigers' offense in his debut season. He rushed for 491 yards and four scores on only 68 carries while adding 11 receptions for 55 yards. The 5-10, 180-pounder plays much bigger and tougher than his size would indicate, but his playmaking ability in the open field is what makes him stand out. More opportunities, even with Jamie Harper sharing carries, should mean more big plays for the Clemson offense.
Note: We can't forget about Harper, who racked up 418 yards and four touchdowns on 80 carries in '09. Despite not being quite the game-breaker as Ellington, the 5-11, 225-pounder will be a steady performer for head coach Dabo Swinney.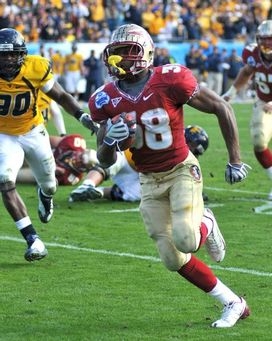 ICONWill Florida State's Jermaine Thomas see a decline in his workload?
Jermaine Thomas, Florida State: Thomas is in a very unique situation in Tallahassee. The 5-11, 190-pound junior didn't have a great spring practice season and will have to fight for carries this fall with a deep Seminoles backfield. He started 10 games last season and became the first Seminoles rusher in seven seasons to log three straight 100-yard games, finishing the year with 832 yards and nine touchdowns on 163 carries. He also is a solid option out of the backfield in the passing game. While he may have some competition for carries, I expect the fourth-leading returning rusher in the conference to ultimately take charge for the 'Noles. He exudes breakaway speed, is shifty and has good vision. With Christian Ponder at quarterback, this can be a dangerous FSU offense.
Note: One of the talented backs competing for carries with Thomas is sophomore Chris Thompson, who passed Thomas on the unofficial depth chart after spring ball. If he carries this momentum into the fall, he could be poised for a breakout season. The 5-8, 186-pounder is a scatback who rushed for 120 yards and two scores on 23 carries as a reserve last season. Whoever head coach Jimbo Fisher throws into the backfield, certainly Thompson will at least have a much bigger role than in '09.
Damien Berry, Miami: Berry is the biggest beneficiary of Graig Cooper's injury and Javarris James' departure to the NFL. The 5-11, 217-pound senior likely will assume the top spot in a still-deep and talented backfield, including redshirt freshman Lamar Miller. Berry, a former defensive back, ran 93 times for 616 yards and eight touchdowns last season and showed flashes toward the end of the year that he could emerge as one of the league's best if given a healthy dose of carries. He's a tough, hard-nosed runner who will keep defenses honest so that quarterback Jacory Harris can take some shots down the field.
Josh Adams, Wake Forest: Adams, a senior, arrived at Wake with a lot of expectations. But injuries have prevented him from having a defining breakout season. In '09, he rushed for 541 yards and four touchdowns on 113 carries, and he may be leaned upon more heavily this fall with quarterback Riley Skinner gone. The 6-foot, 182-pound league rookie of the year in 2007 also caught 28 passes for 307 yards in '09, so the slashing back will be the centerpiece of the Demon Deacons' offense in 2010.
NC State: The Wolfpack will enter a season without any starting experience in the backfield for the first time since 2005. With Brandon Barnes injuring his ankle, Curtis Underwood and James Washington will battle for the bulk of the carries in the fall.
Duke: The Blue Devils may have found a running back in freshman Josh Snead, who graduated high school early and enrolled in January. He showed some explosiveness in the spring, busting off for multiple runs of 50 or more yards in team scrimmages.
Virginia: Rashawn Jackson, the top rusher for the Cavaliers in '09, is gone. Also departed is Mikell Simpson, which could cause even more problems for inconsistent senior quarterback Marc Verica. Sophomore running back Torrey Mack leads the returning backs with only 73 yards in '09.
Follow me on Twitter at Miller_Dave
Ready for fantasy football? Click here to purchase the 2010 Total Access Pass/Draft Guide from the NFP.