August 04, 2010 -
Dave Miller
Stacking up the ACC: Wide receivers
While NFP director of college scouting Wes Bunting provides you with everything you need to know about future NFL prospects, we can't forget about the productive players who help their schools on the field every Saturday but may not be made for the pro game. With that in mind, let's take a look at the wide receiver units — plus feature tight ends — in the ACC entering the 2010 season.
Click here to see Stacking up the Big East: Wide receivers
NC State: The Wolfpack have plenty of talent and depth at wide receiver, giving quarterback Russell Wilson plenty of options down the field. There's a nice blend of size and speed throughout the corps, led by senior Jarvis Williams. The 6-4, 219-pounder caught 45 passes for 547 yards and 11 touchdowns as a junior, and he leads a unit that had three players catch at least 30 passes and six touchdowns in '09. Fellow senior Owen Spencer will stretch the field, establishing a new single-season ACC mark for yards per catch in each of the last two years. The 6-3, 185-pounder had 30 receptions for 765 yards and six touchdowns last season.
TE: Junior George Bryan had a fantastic first full season as a starter, catching 40 passes for 422 yards and six touchdowns and earning a spot on the All-ACC first team. The 6-5, 265-pounder is agile and has soft hands, making him a highly regarded tight end prospect for NFL scouts.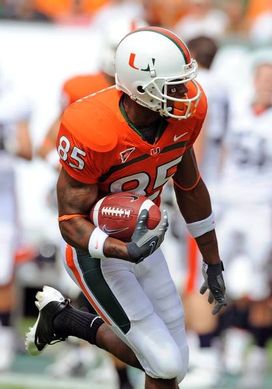 ICONLeonard Hankerson had 45 catches for 801 yards and eight touchdowns in '09.
Miami: The Hurricanes have four of last year's top five receivers back, led by senior Leonard Hankerson. The 6-3, 215-pounder broke through in '09 with a team-high 45 catches for 801 yards and eight touchdowns after being underutilized his first two seasons. He should be a factor at the next level. I love 5-10, 175-pound Travis Benjamin. The junior playmaker will be a factor catching passes, taking handoffs on end-arounds and returning kicks. He's one of the fastest players in college football, yet he only had 29 receptions for 501 yards and four touchdowns in '09. But his mere presence on offense gives opposing defenses something to worry about every snap.
TE: Senior Richard Gordon isn't the prototypical athletic Miami tight end. But the 6-4, 270-pounder will step in for the departed Dedrick Epps and Jimmy Graham after receiving a medical hardship for missing all but the opener against Florida State last season. He's only caught four passes for 32 yards in his career, as his strength lies in blocking.
Duke: The Blue Devils have the ACC's best receiver in junior Donovan Varner, and they have their top six pass-catchers back from last season. Duke with strong skill-position players? It's true, and head coach David Cutcliffe has this program going in the right direction. Varner was first-team All-ACC after eating up opposing defenses from the slot in '09. He plays much bigger than his 5-9, 170-pound frame and plays with a tenacity more suited for a defender. In '09 he led all Duke receivers with 65 catches for 1,047 yards and eight scores, notching 100 yards or more in five of the last seven games. Sophomore Conner Vernon lines up on the outside for the Blue Devils, and the 6-2, 195-pound freshman All-American debuted with 55 receptions for 746 yards and three scores in '09.
TE: Senior Brett Huffman will return for his third year as the starter. The 6-4, 250-pounder is deadly running intermediate routes and is a weapon near the end zone. He's coming off of an 18-catch, three-touchdown '09 campaign.
Wake Forest: Marshall Williams is the stud of the Demon Deacons' receiving corps. The 6-1, 185-pound senior caught 60 balls for 867 yards and six touchdowns in '09, providing Wake Forest with a dynamic playmaker on the outside. Devon Brown is the hard-to-tackle little guy on the unit. The 5-9, 185-pound sophomore had 61 receptions for 671 yards and six scores last season, and he'll also find time to make plays out of the backfield. Chris Givens scored eight touchdowns in '09, which just speaks to the depth of this unit.
TE: Junior Andrew Parker was underutilized in the passing game in '09, catching just nine passes for 90 yards and two scores. The 6-5, 225-pounder is a matchup nightmare for linebackers down the seams.
Florida State: The Seminoles are led by junior Bert Reed, who broke out with 60 catches for 710 yards in '09. The 5-10, 167-pounder isn't the biggest wideout on the unit, but he's dynamic and dangerous when in open space. He can be used in a variety of ways, specifically out of the backfield on misdirection plays because of his dangerous speed. Junior Jarmon Fortson is the physical wideout in the starting unit, posing his own matchup problems. The 6-3, 221-pounder started just six games but finished with 45 catches for 610 yards and four scores in '09. He can be a very dangerous option for quarterback Christian Ponder in the red zone.
TE: Junior Beau Reliford found himself in the starting lineup the last five games of '09 and logged 11 receptions for 101 yards and two scores. The 6-6, 253-pounder came to spring camp in better shape and only needs to improve as a blocker to become a real nice weapon for the 'Noles.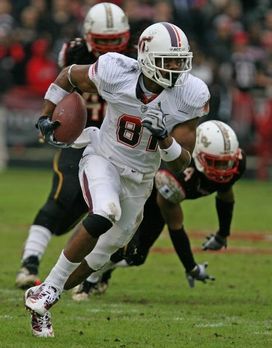 ICONJarrett Boykin pulled in 40 catches for 835 yards and five touchdowns last season.
Virginia Tech: After a couple of subpar seasons from Hokies wideouts, this unit has developed into a solid group heading into 2010. The corps is led by junior Jarrett Boykin, a 6-2, 210-pound split end who pulled in a team-high 40 catches for 835 yards and five touchdowns in '09. He's a playmaker who is not afraid to go up and come down with a jump ball. Danny Coale and Dyrell Roberts also return to give quarterback Tyrod Taylor plenty of weapons in the passing game.
TE: Senior Andre Smith will take over at tight end after the graduations of Greg Boone and Sam Wheeler. The 6-5, 271-pounder is a great run blocker who hopes to become a bigger threat in the passing game this fall.
North Carolina: Senior Greg Little leads the Tar Heels' receiving corps — a group that is still developing after so many freshmen saw action last season following the departures of Hakeem Nicks, Brandon Tate and Brooks Foster. Little was the veteran of the group — and he played like one, hauling in 62 catches for 724 yards and five scores. The 6-3, 215-pounder is physical, savvy and a solid route-runner. Erik Highsmith, who caught 37 passes, and Jheranie Boyd, who had four scores, should make big strides this fall with a full year of experience under their belts.
TE: Senior Zack Pianalto has battled injuries throughout his career, but he could be a real factor for the Tar Heels if he can stay healthy for a full season. The 6-4, 255-pounder could become a favorite target of quarterback T.J. Yates, as he set a school record for catches by a tight end with 33 despite missing five games with a foot injury.
Clemson: Losing Jacoby Ford was a tough blow for this unit, and the depth will be te sted early. The leading returning wideout is Xavier Dye, who caught just 14 passes in '09. Terrence Ashe had a nice spring, and the coaching staff has high hopes for him. Meanwhile, Brandon Clear ended up looking like one of the most improved players on offense this spring, so it will be interesting to see how much of an impact he can make in the fall.
TE: Sophomore Dwayne Allen was one of the nation's top tight end recruits in '08. The 6-4, 255-pounder could be a real valuable option for the Tigers on offense this fall, especially with a receiving corps that is largely untested. He is a real tough matchup for linebackers and gives quarterback Kyle Parker a nice weapon down the seams.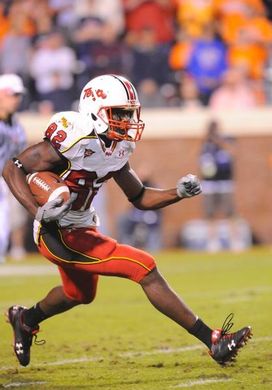 ICONTorrey Smith was one of college football's most productive all-purpose players in '09.
Maryland: Junior Torrey Smith had big holes to fill when taking over the lead receiving role from Darrius Heyward-Bey, but the 6-1, 200-pounder was one of college football's most productive all-purpose players in '09. The hard-working playmaker caught 61 passes for 824 yards and five touchdowns and went on to become an All-ACC performer. Meanwhile, Adrian Cannon, a 6-2, 204-pound junior, hauled in 44 balls for 468 yards and four scores last season.
TE: Sophomore Devonte Campbell started the last four games of the '09 season and could emerge as a dangerous option in the passing game. His greatest strength is his versatility, as he's able to work out of multiple formations from the same personnel group. He could be a nice piece to the Maryland offense because of his blocking and pass-catching ability.
Boston College: Colin Larmond averaged 20.6 yards per catch in '09, so his ability to stretch the field is there. But he's never been the go-to guy on offense. He logged 596 yards and five touchdowns in '09 and could see those numbers increase with so much inexperience behind him and the Eagles' all-time leader in receiving yards, Rich Gunnell, departed. But can quarterback David Shinskie get him the football?
TE: Sophomore Chris Pantale could be an emerging star at BC. The 6-6, 244-pounder is still young but looks to be fully capable of developing into a complete tight end that could compete at the next level. He caught 25 passes for 223 yards and a touchdown last year but also excelled as an in-line blocker.
Virginia: Kris Burd may be the lone bright spot on offense for the Cavaliers, who likely will struggle scoring points in '09. The 5-11, 190-pounder caught 31 passes for 413 yards and one score last season. If quarterback Marc Verica can perform as he did in '08, perhaps the offense could at least be decent.
TE: Senior Joe Torchia is one of the ACC's better blocking tight ends. The 6-6, 250-pound second-year starter plays as if he's the third tackle on the line, but he's also a valuable pass-catcher. He should become Verica's favorite target this fall.
Georgia Tech: Because of Paul Johnson's triple-option offense, the Yellow Jackets will never boast a great receiving corps. But keep in mind that Joshua Nesbitt will still need to throw the football, and Demaryius Thomas was able to rack up 1,154 receiving yards and eight TDs in '09. While Thomas was a first-round draft pick, the Jackets are hoping that lanky 6-4 sophomore Stephen Hill could at least establish himself as a solid option down the field on Saturdays. He only caught six balls for 137 yards and a touchdown last season but he bulked up to 205 pounds by the end of spring and is primed to take center stage on offense — at least when the Jackets throw the ball.
Follow me on Twitter at Miller_Dave or send your college football questions to dave.miller@nationalfootballpost.com
Ready for fantasy football? Click here to purchase the 2010 Total Access Pass/Draft Guide from the NFP.