August 23, 2010 -
Dave Miller
Stacking up the Big 12: Quarterbacks
While NFP director of college scouting Wes Bunting provides you with everything you need to know about future NFL prospects, we can't forget about the productive players who help their schools on the field every Saturday but may not be made for the pro game. With that in mind, let's take a look at the starting quarterbacks in the Big 12 entering the 2010 season.
Click here to see Stacking up the Big East: Quarterbacks
Click here to see Stacking up the ACC: Quarterbacks
Jerrod Johnson, Texas A&M: Johnson broke out in a big way in '09, finishing third in the nation in total offense. The 6-5, 245-pound senior completed nearly 60 percent of his passes for 3,579 yards and 39 touchdowns against only eight interceptions. Not enough production for you? He also added 506 yards and eight scores on the ground. He showed just how dominant he could be in his final two games of the season — throwing for 342 yards and four touchdowns while rushing for 97 more yards against Texas, and passing for 362 yards and two scores against Georgia. He has size, a big arm and nice mobility. Bottom line: he's the best quarterback in the Big 12.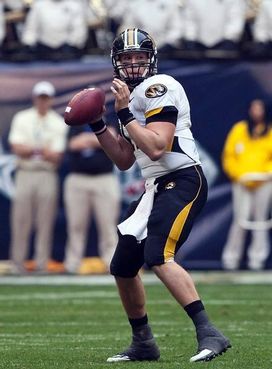 ICONBlaine Gabbert threw for a school-record 468 yards against Baylor last year.
Blaine Gabbert, Missouri: Gabbert took over for Chase Daniel and exceeded expectations, throwing for 3,593 yards — including a school-record 468 yards against Baylor. The 6-5, 240-pound junior added 24 touchdowns with just nine interceptions, and he's deceptively mobile, too, adding 204 yards and three scores on the ground. Pretty good when you consider that he played much of the season on a bum ankle. However, he struggled against the likes of Nebraska, Oklahoma State and Texas, so who knows how much the injury affected his play in those contests. Gabbert has all the tools to continue to be successful in the offense and further impress NFL scouts. But how will the loss of Danario Alexander affect his production? Will he force the football down the field and get burned by picks in big games?
Landry Jones, Oklahoma: I think Jones could have a big season in Norman. Thrown into the fire last year after Sam Bradford's injuries, Jones broke Bradford's freshman passing yardage record and went on to be named Big 12 offensive freshman of the year. With a decimated offensive line and only one productive receiver in Ryan Broyles, the 6-4, 216-pounder had quite the season when you really put it into perspective. Although he did throw for 3,198 yards and 26 touchdowns, he did toss 14 interceptions. But with a healthy DeMarco Murray, better line play and more skill players at receiver, it should be a more balanced Sooners attack. I expect Jones to make better decisions with the football and show why he was considered a top recruit.
Robert Griffin, Baylor: I really hope we see Griffin completely healthy and recovered from last year's torn ACL. When healthy, he's one of the most dynamic players in the country. The 6-2, 210-pounder had a stellar debut season in '08, completing 60 percent of his passes for 2,091 yards, 15 touchdowns and just three interceptions. What's most impressive is that he set the NCAA record with 209 straight passes without an interception to start his career. Not only does he make good decisions with the football, but he can take off and gain big chunks of yards on the ground — totaling 843 rushing yards and 13 touchdowns in '08. The former Big 12 gold medalist in the 400-meter hurdles should pick up where he left off when he was injured last season — if his knee is healthy.
Taylor Potts, Texas Tech: The official starter now at Texas Tech, Potts led the Big 12 in passing yards per game in '09 at 313. While it's likely that fellow senior Steven Sheffield will see the field at some point, the most talented signal-caller on the roster is Potts. The 6-5, 218-pounder completed 66 percent of his throws for 3,440 yards and 22 touchdowns with 13 interceptions last season, but he also battled concussion issues. He isn't your average Red Raiders quarterback, possessing a bigger arm than his predecessors. If Potts does happen to go down, the offense will still be in good hands with Sheffield. Pretty good spot for new head coach Tommy Tuberville.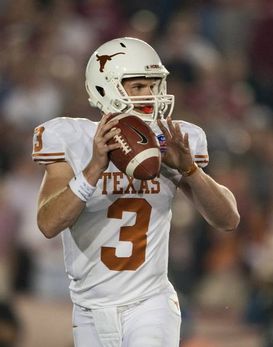 ICONGarrett Gilbert was thrown to the wolves but survived against Alabama in the BCS championship game.
Garrett Gilbert, Texas: We haven't seen much of Gilbert yet, but the sophomore held his own in the national championship game against Alabama. His final numbers — 15-of-40 for 186 yards and two touchdowns with four interceptions — don't tell the story of how he responded as the game progressed against a fierce Crimson Tide defense. With McCoy onto the next level, it is Gilbert's team now. He should be aided by the fact that head coach Mack Brown wants to re-establish the run this year in Austin, so the 6-4, 212-pounder should be leading a balanced attack. But if the running game is stalled, perhaps the Longhorns won't mind relying on a guy who threw for a Texas high school record 12,540 yards with 138 touchdown passes en route to two state championships. Don't underestimate, however, the impact of losing receiver Jordan Shipley and three offensive linemen.
Austen Arnaud, Iowa State: Arnaud was expected to develop into one of the better signal-callers in the Big 12, but working in a third offensive system in four seasons really seemed to hamper his game in '09. He completed 59 percent of his throws for 2,015 yards and 14 touchdowns, but he threw 13 interceptions and was really inconsistent. Perhaps he'll be more settled as he enters his senior campaign. The 6-3, 226-pounder also is dangerous on the ground, finishing second on the team with 561 yards and eight touchdowns. I didn't think the Cyclones were good enough to make a bowl last season, but they proved me wrong. And Arnaud's overall game was a big part of that success.
Brandon Weeden, Oklahoma State: I'm very interested to see how Weeden performs in Dana Holgorsen's spread offense in Stillwater this fall. The 26-year-old junior only received limited time on the field behind Zac Robinson in '09, but he thrilled Cowboys fans against Colorado when he stepped in for an injured Robinson and threw two touchdowns in a comeback win. The 6-4, 224-pound former New York Yankees farmhand has the talent to excel in this offense. But with just one experienced offensive lineman up front, along with the new scheme, it may take some time for the Cowboys to gel. When they do come together, though, we could see some gaudy passing numbers on Saturdays.
Zac Lee, Nebraska: Lee still hasn't officially locked up the starting gig in Lincoln, but I expect him to be under center for the opener while Cody Green and Taylor Martinez see action in specially designed packages. Cornhusker fans certainly won't forget the disastrous performance from Lee in the Big 12 championship game — 6-of-19 with three picks — or any other bad decision he made with the football last year. While the offensive line didn't always offer the support necessary for stability under center, the 6-2, 215-pound senior failed to bail out his offense more times than not. And a starting quarterback just has to be able to do that once in awhile. Lee needed surgery in January to repair a torn flexor tendon in his throwing arm, so he was forced to miss spring practice. But he's healthy, and he has as good a chance as anyone to show coaches that he could be the stabilizing force under center for the Huskers.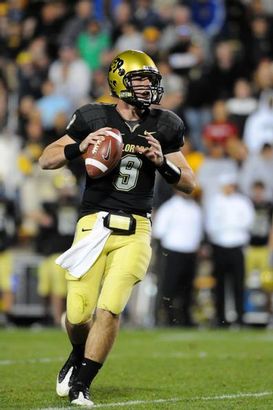 ICONTyler Hansen beat out Cody Hawkins for the starting gig in Boulder.
Tyler Hansen, Colorado: Hansen beat out Cody Hawkins for the right to line up under center for the Buffaloes. The junior has been in and out of the lineup since his freshman season, but it looks like this could be the year he settles in as the lead signal-caller. He completed 56 percent of his passes for 1,440 yards with eight touchdowns and seven interceptions last year. The 6-1, 205-pounder seemed to progress as the season went on, throwing for over 250 yards in three of his final four games. However, he tossed three interceptions in the season finale. We know that this is a big year for head coach Dan Hawkins. It's also a big year for Hansen.
Carson Coffman, Kansas State: Coffman is still battling Sammuel Lamur and Collin Klein for the starting job, but the edge likely goes to Coffman, who started the first four games last year. All three have made improvements, and Wildcats fans may see all three at some point this season. K-State returns only five starters on offense, but four offensive linemen are back. Coffman, or whoever is under center, will also be working with a completely new set of receivers, highlighted by transfers Brodrick Smith and Chris Harper. Senior Aubrey Quarles returns, however, after redshirting last season. And don't forget that Daniel Thomas will still pace the rushing attack. If the Wildcats are balanced on offense, they should go bowling.
Kale Pick, Kansas: Pick beat out redshirt freshman Jordan Webb for the starting job in Lawrence. The 6-1,