July 21, 2010 -
Dave Miller
Stacking up the Big 12: Running Backs
While NFP director of college scouting Wes Bunting provides you with everything you need to know about future NFL prospects, we can't forget about the productive players who help their schools on the field every Saturday but may not be made for the pro game. With that in mind, let's take a look at the feature running backs in the Big 12 entering the 2010 season.
Click here to see Stacking up the ACC: Running Backs
Click here to see Stacking up the Big East: Running Backs
Kendall Hunter, Oklahoma State: In his senior season, Hunter will try to put his injury-riddled 2009 behind him and resemble the player who led the Big 12 in rushing with 1,555 yards and 16 scores in 2008. The 5-8, 197-pounder should be completely healed from his injured foot and should perform like the All-America candidate he was expected to be before the injury. Despite his size, he's been a durable back — save for the foot issue — and is able to hit the open field quickly and gain big chunks of yards. Perhaps only Pokes fans know how good Hunter really is, as well as the opposing Big 12 defenses who were made to look silly when trying to tackle him.
DeMarco Murray, Oklahoma: Can he stay healthy for an entire season? Because if he can, his elite talent will shine and could take the Sooners all the way to the BCS title game. The oft-injured senior has still managed to put up respectable career numbers — 2,471 rushing yards, 977 receiving yards and 43 total TDs — but his NFL stock will soar if he can prove that he could hold up for an entire season. Is an All-America season in store for the 6-foot, 214-pound Sooner? He's fast, quick and strong, and he just may be able to put it all together in his final season in Norman.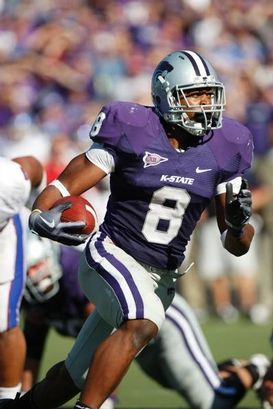 ICONKansas State's Daniel Thomas made a big impact after coming over from junior college.
Daniel Thomas, Kansas State: Who would have thought that Thomas would have such an impact as he did in Manhattan in '09. The junior-college transfer moved up NFL draft boards with a strong campaign, rushing for 1,265 yards and 11 touchdowns while averaging over 5 yards per carry. The senior also caught 25 balls for 257 yards, establishing himself as a nice option out of the backfield in the passing game. The 6-2, 228-pounder has the size, speed and durability to carry the Wildcats, who went 4-1 when he ran for 100 yards or more last season.
Roy Helu Jr., Nebraska: Helu seemed overlooked last season, when he earned second-team All-Big 12 honors and was the Cornhuskers' offensive MVP after rushing for 1,147 yards and ten touchdowns. The 6-foot, 220-pounder did battle a shoulder injury, which prevented him from putting up even bigger numbers, but he should be 100 percent heading into fall camp. Not only does he possess the ability to run between the tackles, but the senior has the speed to bounce to the outside, as well. He put up 169 yards against Virginia Tech's stout run defense and logged 138 yards against Oklahoma. When he's healthy, he's unquestionably one of the conference's best backs.
Derrick Washington, Missouri: Can Washington end his career in Columbia with a senior year performance reminiscent of his All-Big 12 showing in 2008? He rushed for 865 yards and ten TDs last season after a 1,036-yard, 17 touchdown campaign his sophomore year. The 6-foot, 225-pounder also is a threat out of the backfield in the passing game, logging 65 career catches for 503 yards and three scores. He has good hands — seldom fumbling — and possesses a nice combination of shiftiness, speed and toughness for the Big 12. My feeling is that he will be able to handle being a workhorse back a little bit better in his final college campaign, especially with quarterback Blaine Gabbert maturing as a passer and giving the Tigers an even better vertical game.
Alexander Robinson, Iowa State: Robinson improved nicely from his sophomore season to his junior campaign, logging 1,195 yards and six touchdowns while averaging 5.2 yards per carry in '09. The 5-9, 186-pound speedster also logged six 100-yard games last season. He is dangerous anytime he gets into open space, catching 17 balls out of the backfield for 261 yards and three scores. He can even play out of the Wildcat, as he completed a ten-yard TD pass last season. Robinson is one of nine returning starters on offense for the Cyclones as they look to improve their 73rd-ranked offense from last season.
Baron Batch, Texas Tech: With Mike Leach gone, expect a little bit of a more balanced offense in Lubbock. This should bode well for Batch, who is coming off of a junior campaign that saw him rack up 884 rushing yards and 14 touchdowns. The 5-10, 204-pounder is quick and shifty, and his good hands have helped him rack up 108 career catches for 885 yards and two scores. He should easily be able to average 5.0 yards per carry and close to 1,000 yards in 2010 because defenses will still be more concerned with stopping the aerial attack than containing the running game.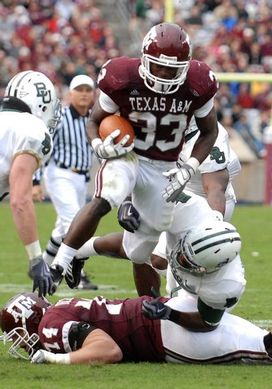 ICONChristine Michael is poised for a big sophomore season in College Station.
Christine Michael, Texas A&M: Michael was one of the nation's more heralded running back recruits entering 2009 and he displayed his potential with a team-leading 844 yards and ten touchdowns. The 5-10, 196-pounder likes to get the tough yards inside before using his speed to break away into the open field. He also showed a knack for catching the ball out of the backfield, catching 15 balls as a freshman. His speed and strength make him a difficult matchup every Saturday, and it's scary to think that his career has just started in College Station. With quarterback Jerrod Johnson, head coach Mike Sherman may have quite the offensive attack this fall.
Rodney Stewart, Colorado: Stewart came out of the same recruiting class as Darrell Scott, the much-heralded back expected to be the next big star in Boulder. But Stewart is the one who has emerged as the more productive rusher. He ran for 804 yards and nine touchdowns last season, improving on his 622-yard injury-shortened season in 2008. Despite being only 5-6 and 175 pounds, Stewart is deceptively tough—and he's fast. Head coach Dan Hawkins and the Buffaloes would be wise to use him more as a receiver to get him out into open space.
Fozzy Whittaker, Texas: Finally healthy after suffering a knee injury two years ago, Whittaker hopes to show Longhorns fans just how talented he is during his junior campaign. He only had 53 rushes for 212 yards and four scores in '09, but he did run 18 times for 71 yards against Oklahoma. The 5-10, 195-pounder is also a receiving threat out of the backfield. He likely will split time with sophomore Tre' Newton in the backfield, as the Longhorns will commit to the run with the departure of Colt McCoy. Last season, Newton led the team with 552 rushing yards and six scores as a freshman.
Toben Opurum, Kansas: Opurum showed a lot of promise in his freshman campaign of '09, finishing with 554 rushing yards and nine touchdowns for the Jayhawks. The 6-2, 235-pounder is a load to contend with in short-yardage situations, and he'll be looked upon to help an offense that will be breaking in sophomore quarterback Kale Pick. With Todd Reesing gone, will teams stack the line against the Opurum and the Jayhawks? A poor passing offense could drastically affect his numbers.
Jay Finley, Baylor: Finley had an injury-plagued '09, but the senior is ready to lead a young Bears offense. He rushed for 865 yards and seven touchdowns in '08, but he missed three games last season and only saw the rock 10 times or more in a game four times. With quarterback Robert Griffin healthy and leading a productive passing attack, Finley should have plenty of chances to exploit opposing defenses with his speed and athleticism.
Follow me on Twitter at Miller_Dave
Ready for fantasy football? Click here to purchase the 2010 Total Access Pass/Draft Guide from the NFP.