August 09, 2010 -
Dave Miller
Stacking up the Big 12: Wide receivers
While NFP director of college scouting Wes Bunting provides you with everything you need to know about future NFL prospects, we can't forget about the productive players who help their schools on the field every Saturday but may not be made for the pro game. With that in mind, let's take a look at the wide receiver units — plus feature tight ends — in the Big 12 entering the 2010 season.
Click here to see Stacking up the Big East: Wide receivers
Click here to see Stacking up the ACC: Wide receivers
Texas A&M: If Oklahoma's Ryan Broyles was not in the Big 12, the Aggies' Jeff Fuller would be the best receiver in the conference. There's no telling what his final numbers could have been in '09 if he didn't miss all of four games and most of two more with a broken leg. He closed out the year with two 100-yard efforts, including six catches for 132 yards and three touchdowns against Texas. The 6-4, 215-pounder is experienced, has great hands and has the league's best quarterback. If he stays healthy, I don't see how he doesn't put up a 1,000-yard season. Meanwhile, Uzoma Nwachukwu had a standout freshman campaign, tallying 40 catches for 708 yards and six touchdowns. His numbers led all Big 12 freshmen and they should only increase with a year under his belt. The 6-foot, 179-pound slot receiver is always a top target when on the field. Toss in Ryan Tannehill and this unit is the best of the Big 12.
TE: Hutson Prioleau, a 6-4, 253-pound redshirt freshman, currently sits atop the Aggies' depth chart. Despite being a no-huddle spread offense, A&M uses its TEs as both blockers and receivers. Prioleau is athletic enough to be a mismatch as a receiver, and he could definitely find himself as a favorite target of quarterback Jerrod Johnson on third downs.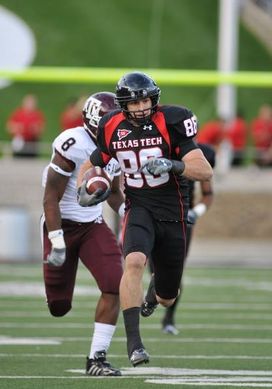 ICONAlex Torres will continue to see the football come his way in Lubbock.
Texas Tech: Even with Mike Leach out and Tommy Tuberville in, the Red Raiders are going to chuck the ball all over the field. No matter who is under center, 6-2 Alex Torres will lead a deep Red Raiders receiving corps in racking up a number of catches throughout the season. Torres had his best game against one of the conference's best defenses last season, Oklahoma, racking up 163 yards on 11 catches and a touchdown against the Sooners. He finished with 67 catches for 806 yards and six scores. Six-foot Detron Lewis saw his production dip in '09, likely because of the rotating quarterbacks, but he still finished with 65 receptions for 844 yards and six touchdowns. He will look to finish his college career with a big season. Add in Tramain Swindall, Lyle Leong, Austin Zouzalik and Jacoby Franks, and the Red Raiders will have weapons all over the field in the passing game — no matter how much they want to run the ball more in 2010.
TE: For the first time in what seems like forever, the Red Raiders will actually utilize the tight end in their offense. However, technically no one on the roster was recruited to Lubbock to play the position. During the spring, junior receiver Adam James — yes, that Adam James — and sophomore Ryan Haliburton received most of the reps at the position. They both have good hands and more bulk than any other receiver, so it'll be an intriguing position to watch this fall.
Oklahoma: Ryan Broyles went off in '09 — in a very big way. Despite playing with a young and inexperienced quarterback, as well as a brutal offensive line, Broyles managed to snag 89 catches for 1,120 yards and a conference-high 15 touchdowns — the second-most scores in the nation. He's incredibly elusive and an easy target no matter who is under center. While he only stands at 5-11 and 178 pounds, and despite missing parts or all of three contests, his production last season was eye-popping. His season-ending performance against Stanford — 13 receptions, 156 yards and three touchdowns — have some pondering whether he can be a darkhorse candidate for the Heisman Trophy this season. Joining Broyles is Dejuan Miller, a 6-4, 224-pounder who caught 36 passes for 434 yards and one score last year, and Brandon Caleb, who hauled in 26 catches for 408 yards and two touchdowns. Jaz Reynolds has shown flashes of excellence, and true freshman Kenny Stills turned heads throughout the spring and in the team's spring game.
TE: Senior Erik Mensik saw action last year with Jermaine Gresham and Brody Eldridge nonfactors. He's more of a blocking tight end at 6-6 and 265 pounds — more like a third offensive tackle than a receiver.
Texas: Junior Malcolm Williams will be a key figure in the development of new starting quarterback Garrett Gilbert. He may not be a flashy wideout, but he's consistently solid. The 6-3, 225-pounder gives Gilbert a nice, big target near the red zone especially. The Longhorns' leading returning receiver, he should see his 550 yards and 39 catches increase in the fall and could be poised for a breakout season. Seniors James Kirkendoll and John Chiles are solid, with Kirkendoll potentially ready to show NFL teams that he may be able to contribute on Sundays. And sophomore DeSean Hales may be ready to emerge, as well, after only catching one pass last season following his redshirt 2008 campaign.
TE: Sophomore Barrett Matthews is built more like an H-back at 6-2 and 235 pounds. The highly recruited talent has really good deep speed and good hands. Another guy who creates serious matchup problems for linebackers.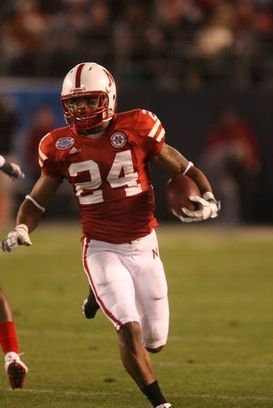 ICONNiles Paul could put up bigger numbers if the Cornhuskers opened up the offense.
Nebraska: Niles Paul is regarded by many NFL scouts to be the top senior wide receiver in next year's draft, but until last season he had zero career touchdown catches. Even in '09, he failed to top 800 yards, catching 40 balls for 796 yards and four touchdowns. What has kept him from being a more dominant presence on the stat sheet has been Nebraska's shell offense — and its often conservative play calling. But he is talented, and I expect whoever is under center in Lincoln to look for Paul more often this season and hope that he can duplicate his Holiday Bowl performance — where he scored on a 74-yard touchdown catch — on a more frequent basis. One receiver to keep an eye on is junior Brandon Kinnie, whom Paul says is the real deal. The 6-3, 220-pounder has the size and explosiveness to make big plays on the outside if given the chance in this offense. He caught 15 passes last year but didn't really emerge until late in the season.
TE: Senior Mike McNeill almost acts as a big wide receiver for the Cornhuskers. The 6-4, 235-pounder is a matchup nightmare for most linebackers because of his good quickness. He finished with 28 catches for 259 yards and four touchdowns in '09.
Missouri: With "Super" Danario Alexander gone, quarterback Blaine Gabb ert will be looking for a new top target this fall. The likely candidates are Jerrell Jackson and Wes Kemp, two experienced receivers who should get plenty of opportunities in the Tigers' offense. Alexander had 1,781 receiving yards last season — more than any receiver in the nation — so there are big shoes to fill. But Jackson and Kemp could easily get 900 yards apiece. T.J. Moe working out of the slot will be a guy to keep an eye on after having a really good spring.
TE: Michael Egnew caught just three passes in '09 after being hampered by an ankle injury early in the season. But he should get plenty of opportunities this fall, especially in the screen game, as Martin Rucker and Chase Coffman did in their time in Columbia. He possesses the athleticism of a wideout, which is perfect for this offense.
Colorado: The Buffaloes have perhaps the league's most underrated receiver in Scotty McKnight. No matter who was under center in Boulder, the wideout produced in '09. He ranked sixth in the conference in receiving yards and receptions, catching 76 balls for 893 yards and six touchdowns — second-best behind Oklahoma's Broyles among returning receivers. Now with Michigan transfer Toney Clemons in the fold, the Buffaloes will have a chance to score points through the air — assuming they can get stability at the quarterback position. I think Clemons' presence on the outside could actually help McKnight be even more productive, as he should find some more space on the field. The 6-2, 210-pound Clemons impressed everyone around the Colorado program this spring after expectations were raised once he arrived in Boulder. He has the size and speed to potentially be an impact performer as the Buffaloes look to energize a terrible offense from '09.
TE: Junior Ryan Deehan inherits the starting gig from Riar Geer. Deehan is a 6-5, 245-pounder who caught ten passes for 91 yards as the backup tight end. He will get his chance this fall with more playing time to play up to his vast potential.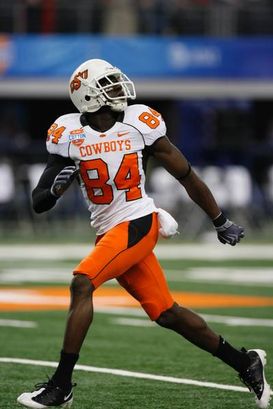 ICONHubert Anyiam will be running his routes in a new offense this season.
Oklahoma State: The Cowboys will be running new offensive coordinator Dana Holgorsen's spread offense this season under the direction of new starting quarterback Brandon Weeden. What does this mean for Hubert Anyiam? Better numbers than the 42 catches for 515 yards and three scores he produced last season. For Justin Blackmon? More than 20 receptions for 260 yards and two scores. The same goes for Josh Cooper. Get the picture? Even inside receiver Isaiah Anderson and running back Kendall Hunter will benefit from the new scheme, as the Cowboys will spread the ball around this fall.
TE: Sophomore Tracy Moore looks more like a fullback than anything, but the 6-2, 237-pounder is fast and has good hands. Of his 11 catches in a limited role in '09, three went for touchdowns.
Baylor: Kendall Wright led Baylor in receiving as both a freshman and a sophomore, and he should be ready to put on an aerial show with quarterback Robert Griffin III back, healthy and more mature. He racked up 740 yards and four scores on 66 receptions last year, and there's reason to believe that 1,000 yards could be in the 5-11, 185-pound playmaker's future. Sophomores Lanear Sampson, Josh Gordon and Terrance Williams comprise the rest of the corps on top of the depth chart. Sampson had 29 catches for 297 yards and two touchdowns last season. Incoming freshman Eddie Johnson has the size at 6-3, 220 pounds to potentially see the field early.
TE: Senior Brad Taylor will be moved around as a fullback and an H-Back to create mismatches for the Bears' offense. The 6-3, 235-pounder caught 13 passes for 166 yards and a score in '09.
Iowa State: The Cyclones have two returning starters in Jake Williams and Darius Darks. Williams led the team with 36 receptions for 403 yards and five touchdowns in '09, finishing his season with six catches for 83 yards and a touchdown in the bowl win over Minnesota. Sedrick Johnson also saw extensive playing time, while the coaching staff has high hopes for newcomers Albert Gary, Chris Young and Jarvis West.
TE: Senior Collin Franklin arrived in Ames from junior college and caught 15 passes for 258 yards and two scores in his first season, averaging 17.2 yards per catch, and he added 18 catches for 192 yards last season. The 6-5, 241-pounder has good hands and should continue to be a nice target for the Cyclones.
Kansas State: The Wildcats may have the most intriguing receiving corps in the entire Big 12, mostly because the unit could be really good or really disappointing. K-State will rely on a couple of transfers — Brodrick Smith from Minnesota and Chris Harper from Oregon. The 6-3 Harper is a former highly touted quarterback prospect who decided to move to receiver this spring. He has good size and is athletic, and I do expect him to have a better second half of the season than the first. As he displayed in the team's spring game, sophomore Brodrick Smith has as good a chance as anyone to become senior quarterback Carson Coffman's go-to guy. The 6-2 Kansas native caught 12 passes for 167 yards and four touchdowns in the Wildcats' spring showcase. Keep in mind that senior Aubrey Quarles is back after redshirting last season. He caught 34 passes for 407 yards and a touchdown in '08. While they did lose Brandon Banks, Jeron Mastrud, Attrail Snipes and Lamark Brown, the Wildcats may be in decent shape after all at receiver when all is said and done.
TE: Sophomore Travis Tannehill was a Kansas high school all-state punter and track star, so his athleticism is his biggest strength. The 6-3, 254-pounder takes over for Jeron Mastrud as a safety valve for the Wildcats.
Kansas: The Jayhawks will attempt to replace over 2,200 receiving yards and 17 touchdowns — production from Dezmon Briscoe and Kerry Meier in '09 — with Jonathan Wilson and Bradley McDougald. They both caught more than 30 passes last season, but none of them found the end zone. The other projected starter, Daymond Patterson, played defense last season.
TE: Junior Tim Biere is more of a blocking tight end but he does have soft hands and runs good routes. I expect new head coach Turner Gill to use the 6-4, 260-pounder as a nice option for his new signal-caller.
Follow me on Twitter at Miller_Dave or send your college football questions to dave.miller@nationalfootballpost.com
Ready for fantasy football? Click here to purchase the 2010 Total Access Pass/Draft Guide from the NFP.