August 18, 2010 -
Dave Miller
Stacking up the Big East: Quarterbacks
While NFP director of college scouting Wes Bunting provides you with everything you need to know about future NFL prospects, we can't forget about the productive players who help their schools on the field every Saturday but may not be made for the pro game. With that in mind, let's take a look at the starting quarterbacks in the Big East entering the 2010 season.
Zach Collaros, Cincinnati: It seems absurd to argue that the Bearcats may be even more explosive offensively without Tony Pike and Brian Kelly. But with Collaros under center and new head coach Butch Jones pushing the buttons, will Cincy suffer any sort of dropoff? I don't think it's likely. When he stepped in for an injured Pike last season, the 6-1, 216-pounder didn't look like a backup — he resembled one of the best signal-callers in the country. In four starts, he completed 75 percent of his passes and set the Big East single-game record for total yards. His 195.5 efficiency rating would have led the nation by a wide margin (Tim Tebow led with a 164.2 rating), but he didn't have enough passing attempts to qualify. Those gaudy numbers obviously won't hold up over an entire season, but the dual-threat quarterback has the best receiving corps in the conference to throw to, as well as a coach who will only put him in position to succeed.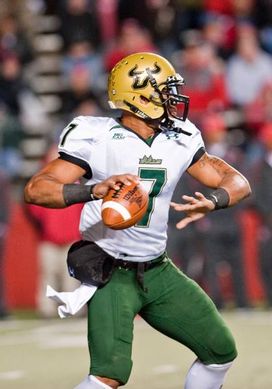 ICONB.J. Daniels knows how to fill up a stat sheet.
B.J. Daniels, South Florida: I must admit that I'm a little worried about Daniels trying to do too much this season — especially with a questionable receiving corps and a less-than-daunting rushing attack. He is still getting used to working in a new offense and he missed a lot of time this past spring. Still, it is B.J. Daniels, and he is a unique college talent. If Dontavia Bogan could consistently be the go-to wideout every week and senior Mo Plancher benefits from head coach Skip Holtz's preference to establish the run more often, then the 6-1, 212-pounder should continue to have his customary all-purpose performances.
Tom Savage, Rutgers: I think Savage is primed for a big season — if he gets help from his offensive line. "Jersey" Joe Martinek and De'Antwan Williams should provide a nice presence on the ground to help ease the sophomore quarterback's progression in his second season as a starter. Savage will be throwing to an interesting corps of Scarlet Knights wideouts this year, with Mohamed Sanu being the lone known commodity. Mark Harrison and Quron Pratt both had solid spring practice sessions, so if one of them joins Sanu as being productive in the passing game, I'm banking on the 6-5, 230-pounder to have a standout season. However, the loss of sophomore Tim Wright for the season with a right knee injury definitely hurts. He was the breakout player of the spring for the Scarlet Knights.
Geno Smith, West Virginia: Smith isn't your average sophomore. Whether it's because he will be under center for a veteran squad or he has been hanging around some of the team's upperclassmen, he is already a leader for the Mountaineers. Head coach Bill Stewart loves his competitive nature and his demeanor in the huddle, and the young signal-caller is probably a better pure passer than predecessors Pat White and Jarrett Brown. The 6-3, 195-pounder missed most of spring drills with a foot injury, but he is healthy and ready to lead a group of playmakers that includes receivers Jock Sanders, Bradley Starks and Tavon Austin. Throw in a rushing attack led by the explosive Noel Devine, and Smith just has to let his talent take over and the Mountaineers will be fine.
Zach Frazer, Connecticut: If you look at Frazer's career stats, one can argue that this ranking is a little high. But firmly entrenched as the starter, the redshirt senior will be supported by the solid rushing of Jordan Todman to create a balanced Huskies attack. Frazer seemed more confident than ever this past spring following a four-game winning streak to close out '09. With Cody Endres on the sideline, the 6-4, 225-pounder knows that this is his team now. While Kashif Moore, Isiah Moore and Michael Smith don't have a ton of experience at receiver, they are all capable of being solid weapons for Frazer in the passing game. Still, it all comes down to consistency. I'm rolling the dice on Frazer continuing to mature and having a solid senior year — and quieting the doubters who cite his 15 career interceptions and only 12 career touchdown passes as reason to be pessimistic.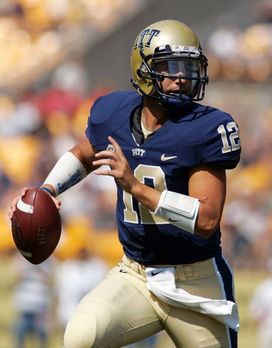 ICONTino Sunseri has a boatload of weapons to work with at Pittsburgh.
Tino Sunseri, Pittsburgh: I am still surprised that Pat Bostick wasn't given more of an opportunity to compete for the starting job, but I like that head coach Dave Wannstedt let Sunseri know early that he would be the guy in charge of leading a talented Panthers offense. While he has only seen the field in mop-up duty, the 6-2, 210-pounder is mobile and has the arm to hit Jonathan Baldwin and Mike Shanahan down the field all day long. With a rushing attack featuring the unbelievable Dion Lewis and overlooked Ray Graham, I'm sold on Sunseri under center for Pitt.
Ryan Nassib, Syracuse: Is there enough body of work to truly grade Nassib? With Greg Paulus entrenched as the starter last season, we only saw the sophomore in certain packages at various times in the game. He completed 53 percent of his passes with three touchdowns and an interception. The main question this season is whether or not the 6-3, 215-pounder will have enough weapons to even have a chance to be successful. The reinstatement of Delone Carter is huge, as the Orange will at least be able to run the football. But can Marcus Sales, Alec Lemon and Van Chew be able to make plays on the outside in the passing game when opposing defenses stack the line? The Orange took a lot of shots down the field in the spring game with head coach Doug Marrone calling the plays, and I do think running more two-back and two-tight end sets can stabilize this offense for 2010.
Adam Froman/Justin Burke/Will Stein, Louisville: Seniors Froman and Burke, along with the sophomore Stein, are all receiving first-team reps this fall as Charlie Strong searches for his signal-caller in his debut season with the Cardinals. None of these quarterbacks are going to overwhelm you throwing the football, but the 6-4, 220-pound Froman's mobility could give him the advantage while a rebuilt offensive line tries to gel. He showed flashes during a disastrous season for the Cardinals in '09, and he'll have a healthy Victor Anderson to get the running game back in order. But also keep an eye on true freshman Dominique Brown. If he has a nice fall camp and things go awry for the 'Ville early, Strong may accelerate the learning process for the youngster.
Follow me on Twitter at Miller_Dave or send you r college football questions to dave.miller@nationalfootballpost.com
Click here to purchase the Total Access Pass / Fantasy Draft Guide from the NFP and receive a free Deuce Brand watch while supplies last.